The Gold Monetisation Scheme was launched to solve the very problem of gold being locked up; it was started so that the gold stock could make some money. With such a scheme in action, individuals and organisations can now look forward to capitalising on their gold reserves — an option which was not readily available in the past.
About the scheme
The Gold Monetisation Scheme works much like a savings account. Instead of keeping your gold in your safety lockers, you now have the option to deposit gold in your gold savings account and earn interest on it. It not only increases the safety of your gold but also lets you make some money on it.
However, it must be noted that you cannot deposit gold jewelry which has other stones or metals embedded in it.
How does the scheme work?
After you approach a bank or an agency with your gold to open a gold savings account, you will be asked for a certificate of purity. You can get this certificate by approaching any government authorized Collection and Purity Testing Centre (CPTC). The CPTC will then carry out a few tests on your gold to determine the quality of it and verify if it's pure or not. Once that is done, and it is confirmed that your gold is genuine, you will get a receipt. You can then submit this to the bank, and the bank will then issue a final certificate of deposit to you which will contain all the information regarding your gold deposit.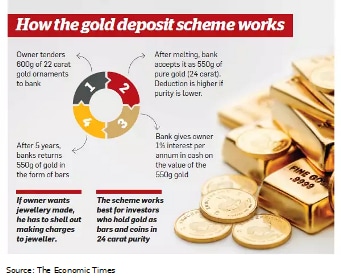 Once that is done, you will be asked to complete the Know Your Customer (KYC) process. For this, you will have to fill out a simple KYC form, provide an ID and a valid address proof and a passport-size photo. All said and done, and your gold will be quite ready to earn interest.
Since this is a government backed scheme, it happens to be entirely safe and secure. When you deposit gold in your account, you can be assured that it is in safe hands. Besides, when you have gold stored in government lockers, you can be assured that it will be safe. Once your gold reaches the lockers of the bank, the safety of it then becomes the concern of the bank.
Eligibility for the scheme
Earlier this year, the Reserve Bank of India stated that it has made some tweaks to the eligibility criteria for the gold monetisation scheme. The notification laid out by the central bank stated that individuals, HUFs, proprietorship and partnership firms, trusts including mutual funds and exchange traded funds registered under SEBI (mutual fund) regulations, companies, charitable institutions, central government, state government or any other entity owned by central government or state government can make deposits under the scheme.
With such a wide array of eligibility, it has become much easier for individuals and organisations to invest in this scheme.The RBI added in its statement that joint deposits made by two or more eligible owners are also allowed under the gold monetisation scheme. The deposits that are made in such cases will be credited to the joint deposit accounts that have been opened together by the investors.
Tenure and minimum deposit
You need to deposit at least 30 grams of gold to have a gold savings account. However, there is no upper limit on the amount of gold that you can deposit.
The minimum lock-in period for gold happens to be one year; the following are the lock-in period options with interest rates:
Short-term rates (at SBI): 0.5% p.a. for 1 year, 0.55% for 2 years, 0.60% for 3 years.

Medium-term rates: 2.25% p.a. for 5 to 7 years.

Long-term rates: 2.5% p.a. for 12 to 15 years.
It must be noted that the short term interest rates are decided by the banks, whereas the central government determines the interest rate on medium and long term investments.
Tax benefits
One of the best features of this scheme is that you do not have to pay any tax on capital gains on the profits that you make. All of it is exempt from income tax and wealth tax.
This scheme is an excellent choice for anyone who wants to make some money on their gold. Considering the rising popularity of online gold and the option to redeem it, it is quite easy to gain returns on the gold which would otherwise lie still in your lockers. However, you must note that the gold that you deposit will not come back to you in the same form. It will be returned to you in the form of money, bars, or coins.
For the government, it helps reduce their reliance on the gold imports, which then reduces the government's cost of borrowing. In the long run, a scheme like this is expected to decrease the country's dependency on foreign gold imports.
Conclusion
If you are looking to purchase 24 karat gold, then you can do so on Finserv MARKETS. The entire process is hassle-free as it can be done online with minimal documentation. You get access to 99.5 percent pure gold which comes with Assay certification*. When you buy online gold on Finserv MARKETS, you also get rid of unnecessary costs, such as the making, selling, and storage fees. Besides, you also have the option to liquidate your gold at will. You can redeem your gold by paying a minting fee and can have it delivered to your doorstep.
If you have problems while buying, selling, or redeeming online gold on Finserv MARKETS, then the chatbot 'Yara' is always there to assist you, to make sure that your queries are resolved and your transaction is completed smoothly.