Gold also serves a valuable purpose as a metal. Besides its role as a commodity or metal, it also is one of the oldest means of exchange known to humankind. When gold was first discovered in the Neolithic period, it came as a revolution as it could not be replicated. And thus, a value could be attached to it, thus making it fit for exchange in the market.
When the gold rush arrived in California, it changed the whole financial aspect of things — a lot of people rushed to the place to mine gold to build their fortunes. In India, too, gold has always been looked upon as something of much importance. It has been an integral part of Indian values and tradition, and is an integral part of auspicious occasions, where it is given as a gift.
Several factors determine the gold rate in India. Since India is such a massive consumer of gold, any fluctuation in the international market leads to change in the price of gold.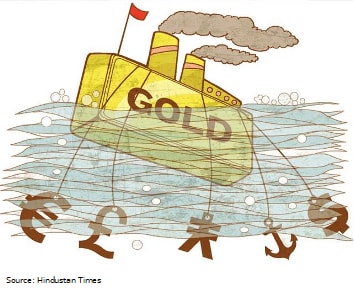 Here, we will look at the top five factors that affect the gold rate in India.
One of the features of gold is that it is quite steady in its value, much steadier when you compare it to currency. This is one of the reasons why several investors tend to hold on to gold instead of currency. When the rate of inflation increases, the demand of gold also tends to rise; when inflation is low, the demand decreases. The same applies to global inflation too.
Another factor which affects the gold rate in India is the rural demand for gold. The rural demand for gold primarily depends on the monsoon. Rural India holds a 60% share in the annual consumption of gold, which happens to be 800-850 tonnes. If the crop is good, farmers tend to purchase more gold to increase their assets. On the other hand, a bad monsoon season leads to a lesser purchase of gold.
Generally, the dollar and gold tend to have an inverse relationship. The dollar dominates international gold, so when the currency shows signs of weakening, the price of gold shoots up and vice versa. This is because investors start to look for other option to store value, and gold happens to be one of those options.
In the US, when the value of the dollar increases relative to other currencies, gold price tends to go down. This happens because gold then becomes expensive in other currencies, and as its price gets on the higher side, fewer people tend to purchase it, which inevitably leads to a reduction in demand. However, as the value of the US dollar goes down, gold also becomes cheaper in other currencies around the world.
The demand for gold is closely related to the interest rates on financial products and services. The present gold prices are a good indicator of the interest-rate trends in the country. If the rate of interest increases, customers tend to sell gold to gain cash value, which increases the supply of gold, thus leading to a reduction in its price. Besides, online gold these days is quite easy to purchase and sell. When the interest rates are low, customers have more cash at hand, which then potentially leads to a higher demand for the precious metal, which then leads to an increase in price. This is precisely why money lenders in India were known to be gold hoarders. With all the accumulated interest in their lockers, they could easily purchase gold, among other things.
The jewelry market in India is highly dependent on the festive seasons. When festivals arrive, there is an increase in the demand for gold, and this leads to a rise in the price of gold. In the wedding season, the market tends to shoot up even further. An increase in demand leads to a higher price tag. Besides, the demand for gold is not just limited to jewelry; it is also used to manufacture electronic devices. All these factors combined lead to the fluctuation of demand, depending on the season and the manufacturing capacity.
Conclusion
Gold, nonetheless, happens to be a popular investment option. People have long considered it to be the ultimate prize. It is not only a prized possession and a symbol of wealth, but also a metaphor for auspicious times. For example, it is quite an honour to receive a gold metal. Most of the high-end credit cards also carry the gold tag. It carries heavy symbolic value during weddings as well. For a lot of people, it is also considered to the peak of achievement — the ability to buy gold — to preserve it well and pass it through generations.
Online gold has gained a lot of popularity these days. It is easy to buy online gold on Finserv MARKETS as there are no hidden charges. The process is utterly smooth and hassle-free and comes with a 100% transparency — there are no hidden charges. Besides, the gold which you purchase on Finserv MARKETS is of 24 karat value and comes with Assay certification*. You can be assured that the gold which you will be purchasing will be pure and free of any additional, third-party charges — a great relief to those who are looking forward to cutting down the cost on their gold purchase. The process is utterly smooth, and with high liquidity, you also have the option to redeem this purchased gold in the form of cash, coins, or bars.