This scheme was launched by the Pension Fund Regulatory and Development Authority (PRFDA) in 2004. However, it only opened to the public in the year 2019. The scheme is open to employees of all sectors — private, public, and unorganized sectors. The minimum contribution that one can make yearly happens to be Rs 5,000. This can be paid all at once, or with a monthly installment of Rs 500.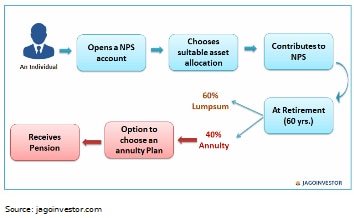 The National Pension Scheme also happens to be the cheapest market-linked instrument among other forms of retirement plans, such as PPD, EPF, and mutual funds. The fact that it is backed by the government gives it a lot of security — something which can come to great relief if you are a new investor who is keen to explore risk-free modes of investment. The fact that it can be accessed online anytime, anywhere, leaves a lot of room for personal satisfaction.
Features of NPS
NPS is a government-sponsored scheme, so it comes with a host of unique features that add significant value to it and make it an excellent investment option.
High returns: A portion of the money that you invest in the National Pension Scheme goes to equities, which means that the returns that you get will be well-balanced. Besides, the return that you get on your investments is much higher when you compare it with other traditional means of investments such as the PPF.
With NPS, you are bound to receive 8-10% annualized returns on your savings.
Tax benefits: Another great feature of having an NPS account is that you get ample tax benefits on your investments. You can claim a maximum tax deduction of up to Rs 1.5 lakh under Section 80C of the Income Tax Act.
This comes as a great aid to people who are looking for maximized savings on their investment.
Ease of access: People have access to open an NPS account online on Finserv MARKETS. Having an account online with a unique PRAN makes sure that you can access your pension account with the click of a button and adjust it at your will.
Good liquidy: When you open an NPS account, you also get access to high liquidity options. After your account is three years old, you get the option to make a 25 % withdrawal from your account for purposes such as medical treatment, marriage, buying a house, education, and more.
Additional tax benefits
When the finance bill came out in the year 2011-12, it proposed tax deduction if you contributed 10% of your basic salary and dearness allowance (DA) towards the national pension scheme. This exceeds the Rs 1 lakh limit if the contribution is made from the side of the employers. Such tax benefits are also another reason why corporate houses are happily accepting NPS as a part of their investment and tax-saving policy.
NPS fund managers
Another great feature of the NPS account is that you get access to fund managers who are experts in dealing with ways to maximize your investments. These individuals take crucial decisions that directly affect the state of your investment portfolio. With a well-managed portfolio, you are ensured maximum returns.
The money that you put in a National Savings Account is managed by a group of fund managers who are appointed and approved by the PFRDA. These are government fund managers who make informed decisions regarding your investments so that you get maximum returns at the time of maturity of the account.
Types of NPS account
NPS comes with great flexibility which is shown in the two types of account options it offers.
Tier I account: This is a basic account under this scheme, where only 20% of your contribution can be withdrawn, before you attain 60 years of age, while the rest of the money — 80% — is used to buy an annuity from a life insurer. Having an annuity plan here is important as only then would you get access to fixed premiums at regular intervals.
However, as soon as you reach 60-years of age, you get the option to withdraw up to 60% of your contribution, while the rest of the money goes into purchasing the annuity from approved life insurance partners.

Tier-II account: This is another type of NPS account where you can withdraw the money endlessly with no limits whatsoever.

However, it must be noted that NPS Tier 2 does not come with any tax benefits. The returns that you get on NPS Tier 2 are also taxed. Nonetheless, if you are a government employee, you get the option for a tax deduction under Section 80C of the Income Tax Act.
How to open an NPS account
It is quite easy to open an NPS account on Finserv MARKETS. All you have to do is choose the type of NPS account that you want to open. Then, you have to make the initial deposit to secure the account. After you have made the deposit, you can move on to completing the KYC process by providing some of the basic documents for identity verification.
When all is done, you will get access to the unique PRAN number which can then be used to access your account anytime, anywhere.
Conclusion
If you are looking at a comfortable, accessible pension option post-retirement, then having an NPS account could be the thing for you. It can help you put away the burdens financial constraints that come with old age. When you open an NPS account, you get access to much-needed financial security — something which is quite essential in old age. With financial security in hand, you can look forward to more fruitful things for your life after retirement, such as travelling, opening a small local business, or even indulging in exotic activities and hobbies that you have had always thought of.
Finserv MARKETS, from the house of Bajaj Finserv, is an exclusive online supermarket for all your personal and financial needs. We understand that every individual is different and thus when you plan to achieve your life goals or shop for the gadget of your dreams, we believe in helping you Make it Happen in a few simple clicks. Simple and fast loan application processes, seamless, hassle-free claim-settlements, no cost EMIs, 4 hours product delivery and numerous other benefits. Loans, Insurance, Investment and an exclusive EMI store, all under one roof – anytime, anywhere!