ICICI Bank Credit Card Revised Charges: All you need to Know
Published On: 21 Feb 2022
Effective February 10, the ICICI Bank has revised its credit card charges including late payment fees, cash advance and more. The ICICI Bank customers were informed about a hike in these credit card charges by the bank via an official message that read, 'Dear Customer, effective 10-Feb-22, the fee structure on your ICICI Bank Credit Card shall be revised. For more details on MITC, visit bit.ly/3qPW6wj,"
Therefore, as per the revised charges, ICICI Bank customers will have to pay a revised cash-advance charge of 2.50% on his/her ICICI credit card. The revised charge is subject to a minimum of ₹500. In the case of cheque return, the customer will be charged 2% of the total dues, with a cap of a minimum ₹500.
The revisions were also observed in the late payment charges for all credit cards for a total amount due which is over ₹100, excluding the ICICI Bank Emerald Credit Card. The bank has capped the over-limit charges at ₹1200 for a due amount that is ₹50,000 or above. Other revisions in the ICICI credit card charges include the auto-debit fee which would be 2% of the total amount due (minimum ₹500).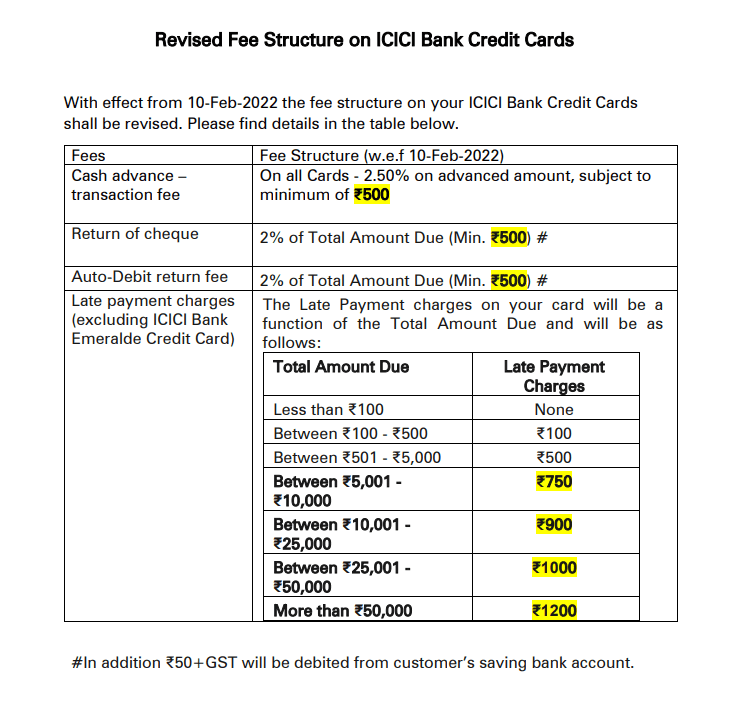 Source: ICICIBank.com
What are Cash Advance and Late-Payment Charges and How to Avoid Them?
Cash-advance fee is charged by the bank or credit card issuing company in case you use your credit card to borrow cash. You can take the cash advance at an ATM, via check, or by visiting the bank. Thus, before you decide to borrow cash against your credit card, make sure to check the cash-advance charges or APR as levied by your bank to avoid piling of credit-card debt.
Late-payment charges are generally levied if you fail to pay your credit card bill on time. The longer you keep delaying the payment, the higher interest you might have to pay. It is better to make timely credit card bill payments to avoid being slapped with late payment fees. In case you feel you will be unable to pay the month's credit card bill, you can try to convert them into easy EMIs, if the option is available with your bank.