Knowing about the various effects of GST in these sectors can help you can help you make an informed decision while you decide to make an investment. A better decision yields better results, especially when it comes to assets like gold, the price of which is highly affected by market fluctuations.
Here, we will look at the impact of GST on gold and how the price of the valuable metal has changed post the implementation of GST.
The impact of GST on gold
The implementation of GST has had a significant impact on the price of gold. Gold has become about 0.75 percent more expensive after a 3 percent GST was levied on 10 percent import duty. Before the introduction of GST, gold attracted a 1 percent service tax and 1 percent Value Added Tax (VAT), resulting in a total tax of 2 percent on the price of gold. The introduction of GST added another percentage, making the tax rate 3 percent.
Since 30 percent of the gold trade is said to be organized, it is believed that the implementation of GST on gold will have a significant visible impact on gold trade. However, GST is set to bring greater transparency to the gold trade. Better transparency will bring much-needed order to the sequence of things and will also lead to higher tax collection. The fact that there is a lot of disorganization in the sector of gold had always called for reform, which will provide a more legal and official structure to gold purchases.
Often, gold sellers would not provide a bill for the purchase, which would consequently lead to problems with post-sale services.

Nonetheless, several traders are bound to make a shift from organized to unorganized sectors to save tax on gold, resulting in the purchase of cheaper, smuggled gold and selling them without providing bills. The unorganized sector, on the part of traders, saves them a lot of money, for they do not have to pay taxes. They can even sell gold of lower karat value under the disguise of pure gold. This often means a huge blow to the gold industry.
As a purchaser, it might be tempting to head over to an unorganized sector to buy gold, but this is something you must truly avoid since the gold you get there will come without any guarantee of originality. You might have no way at hand to check if the gold that you have purchased is real or not. Do not fall for the low price of gold — fall for quality and assurance!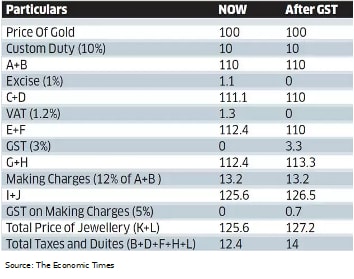 Impact of GST on gold import
Post the implementation of GST, India has been actively importing gold from South Korea — as much as 25 tonnes in the month of July and August. The recent change in the taxation policy and the Free Trade Agreement with South Korea has allowed importers to purchase and ship-in the gold without having to pay the 10 percent customs duty.
Revised rate on gold jewelry
The introduction of GST has also brought in several changes to the jewellery sector. There is a 5 percent GST levied on making charges of gold jewelry. This stands apart from the fact that the making charge of gold jewelry varies with jewelers, and this is bound to impact the final GST on making charges — the higher the making charges, the greater the GST.
For example, if you go to a jeweller who is well-known for their craftsmanship, you would have to pay more for the design charges since the work is intricate. For stock jewellery models, the making and crafting charges would be lesser.
With such swings in the gold sector, it is essential that your gold purchase is safe and secure. It is also important to make sure that you get the bill after your purchase — the least you can do while buying gold offline to ensure that the gold you are purchasing is genuine, and not some smuggled, possibly fake product.
In recent years, the trend of online gold has gained popularity. Online gold comes with high liquidity, which means that you can buy and sell gold online anytime, anywhere — all at the tip of your fingers.
The best part of online gold is that the price is the same across India, which means that you can buy and sell gold online at market-linked rates. You also have the option to redeem the gold which you have purchased. After paying a manufacturing charge, the gold you wish to redeem will be delivered to your doorsteps.
Conclusion
You can buy and sell gold online on Bajaj MARKETS, as it comes with a host of features. The process is easy and fast, and the redeeming process is seamless as well. There are no hidden charges for gold on Bajaj MARKETS, and you are guaranteed 100 percent transparency with your transaction.
A 2-step buying process on Bajaj MARKETS makes sure that there is minimal documentation required, and that the entire process is hassle-free. Besides, the gold that you purchase here is of 24 karat value and 99.5% pure. The whole process is an upgrade from the traditional way of buying and selling gold as it takes away a lot of complexity. The fact that everything can be done online with the click of a button makes this approach highly desirable.
With the prevalence of internet, it has become much more convenient to buy gold online, as you will be provided a proper online receipt for your purchase. Besides, the factor of high liquidity only adds to the list of advantages. You can buy and sell gold anytime, gift it to people, and even redeem it in physical gold when the time comes.