One of the most popular tax saving options for people happens to be Section 80C of the Income Tax act. It provides several investment options for individuals who want to reduce their tax liability.
Some of the popular investment options under this include PPF contributions, life insurance premiums, ELSS schemes, and fixed deposit schemes. These options have gained a lot of popularity, considering how they can be accessed online with ease and without the involvement of much paperwork.
However, when it comes to the limit of saving tax, these financial instruments come with a catch. With these financial instruments, you cannot claim more than Rs 1.5 lakh under each fiscal year.
If you decide to add your NPS investments under Section 80CCD, you have the option to claim an additional amount of Rs 50,000 as your income tax deduction, which then brings your total available deduction up to the amount of Rs 2 lakh.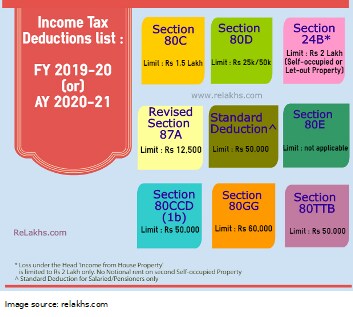 However, one can wonder if an exemption of Rs 2 lakh is enough, especially if you are investing large amounts of money in various financial instruments.
Here, we will explore some of the additional tax exemption schemes under Section 80C.
Section 24
Other popular means of saving money with income tax deductions happen to be Section 24. If you have a home loan, you are liable to earn tax exemptions on your interest payments. You are liable to earn interest up to Rs 2 lakh.
This comes as a great relief to millennials who are looking to purchase a house for themselves in the early years of their life. Through this, they can save more, and invest the saved money in it in other financial instruments.
House Rent Allowance (HRA)
In the early stages of one's career, renting a house is the most affordable and convenient option. There's another benefit to it: if you are a salaried employee, you get the option of enjoying tax benefits as a part of the house rent allowance which your company provides to you. The money under this salary is exempted from the tax.
The HRA that you receive varies with geography. You are liable to receive 50 percent of your salary as HRA if you live in a metro city. The amount is 40 percent if you have your house in a non-metro city.
Interest on education loan
If you have taken an education loan for yourself, your spouse, or your children, then you are eligible for tax exemption under Section 80 (E). The deductions that you receive on the interest paid can be claimed in the current financial year. You have the option to claim this deduction for up to eight years after you have started the repayment of your loan
This is a great option for those who are looking forward to studying abroad, or sending their kids abroad, as it would lower the interest burdens to great extents.
Exemption on donations
When you make donations to certain charitable institutions, funds, et cetera, then you are eligible for tax deduction under Section 80G.
However, it must be noted that the amount that you are donating should not exceed 10 percent of your adjusted gross income. Donations that you have made through cash are also eligible for tax benefits if they happen to be less than Rs 2000.
Interest on savings account deposit
One of the reasons why savings accounts are popular is that the interest you earn on them are eligible for tax deduction under Section 80 (TTA). When you are filing tax returns, then you must categorize the interest you earn on your savings under the head 'income from other sources'. The upper cap for claiming deductions on your savings is Rs 10,000. If you are someone who has a decent bit of savings in the bank and earn steady interest on it, then do not forget to file a deduction for this. Once this has been done, you will end up saving quite a bit of money on your savings.
Wills and gifts
The money that you receive as gifts is also tax-free. If you happen to receive payment in the form of a gift from your relatives, then that amount is put under the exemption list. Here, there are no upper limits on exemptions. However, for gifts that come from non-relatives, you get exemption up to the amount of Rs 50,000. Cash gifts during weddings are also tax-free, and the money that you receive as part of your will is tax-free as well.
Other exemptions
Some of the other exemptions besides house rent allowance includes exemption on Leave Travel Allowance, meal coupons, the money that you get for conveyance, medical expenses, et cetera.
It is not that you have to depend solely on Section 80C as the only tax-saving option. There are several options — as mentioned above, along with others — that you can explore.
The money that you receive as gifts, you can invest in financial instruments such as an FD account. FD accounts are also liable for tax exemption. With FDs, you have the option to claim income tax deductions up to Rs 1.5 lakhs in a single financial year. You can break your savings into several FDs and invest them year after year to maximize your scope for saving money.
Besides, this invited for much less hassle. FD accounts can be opened with minimal paperwork on Finserv MARKETS — a safe, smooth, and highly accessible way of investing money.
Conclusion
Fixed deposit schemes on Finserv MARKETS also come with competitive interest rates that you can enjoy on your savings over time. You have the option to get an interest rate of up to 7.95%. The range of the scheme falls between 12 months and five years, and also offers a good liquidity option. Irrespective of market fluctuations, your returns are guaranteed, which means that you do not have to worry while your money rests in these accounts.
Fixed deposits on Finserv MARKETS also come with ICRA MAAA and CRISIL FAAA rating, which means that your money is as safe as ever.