What is Car Insurance?
Did you know that car insurance is mandatory under the Motor Vehicles Act, 1988? In simple terms, a car insurance policy safeguards your four-wheeler against various mishaps that may occur on the road. Such a cover keeps you in compliance with the law and financially protects your vehicle in the event of damage. While a basic third-party four-wheeler insurance plan only secures the loss caused to a third person, you would need comprehensive car insurance to avail coverage for your own vehicle. Let's further deep dive into the importance of four-wheeler insurance and how to opt for one.
Why is Purchasing/Renewing Car Insurance Important?
Here are the main reasons on why car insurance policy is a necessity:
As you may already know, car insurance is mandated under the Motor Vehicles Act, 1988. Thus, purchasing one enables you to drive legally on public roads in India without attracting a penalty.
With a comprehensive car policy, you no longer need to cover the repair expenses incurred by your own vehicle! Four-wheeler motor insurance covers the accidental damage caused due to an untoward incident.
Covers Third-Party Liabilities
From damage caused to third-party property to any accidental injuries sustained by the victim, third-party liabilities are covered in case of an accident.
Provides Personal Accident Cover
In the event of an unfortunate mishap, the treatment cost of any bodily injuries that you may sustain shall be secured under the compulsory personal accident cover.
Secures Against Calamities
Natural and man-made calamities come uninvited and may cause major damage to your car. With the right car insurance plan, you can rest worry-free!
Can you imagine your vehicle incurring damage due to an unforeseen mishap? Without the safety net of four-wheeler insurance, you shall have to shoulder the financial burden of repair and replacement expenses. However, the best car insurance policy ensures monetary backup during such times and compensates for the loss caused to your prized possession. Let's go through the best car insurance in India available on Bajaj MARKETS.
Best Car Insurance Plans in India for 2022
Car Insurance Provider

Incurred Claim Ratio (2020-21)

Premiums Starting at*

 

Buy Plans

 

Bajaj Allianz Car Insurance

68.06%

Starting from ₹2094**

Acko Car Insurance

82.35%

Starting from ₹2094**

HDFC ERGO Car Insurance

70.02%

 

Starting from ₹2094**
Disclaimer: *The premium rates are indicative. The actual premium that you may have to pay may change depending on various factors. Please check the prevailing premium rates before purchasing your car policy.
How to Buy Car Insurance Online
Step 1: Go to the 'Car Insurance Premium Calculator' page.
Step 2: Fill in the required details such as the vehicle type, car number, your mobile number, etc. and proceed.
Step 3: Enter your vehicle details such as the make and model, fuel type, manufacturing and registration date, etc.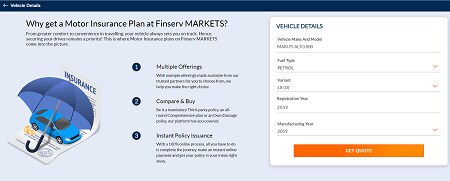 Step 4: Select the type of coverage you want to purchase, the NCB bonus from your previous policy and the Insured Declared Value. Moreover, you can opt for additional coverage with add-on covers.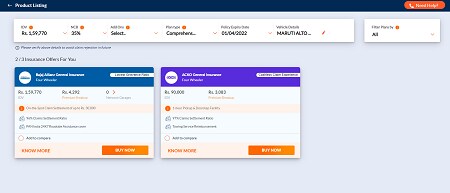 Step 5: Choose a suitable car policy and go through the policy details before proceeding.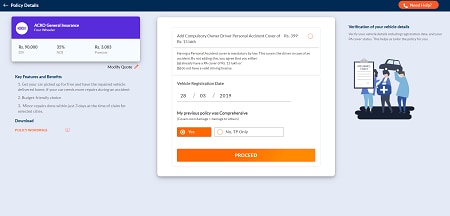 Step 6: Enter your details like your name, date of birth, email ID, address, etc. and proceed.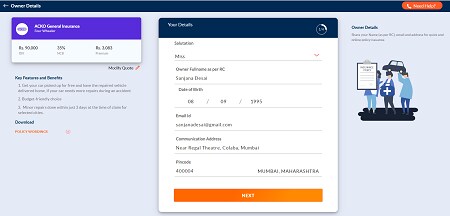 Step 7: Enter your vehicle details like engine number and chassis number.
Step 8: Now, you must enter the details of your previous car insurance policy.
Step 9: The page shall display all the information that you have entered, so go through it to ensure the details are accurate.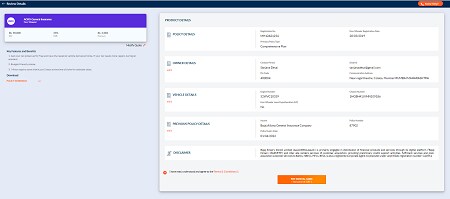 Step 10: Finally, select a suitable payment option to safeguard your vehicle with car insurance.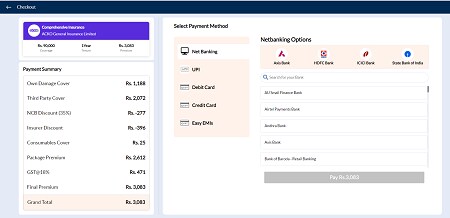 Step 11: After successful payment, your car insurance policy document will be issued soon!
How to Renew Car Insurance Online
Step 1: Go to the 'Car Insurance Renewal' section on the insurer's website
Step 2: Enter the information required on the page
Step 3: Enter your vehicle details, such as make and model, fuel type, etc. and proceed.
Step 4: Now, select the type of coverage, policy expiry date, add-on covers and No Claim Bonus reward.
Step 5: Go through the policy details and proceed to renew your car insurance plan.
Step 6: Next, you must enter your personal details, vehicle-related information and previous policy details.
Step 7: Finally, make the premium payment online.
Step 8: Your renewed car policy document shall be issued soon!
Read More: What is Car Insurance Renewal?
Types of Car Insurance Plans in India
Now that you have understood the step-by-step process to buy/renew four-wheeler insurance online, let's move to the next section. Did you know that there are following types of four-wheeler insurance policies to choose from? Here are the details:
Third-Party Car Insurance
A third-party car insurance cover is a basic insurance plan. It covers the damage incurred by third-party property or any injuries caused to the victim due to your insured car. Moreover, third-party insurance is mandatory as per the Motor Vehicles Act, 1988, and can result in a penalty or imprisonment if you do not have a valid policy. The plan also includes a personal accident cover to protect against any accidental injury, disability or even death of the insured.
Comprehensive Car Insurance
A comprehensive car insurance plan is an enhanced cover compared to third-party four-wheeler insurance. It includes both the third-party cover and own damage cover. With complete protection, the cover helps manage legal liabilities and offers extensive financial protection. Although you have to pay a slightly higher premium for a comprehensive plan over a third-party cover, it is worth the investment. Comprehensive car insurance brings together the benefits of third-party coverage, personal accident cover and own damage cover. Any damage due to unfortunate scenarios like natural and man-made calamities or theft is covered under comprehensive insurance.
The standalone own damage cover provides coverage against any loss or damage resulting to your own four-wheeler. It offers protection against theft, calamities, disasters, and other perils, excluding third-party liabilities. So, if you already have a third-party insurance plan and want to extend your coverage, standalone own damage cover is the way!
Key Highlights of Car Insurance Plans on Bajaj MARKETS
| | |
| --- | --- |
| Highlights | Benefits Offered |
| Third-Party Cover | Protects against damage to third-party property & accidental injuries |
| Own Damage Cover | Offered as a standalone cover and comprehensive plan |
| Personal Accident Cover | Available up to ₹15 Lakh |
| Add-on covers | Lucrative add-on covers are available to maximise car insurance coverage |
| No Claim Bonus | Available up to 50% |
| Cashless Claim Facility | Available at authorised network garages |