India has always been one of the best markets for budget cars under Rs. 3 lakhs. With an increasing number of people showing interest in upgrading from their two-wheelers to cars every year, car manufacturers are responding with models that are priced attractively.
Apart from the benefit of more space and added protection from environmental factors, budget cars under Rs. 3 lakhs in India also have another major advantage going for them - fuel efficiency. This makes them the perfect choice for individuals worried about rising fuel costs impacting their car ownership. With cars priced less than Rs. 3 lakh like the Bajaj Qute (RE60), you won't have to worry about having to spend a significant amount for fuel alone.
That's not all. Buying a new car doesn't just stop with you having to pay the cost of the car. It also entails having to pay for an adequate car insurance plan as well, considering that it is illegal to drive a car in India without a valid insurance plan. Car insurance can also help protect you financially in the event of an accident as well. Therefore, it is advisable to factor in the insurance cost as well when purchasing a new car.
List of best cars under Rs. 3 lakhs along with their on-road price
With respect to cars below Rs. 3 lakhs in India, there's just a solitary option that's available in the market right now. Let's take a quick look at the car along with its estimated on-road price and approximate insurance cost.
But before we go ahead, here's something that you should know. The on-road price specified below is specific to the region of New Delhi. The price may vary depending on the state and region you are from.
| | | |
| --- | --- | --- |
| Best cars under Rs. 3 lakhs | On road prices | Insurance premium costs (Approx.) |
| Bajaj Qute (RE60) | Starting from Rs. 2.91 lakhs | Rs. 16,788 |
The car insurance premium displayed above is just an approximation. It can either be higher or lower depending on the insurance service provider that you opt for. For more information regarding car insurance premiums for a vehicle, you can use the online car insurance calculator available on the Finserv MARKETS website.
Bajaj Qute (RE60)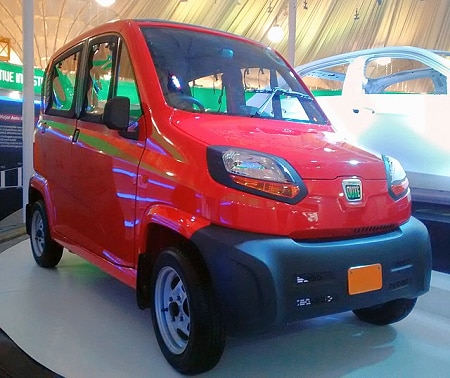 (Source: Wikimedia Commons)
The Qute (RE60) is an ultra-compact car from Bajaj Auto with a price tag of just Rs. 2.6Rs. 3 lakhs (ex-showroom). Since you're effectively getting a new car for under Rs. 3 lakh, the Qute is the perfect option for small families looking to upgrade to their first ever car. Even the cost of insuring the Bajaj Qute (RE60) is just Rs. 16,788 per year (approximately).
Marketed as a better alternative to two-wheelers and three-wheelers, the Bajaj Qute (RE60) protects the occupants from environmental factors. Thanks to its compact dimensions, the Bajaj Qute can easily navigate even the narrowest of lanes with ease.
Despite its small dimensions, the car comes with several features such as a dedicated front storage space, foldable rear seats, support for rooftop storage, and a powerful cooling fan for the interiors. Continue reading to find out more about this unique car under Rs. 3 lakhs (on-road price).
Car Variables/Features

Details

On- road price range

Starting from Rs. 2.91 lakhs

Insurance cost

Rs. 16,788 (approximately)

Safety rating

1-star rating (Euro NCAP)

Engine capacity

216 cc

Transmission type

5-speed manual transmission

Fuel Type

Petrol / CNG / LPG

Mileage

Petrol - 34 kilometres per litre

CNG - 50 kilometres per kilogram

LPG - 21 kilometres per litre

Seating capacity

4 individuals
Conclusion
There you have it. The Bajaj Qute (RE60) is the only entry in the list of cars under Rs. 3 lakhs that's currently available for sale in India. However, this Rs. 3 lakh car is a great option for individuals concerned about high fuel costs since it comes with alternative fuel options and gives exceptional fuel efficiency.
If you're planning to purchase the Bajaj Qute (RE60) in the near future, make sure to also purchase a comprehensive car insurance plan. Not only is having a car insurance plan mandatory as per law, but it also helps you protect you financially in the event of an accident involving the vehicle. Alternatively, if you already have car insurance that's up for renewal, make sure to go through with the renewal on time before the due date. This way, you can ensure continuous and uninterrupted protection for your car.