Health Card in Health Insurance
A health insurance card is an identity proof issued at the time of purchase of an insurance policy by the health insurer. The health card helps verify you as a policyholder who has an active insurance plan. If you wish to avail the health insurance benefits, then having a health insurance card is of utmost importance. You can think of a health card as a document that is pivotal to filing cashless claims and reimbursement claims alike.
When you visit a network hospital to receive medical treatment, you are required to show your health insurance card at the insurance desk. If you have not been issued a health insurance card, you must reach out to your insurance provider and apply for a health insurance card online.
Do You Need a Health Insurance Card
A health insurance card is evidence of your insurance coverage which is why it is crucial to have one in order to avail the healthcare facilities. Just as you cannot access certain areas of your workplace without the required access on your employee identity card, you cannot access the coverage and services available under your insurance plan without a health insurance card. It includes all the pertinent details with regard to your health insurance policy with a particular insurer. So, yes, you require a health card and you must opt for it if you haven't already!
What Details Does a Health Card Contain
A health insurance card comprises of all the relevant information about your insurance policy such as:
Your name

Your date of birth

Name of the health insurance company

Health insurance policy number

Type of health insurance

Sum insured under the policy

Date of expiration of the policy
These health insurance card details are unique to each policyholder and thus, you must maintain the health card. Whether you intend to file a cashless health insurance claim or a reimbursement claim, you must have your health card handy.
How to Get a Health Card Online?
Once you purchase a health insurance policy, your insurance provider shall send the policy document and your health card to you. However, if you haven't received the health card, you can contact your insurer and request for a cashless health card online. You can contact the health insurance via their toll-free number, email, or their official website and submit a request for a health insurance card online. Some insurers might issue separate health insurance cards to each person insured under a Family Floater Health Insurance Plan.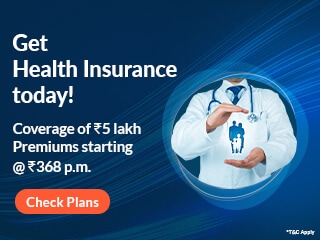 Health Insurance Card Benefits
A health card is key to unlocking the benefits of your health insurance policy. Here are some of the crucial health card benefits that you should be aware of:
Access to Cashless Claims
Your health insurance card is critical for enjoying the perks of cashless hospitalisation under your policy. Here, you do not have to pay for the medical services availed as your health plan covers these expenses.
When you visit a network hospital associated with your health insurer, you must present your health card to seek a cashless healthcare facility. After verifying the details on your health card, the network hospital will submit the pre-authorisation form to your health insurer. Once your cashless claim has been approved by the insurer, they shall settle your medical bills directly with the network hospital.
Summary of Your Policy Details
One of the main benefits of a health card is that you have all the necessary information about your insurance policy handy. You need not go through the policy document to check small details such as the validity of your plan, the policy number, etc. You can access the following details through your health card:
Type of policy

Policy number

Sum insured of the plan
Easy Contact With Insurance Provider
The health insurance card also contains important detail such as the customer care number of your health insurer. Should you wish to reach out to the support team, you can easily contact them on the mentioned number. It is important to note here that in the event of a planned treatment as well as an emergency treatment, you are required to inform your health insurer at the earliest to avoid claim rejection. You can do so through the customer support number or via email.
Health Card Validity Details
The validity of your health card is generally the same as that of your health insurance policy. Therefore, you can easily keep track of the renewal date of your policy. After you renew your health insurance plan, the insurer shall issue you a new health insurance card and thus, it is the best way to know the validity of your plan!
Avail Cashless Benefit Anywhere
If you happen to need medical treatment, including hospitalisation anywhere in the country, you can easily use your health insurance card. By submitting the card, you can avail cashless service at any of the network hospitals nearby you.
During unforeseen medical emergencies when it may be difficult to access your policy details, your health card can easily give you access to cashless healthcare facilities! Therefore, you must carry a health card with you while travelling across the country.
A cashless health card offers you a seamless process of availing a cashless facility available under your health plan. Since the health insurance card has details readily available, it is easy for a network hospital to verify your policy information and submit the pre-authorisation form to your health insurer.
To Conclude
With this, you must have understood the importance and benefits of a health card. The health card enables you to seek cashless hospitalisation for planned as well as emergency treatments. Hence, it is recommended to always keep the health card with you. But are you still delaying getting health insurance? Then now is the time to safeguard your medical requirements and head over to Bajaj Markets! Purchase a suitable insurance policy by going through our lucrative insurance offerings today.