Who is FASTag Mandatory For?
From January 15th of 2020, issuing a FASTag for your vehicle has become mandatory for all vehicles, private or commercial. Vehicles without a FASTag will be required to pay twice the going rate at toll plazas.
How Does FASTag Work?
Following steps explain in-detail how FASTag works -
Step 1: When your vehicle passes through a FASTag lane at a toll plaza, a pre-enabled system will capture your FASTag sticker providing your vehicle's details. These include your Vehicle class, Tag ID, and TID. The system will immediately send your details for processing to the acquiring bank.
Step 2: To validate your tag details, the bank will send a request to the National Electronic Toll Collection (NETC) Mapper.
Step 3: NETC Mapper will respond with your Tag Status, Vehicle class, vehicle registration number, and other details to authenticate them against the details on your sticker.
Step 4: Once the TAG ID is authorized, the issuing host will calculate the suitable toll fare and send an automatic debit request to your bank from NETC System.
Step 5: The issuing host will debit the amount from the linked tag holder account. You will receive an alert via SMS regarding the amount debited.
Step 6: The host will then send the response message to the NETC system. If the response is sent within the specified turn-around time, the transaction will be deemed as "accepted".
Step 7: NETC system will initiate a response to the acquirer host.
Step 8: The acquirer host will initiate a response to the respective toll plaza system, notifying it that the transaction has been processed.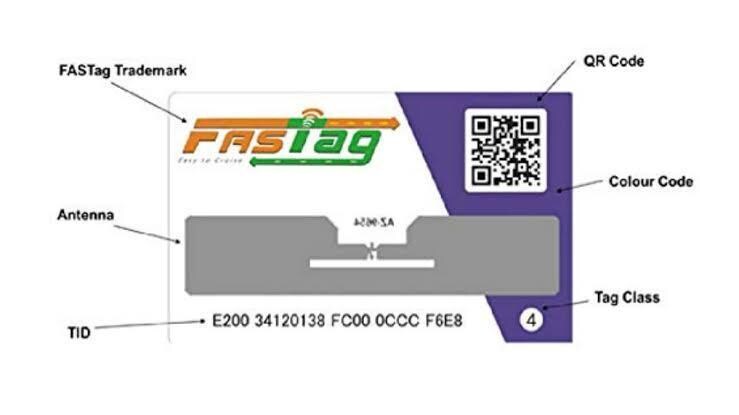 Source: Times Of India
How to Use FASTag?
Place the tag carefully on your vehicle windshield (mostly from the inside of the car) by removing the adhesive strip.
Ensure that the Customer Service Toll-Free Number is always visible to the driver.
As you zip through the tolls, money from your linked account will be deducted automatically.
Note that you should not use any cello tape or other adhesive on the FASTag to avoid payment inconvenience at the toll.
What Are the Benefits of FASTag?
The following are the benefits of using FASTag:
It speeds up the toll process through automated payment.

It accommodates increasing traffic without creating additional lanes.

It reduces one's carbon footprint in the form of eliminating vehicular emissions at plazas that arise from slow lanes.

It offers customers the flexibility to pay their toll electronically, without having to worry about having cash on hand.

It reduces cash handling which enhances audit control by centralizing user-accounts.

It promotes comprehensive data collection, such as tabulating the vehicle count for the day.
How To Buy FASTag?
If your vehicle was manufactured after December of 2017, then it would most probably already be fitted with the FASTag. If this is not the case, there are three ways to issue and activate your FASTag:
Apply for your FASTag from any branch of 22 certified banks. When it is time to activate your FASTag, you are required to submit KYC (Know Your Customer) documentation depending on the KYC policy of your bank. Additionally, you also need to provide your Registration Certificate (RC) for the vehicle you are issuing.

Collect your FASTag from the Point-of-Sale channel on the National Highway toll plaza. It is free to get a FASTag card this way.

Purchase your FASTag from an e-commerce platform like the 'My FASTag' mobile app. Make sure the platform is permitted to issue FASTag. This is the quickest way to activate your FASTag card. You simply have to fill in your vehicle details and link your existing bank account. Instead of linking a bank, you can alternatively choose the prepaid wallet facility issued by the NHAI.
Also, read more about how to get FASTag by visiting Finserv MARKETS online.
How Much Does FASTag Cost?
The fees for issuing or reissuing of FASTag are as follows –
| | |
| --- | --- |
| FASTag Issuance Fee (one-time payment) | Rs. 100 |
| Reissuance Fees | Rs. 100 |
Further, you need to pay a one-time deposit as per your vehicle types. The following table gives an overview of the same.
| | | | |
| --- | --- | --- | --- |
| NPCI Vehicle Class | Vehicle Type | Security Deposit (in Rs.) | Threshold Amount (in Rs.) |
| 4 | Car / Jeep / Van / Tata Ace and Similar mini Light Commercial Vehicle | 250 | 150 |
| 5 | Light Commercial vehicle 2-axle | 99 | 1 |
| 6 | Bus– 3 axles | 99 | 1 |
| 6 | Truck - 3 axle | 99 | 1 |
| 7 | Bus 2 axle / Minibus, Truck 2 axle | 99 | 1 |
| 12 | Tractor / Tractor with trailer, Truck 4, 5 & 6 -axle | 99 | 1 |
| 15 | Truck 7-axle and above | 99 | 1 |
| 16 | Earth Moving / Heavy Construction Machinery | 99 | 1 |
How to Recharge FASTag?
In case FASTag is linked to your:
Bank Account: There is no need to load money in a prepaid wallet. You simply need to ensure that the account linked to your FASTag card has sufficient balance for your toll payments.

NHAI Prepaid Wallet: You may recharge the NHAI prepaid wallet through the following mediums: cheque, UPI, credit card, debit card, NEFT, or Net Banking.
Conclusion: If you're on the road often, FASTags can prove extremely useful. Apart from opting for FASTags, another point to tick off your travelling checklist is car insurance. Car insurance ensures you and your family are thoroughly protected as you traverse the length and breadth of India.
You can consider the Car Insurance, available on Finserv MARKETS. The Car Insurance policy comes with a swift claim settlement process, 24X7 assistance, and cashless services across 4000+ garages. 
Finserv MARKETS, from the house of Bajaj Finserv is an exclusive online supermarket for all your personal and financial needs. Loans, Insurance, Investment and exclusive EMI store, all under one roof- anytime, anywhere!