The Indian Government mandates that every vehicle on the roads, be it a personal vehicle or a commercial one, be registered with local authorities. This allows the government to keep track of the vehicular density of the country, providing data for a variety of purposes. It does so by issuing all vehicles with a Registration Certificate Book, colloquially referred to as the RC Book, which contains all the details about the vehicle, including ones such as the Owner details, Car make and body type, Unladen weight, Colour, chassis number etc. This essentially makes the RC work like an identity card for the vehicle and is crucial for availing services such as fitness certificate renewal, insurance claims and transfer of vehicle. It is important to have the RC of the vehicle you are driving at all times along with other important documents such as your Driving licence and car insurance papers.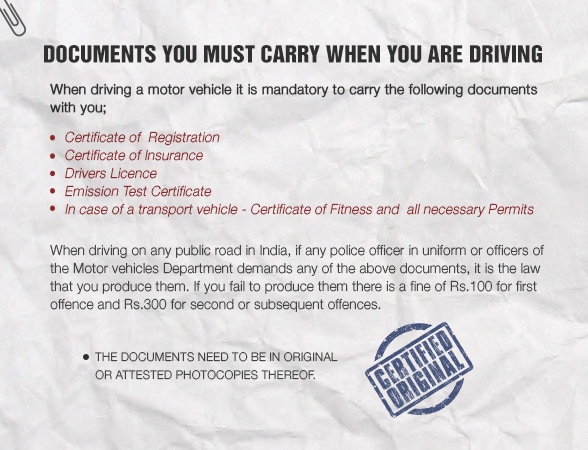 (Source: Jaagore)
In case your RC Book is lost, mutilated or torn, and you are caught driving without it, you can be charged a hefty penalty of Rs. 5000/- and can also have your vehicle seized. Thus, it is essential that you quickly opt for a duplicate RC book. Thanks to the friendly policies being introduced by the government, you do not need to involve agents and stand in troublesome queues for the same and can now apply for a duplicate RC book online.
Here are the steps involved in the same:
Step 1: Visit the Government of India's Parivahan Seva website and register as a user.
Step 2: Head over to the online services offered by them and select the option to apply for a Duplicate RC book online. Proceed filling the details required such as the registration number of the car (Digits on the number plate) and the Chassis Number and verify the auto-generated owner details.
Step 3: Head over to Service details where the website will ask you the reason for applying for a duplicate RC book. If your RC book is lost or stolen then choose 'lost' and enter the FIR details.
Step 4: Move on to the insurance details tab in the status bar and duly fill the policy details.
Step 5: Schedule an appointment at your nearest Regional Transport Office (RTO) by choosing an appropriate time slot.
Step 6: Collect relevant documents
There are a number of documents required that need to be collected for obtaining a duplicate RC book. Please note that documents marked with a * might not be required in your state.
Application in Form 26 – The PDF of the form can be obtained from the Vahan website.
Police certificate (FIR)- In case your RC book was lost or stolen, a First Information Report (FIR) can be filed online on the police website of your respective state or by visiting your nearest Police Station.
Affidavit stating that RC is lost and has not been impounded* – Purchase a stamp paper and make the affidavit or get a lawyer to do it for you at a nominal price.
Pollution under control (PUC) certificate – Details for the same can be obtained from the Vahan website.
Valid insurance certificate – a valid insurance is mandatory for the vehicle to ply on the roads.
Proof of address*- Any address proof such as your Aadhar Card or Driving licence would suffice. Make sure to have an original and a copy.
Challan clearance from traffic police & Enforcement wing Transport Department* – Only required for commercial vehicles
Tax clearance from Accounts Department* – Only required for commercial vehicles
Attested copy of PAN Card/ Form 60 and 61*- PDF version of form 60&61 is available on the website
Chassis & Engine Pencil Print*- find the chassis and engine number embossed on the vehicle and place a piece of paper over it. Scribble a pencil with a light and constant pressure to get the impressions of the number on the paper.
Signature Identification of owner* – Any signature identification proof would suffice here such as Aadhar Card, Pan Card or Driving licence.
Step 7: Click on the DMS tab in the status bar to upload the necessary documents, gathered together in the previous step, in a digital PDF format.
Step 8: Finish your application process by heading over to fee details and paying the necessary fees and charges. For a Light Motor Vehicle (LMV) , the fee is Rs.530 which includes a standard fee of Rs.200 for the Smart Card and Postal Charges. Make the Payment and print a copy of the receipt.
Step 9: Visit the assigned RTO as per the chosen appointment slot with all the necessary documents and the fee receipt.
Step 10: Congratulations! The duplicate RC book should reach your registered address within 7 days. If it does not reach you within 7 days, follow up with the RTO.
You should be back and hitting-the-road as soon as you receive your duplicate RC book. However, before you do, it is recommended that you keep a check of other mandatory requirements such as your Motor Insurance, not only to avoid paying hefty fines but also to ensure that you are adequately covered by your policy. In case the arduous task of procuring your duplicate RC book has left you tired, the Bike insurance and Car insurance policies available on the Finserv MARKETS website allows easy online purchasing and renewal features, ensuring that you are never left without adequate and timely coverage. You can also get access to round the clock assistance, access to a wide network of garages across India and rapid claim settlements.