A total of 253 million registered vehicles have been reported in India by March 2017. The number is only increasing every day.
You, too, might have purchased a new car; but to drive your new car on Indian roads, you need to have a valid driving licence, which is mandatory as per the Motor Vehicles Act of 1988. As per recent reports, it is estimated that about 30% of driving licences in India are fake. However, you must be aware that not carrying a valid licence could lead to heavy fines and penalties. 
Learner's licence test
The first and foremost step to applying for a permanent driving licence is to procure a learner's licence. A learner's licence helps you hone your driving skills and gives you practical experience to drive on Indian roads. To get your learner's licence, you would need to give a theoretical exam. Your written exam will consist of a few learning licence test questions. Anyone above the age of 16 years can take this drivers licence test either online or offline at the nearest Road transport office (RTO).
How many questions are asked in the RTO exam? 
RTO exam questions follow a multiple-choice question format. A total of 15 driving licence test questions are asked, out of which you need to answer 9 learning licence test questions correctly in order to successfully clear the drivers licence test. 
Each of the driving licence test questions must be answered within 30 seconds as you move on to the next. Pick the answer that seems most suitable to you out of the 4 choices available.
Learning licence Test Questions
Here are a few sample driving licence test questions based on traffic rules and regulations that can be asked in the exam. The test is presented in the form of MCQs and the right answer is highlighted in bold for your reference below:
Q1. What is the minimum age for driving a motorcycle without gear?
16 years

18 years

21 years
Q2. What should you do when you see a traffic sign of a school nearby?
Stop the vehicle

Slow down and proceed carefully 

Press horn and proceed in the same speed
Q3. Before you overtake a vehicle what should you keep in mind?
The road ahead should be clearly visible and overtaking should be safe

The road is not safe

There are no vehicles ahead
Q4. If a driver sees the sign for 'slippery road ahead', he/she must
Drive faster

Change gear and reduce speed

Apply brake but proceed in the same speed
Q5. Overspeeding is
Not an offence and can be neglected

Is an offence but no charges are pressed against you

an offence that could lead to your driving licence being cancelled or suspended
Q6. In case you see a vehicle that has met with an accident with injured passengers inside, you should
Stop your vehicle and report the matter to the nearest police station

Take the vehicle to the closest police station and report the accident

Take measures to secure medical attention to those injured and report the accident to the closest police station within a period of 24 hours
Q7. The only vehicle which is allowed to drive at a speed of 60km/ hour is
Motor car

Heavy bus/trucks

All of the above
Q8. Suppose you are driving on a road with two lanes. The vehicle to the front of you is driving slowly and the road ahead is clear and safe to overtake. What should you do?
Overtake the vehicle from the left side of the vehicle ahead

Overtake the vehicle from the right side of the vehicle ahead

Overtake if the road is wide enough
Q9. If you see a yellow light at the traffic signal, you should
Reduce your vehicle speed and proceed with caution

Slow the vehicle

Stop the vehicle
Q10. Be careful while overtaking vehicles marked with 'L'( learner driver) because
You might crash into them

You might crash into people on the road

The learner driver might get nervous and make a mistake
Q11. If a vehicle is parked on the side of a road at night
The vehicle should be locked

Park light should remain on

All of the above
Q12. You should never try to overtake a cyclist when
Driving on a narrow road and just before you are about to turn left

On a crowded street

All of the above
Q13. Fog lamps should be used when
There is mist

At night

When the vehicle opposite is not using the dim light
Q14. If an ambulance is approaching
No preference should be given

Provide passage if there are no vehicles on the other side

Allow free passage by moving to the side of the road
Q15. When you are moving off from behind a parked car, you should
Give a signal, check your rear and side mirrors to back out carefully

Move your vehicle as soon as possible

Just give signals and proceed to move
Q16. When should you stop your vehicle?
When approaching the red traffic light

When signaled by a police officer or involved in an accident

All of the above
List of traffic signs 
You will also need to understand the meaning of a few traffic signs, which may be asked by the RTO as a part of RTO exam test questions. 
Here are a few: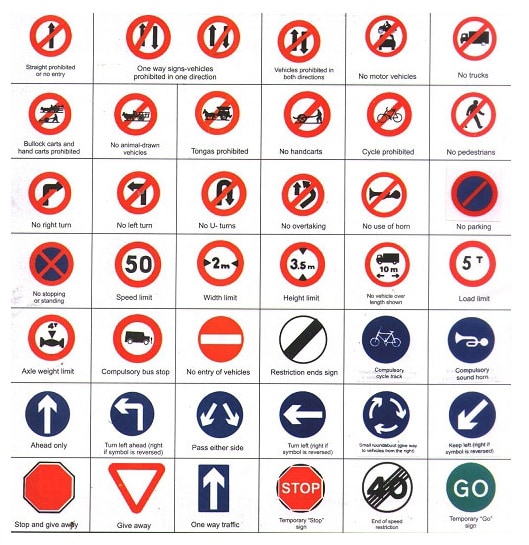 Source: www.goapolice.gov.in
Once you successfully clear your learner's licence test, you can then apply to get a driver's licence. Under the latest rules, you would be fined Rs. 5,000 for driving without a licence. It is, thus, crucial to pass your learner's licence test to secure a valid permanent licence for the future. 
While the fines for driving without a licence are quite high, so are the fines for driving without an insurance policy. You would be fined Rs. 2,000 for driving without an insurance policy. Thus, to stay safe and financially secure on Indian roads, it is important to opt for vehicle insurance.  You can consider the Motor insurance policy available on Finserv MARKETS for your two-wheeler or your car. 
The motor insurance policy on Finserv MARKETS covers any damage to your two-wheeler or car arising out of any natural or man-made causes, such as thefts or accidents and even provides third party liability coverage. Cashless claim facilities at over 4000 garages in every part of India are also available with the car insurance plan. The policy also comes with quick claim settlements and round the clock assistance. Secure your bike or car today and drive worry-free.