As per the Motor Vehicles Act of 1988, all vehicles are required to possess a registration certificate (RC)as well as a mark of registration on the vehicle itself, in order to be driven in public or elsewhere. Failure to abide by this section of the act would result in the owner being penalized under the same piece of legislation. The RC is essentially a document verifying that your vehicle is registered with any Regional Transport Office within the country.
The certificate is initially valid for a period of 15 years, following which, it must be renewed periodically every 5 years. For many years, the registration certificate was a set of documents or an R.C. book, however, they can now also be issued as PVC cards that either possess embedded chips or a QR code that can be scanned in order to access the vehicle and its owner's R.C. information. This measure was adopted in order to improve accessibility and connectivity to the government's online databases such as VAHAN or SARATHI. In fact, all but 3 states in India now have offices affiliated with VAHAN.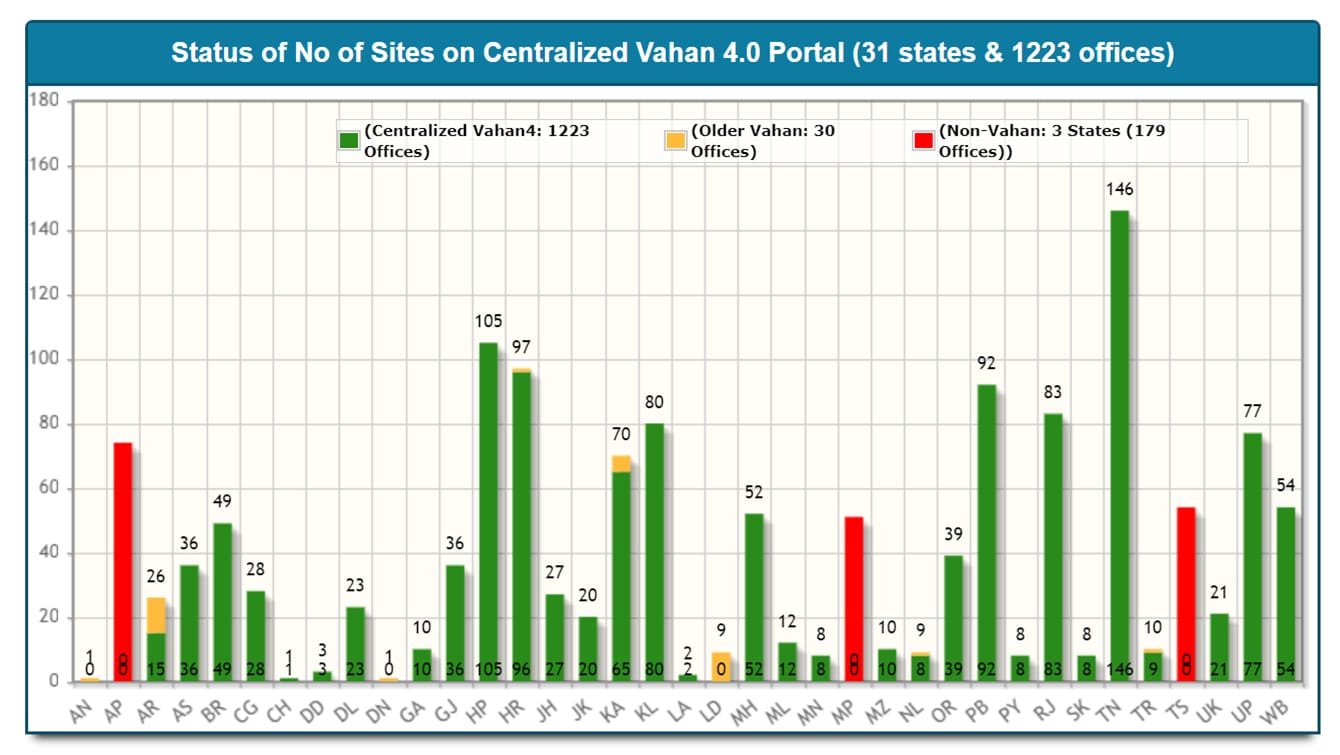 Source : VAHAN
Process to apply for RC Book/RC Smart Card
Vehicle owners can either register their automobiles personally at the nearest RTO or have their dealer perform the process before having the vehicle delivered to them. Certain dealerships only deliver automobiles to their customers with the registration certificate completed, undertaking the application process themselves. The procedure itself is fairly simple and requires only a few documents to be submitted and formalities to be completed, namely:
Form 20(The registration application)
Form 22 ( Including the manufacturer's roadworthiness certificate)
Form 21(Including the manufacturer or dealer's sales certificate)
PAN Card
Passport size photos
Payment of registration fees
Copy of the vehicle's insurance documents
Form 34 (Application for making an entry of a purchase or hire agreement following registration)verified by the owner
Verified copy of the owner's address proof
Invoices from the dealer/manufacturer
As it can be seen in the above list, insurance documents are also part of the documents to be submitted when placing a request for a smart card or new RC Book. It is compulsory to solicit third party insurance services when purchasing or hiring an automobile as per the Motor Vehicles Act, though the owner can choose to opt for more adequate coverage . This measure was taken to ensure that the victims of road accidents received adequate financial compensation and driving without insurance is now penalized with a fine of Rs. 2000 as per the newly amended act of 2019.
The Motor Insurance Policies available on the Finserv MARKETS are ideally suited for newly purchased vehicles and older ones alike. With its comprehensive coverage, easy application process and 24×7 assistance, these policies are perfectly suited towards ensuring your financial security on the road and a successful application for an RC.
Complete details given in RC Book

The R.C. information provided by the RC smart cards or the R.C. book are the same and consist of the following:
Registration number
Name and address of the vehicle owner
Make and vehicle class
Type of vehicle body
Cubic capacity
Seating capacity
Type of fuel consumed
Registration and expiry date
Month and year of manufacture
Wheelbase
Chassis number and engine number
Colour
Unladen weight
Owner's Signature
How to convert RC Book to RC Smart Card
The course of action to be taken in converting an R.C. Book to a smart cart is also fairly simple and proceeds as follows:
Firstly submit an application to the superintendent of traffic police in your locality stating the reason for your requirement of a smart card.
Submit your R.C. Book as well as copies of your car insurance or two wheeler insurance and emissions certificates at the nearest RTO office.
Once these steps are completed, the smart card will be delivered to your registered address after 7 days.
Fees for getting RC
The registration fees can vary depending upon the type of vehicle as well as its make and manufacturing location. Broadly, the registration fees can be divided into these strata:
| | |
| --- | --- |
| Two wheelers | Rs. 300 |
| Light Motor Vehicles (Non Transport) | Rs. 600 |
| Medium goods and passenger vehicles | Rs. 1000 |
| Heavy goods vehicle | Rs. 1500 |
| Heavy passenger motor vehicles | Rs. 5000 |
| Imported motor vehicles | Rs. 3000 |
| Imported motorcycles | Rs. 5000 |