As per the Motor Vehicles Act of 1988, all vehicles are required to possess a registration certificate (RC)as well as a mark of registration on the vehicle itself, in order to be driven in public or elsewhere. Failure to abide by this section of the act would result in the owner being penalized under the same piece of legislation. The RC is essentially a document verifying that your vehicle is registered with any Regional Transport Office within the country.
The certificate is initially valid for a period of 15 years, following which, it must be renewed periodically every 5 years. For many years, the registration certificate was a set of documents or an R.C. book, however, they can now also be issued as PVC cards that either possess embedded chips or a QR code that can be scanned in order to access the vehicle and its owner's R.C. information. This measure was adopted in order to improve accessibility and connectivity to the government's online databases such as VAHAN or SARATHI. In fact, all but 3 states in India now have offices affiliated with VAHAN.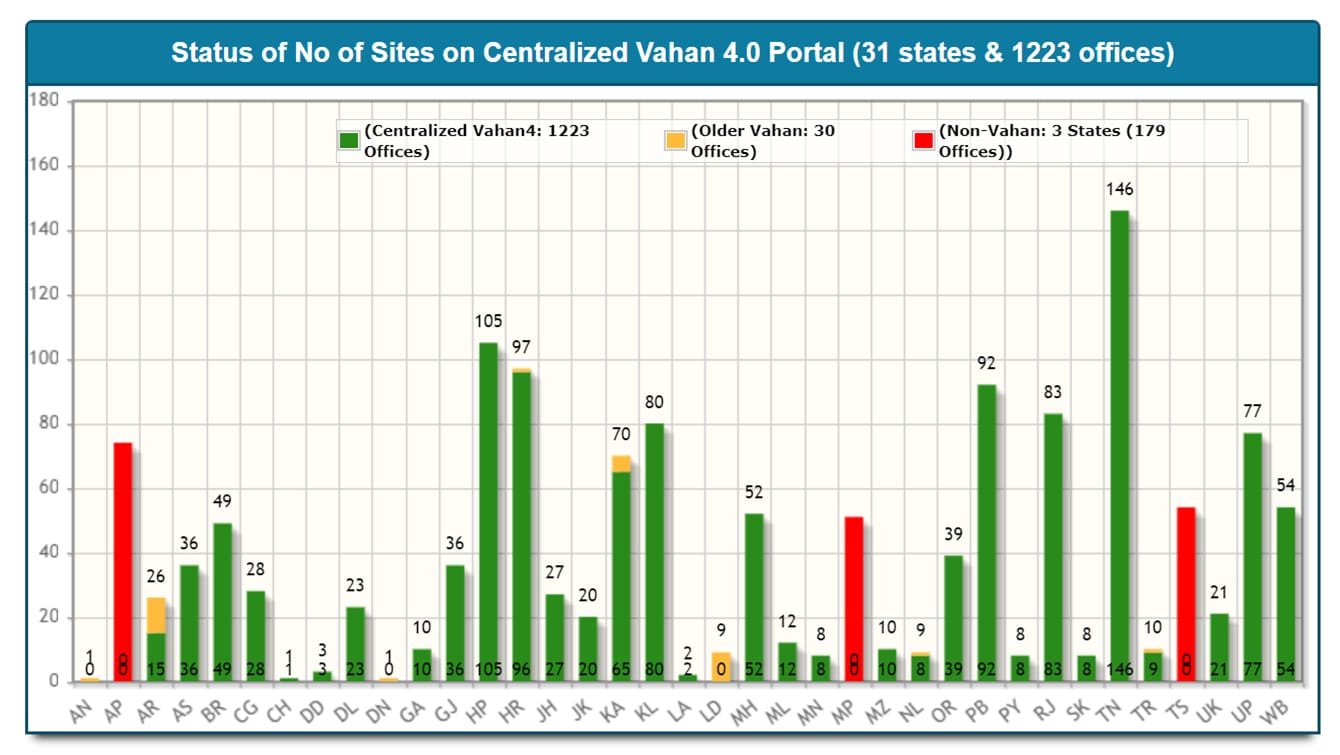 Source : VAHAN
Process to Apply for RC Book/RC Smart Card
Vehicle owners can either register their automobiles personally at the nearest RTO or have their dealer perform the process before having the new vehicle delivered to them. Certain dealerships only deliver automobiles to their customers with the registration certificate completed, undertaking the application process themselves.
If you are applying for the registration certification on your own, here's what you need to do.
Visit your nearest RTO with your vehicle.
The RTO vehicle inspecting authority will inspect your vehicle.
Fill Form 20 for obtaining a new RC.
The RTO authorities will take an imprint of the vehicle chassis number.
Submit the required documents (see the list below).
Pay the registration fees and collect the receipt.
The RC will reach your registered address shortly.
Documents Required for Vehicle Registration
Here's a list of documents you require when obtaining a vehicle registration certificate:
Form 20: Duly filled with accurate information
Form 21: Sales certificate as issued by your motor vehicle dealer
Form 22 and Form 22A: Roadworthiness certificate issued by the car manufacturer
PAN Card copy
Passport-sized photos
Dealer and Manufacturer Invoice copy
Motor Insurance Plan copy
Proof of Address
Registration fees (check the application amount in the table below)
Form 34: Duly signed by the owner and financier
Complete Details Given in RC Book
The R.C. information provided by the RC smart cards or the R.C. book are the same and consist of the following:
Registration number
Name and address of the vehicle owner
Make and vehicle class
Type of vehicle body
Cubic capacity
Seating capacity
Type of fuel consumed
Registration and expiry date
Month and year of manufacture
Wheelbase
Chassis number and engine number
Colour
Unladen weight
Owner's Signature
Application Process for Obtaining Duplicate RC
In case you lose the RC of your vehicle or your original copy is torn beyond fixing, you can obtain a duplicate RC through the following process.
First, file an FIR at your nearest police station in case you lost the RC.
Then, get Form 26 from the RTO and apply for a duplicate RC.
Get it signed by your car financier if you have purchased the vehicle on a car loan.
Submit the duly filled Form 26 with the necessary documents and complaint letter at the RTO.
The documents that you may require when obtaining a duplicate RC are as follows –
Form 26: Application for a duplicate RC
FIR copy if you've lost the RC
Original RC in case it is damaged
Tax token and tax payment details for the last four quarters
Motor insurance plan copy
No Objection Certificate (NOC) from your vehicle financier
Active PUC
How to Convert RC Book to RC Smart Card
In case you want to convert your RC book RC smart card, follow the steps given below –
Write a letter to the superintendent of traffic police in your respective city. State your objective clearly that is getting an RC book converted to RC smart card.
Carry your car insurance or two wheeler insurance plan along with the PUC.
Pay the prescribed charges.
Submit your original RC book along with the documents at the RTO.
The RC smart card will be issued shortly and reach your registered address within a week.
Fees for getting RC

The registration fees can vary depending upon the type of vehicle as well as its make and manufacturing location. Broadly, the registration fees can be divided into these strata:
| | |
| --- | --- |
| Type of Vehicle | Amount |
| Two wheelers | Rs. 300 |
| Light Motor Vehicles (Non Transport) | Rs. 600 |
| Medium goods and passenger vehicles | Rs. 1000 |
| Heavy goods vehicle | Rs. 1500 |
| Heavy passenger motor vehicles | Rs. 5000 |
| Imported motor vehicles | Rs. 3000 |
| Imported motorcycles | Rs. 5000 |
How to Check Vehicle RC Details Online
Checking your RC details online is straightforward. Just follow the steps given below -
Visit the official website of the Ministry of Road Transport and Highways, VAHAN (https://vahan.nic.in/nrservices/faces/user/login.xhtml).
Select the 'Know Your Vehicle Details' tab on the menu.
You will be redirected to a new page. Enter your vehicle registration number (that is your car or bike plate number).
Enter the captcha code and select 'Search Vehicle'.
The system will display your RC details on the next screen.
How to Check Vehicle RC Details with SMS on your Phone
You can also seek the vehicle RC details with SMS. Here's what you need to do –
Enter VAHAN <Space> Your Vehicle Registration Number.
Send this SMS to 7738299899.
Upon sending the text message, you will receive the RC details that include the vehicle owner's name, RTO details, make and model of the vehicle, expiry date, and motor insurance details on your phone.