Procuring a driver's licence is essential, in order to abide by road safety rules in India. A driver's licence not only is mandatory by law but also acts as an identity proof and helps procure a motor insurance policy to secure your vehicle.
In fact, you will have to pay a hefty fine of INR 5,000 as per the New Motor Vehicle Act 2019 in case you are caught driving without a valid driving licence. So, if you do not have a driving licence yet, make sure that you are applying for it soon.
The process of digitizing a host of government services such as transport provisions is well underway. In fact, you can apply for a driver's licence online but have to visit the Regional Transport Office (RTO) for driving tests.
If you have already applied for a driver's licence and want an update on your application status, you can do the same online. You can either visit the specific RTO website or go to the Sarathi website of the Ministry of Road Transport and Highways to do the same.
To check your DL application status, observe the following steps
Go to parivahan.gov
Select the specific state where you applied for your driving licence
Upon selecting the state, you will be redirected to the main page with many options
Select 'Driving licence' on the left-hand side of the page, and click on 'Apply Online'
Click on 'Application Status'
Upon following the above step, you will need to enter your application number, followed by your date of birth
Click on submit and you will be able to view your driving licence status online
Alternatively, if you would like to complete your driving licence check on your states RTO website, you can do so as follows:
Firstly, make sure to visit your specific state's transport website
Look for, 'Check the status of your driving licence', and click on it
Enter your date of birth, driver's licence number, and your state and you will find the details
As mentioned earlier, you can also visit the Sarathi website to check your driving licence application status by following these steps: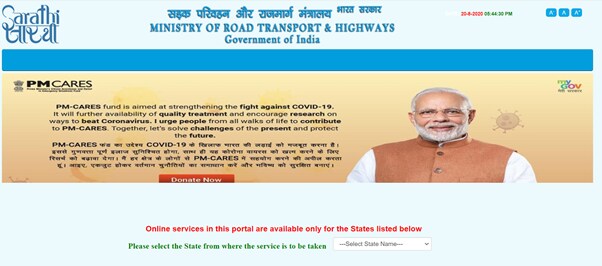 Then select the RTO that you availed the service from – we have chosen State as Maharashtra in the following screenshot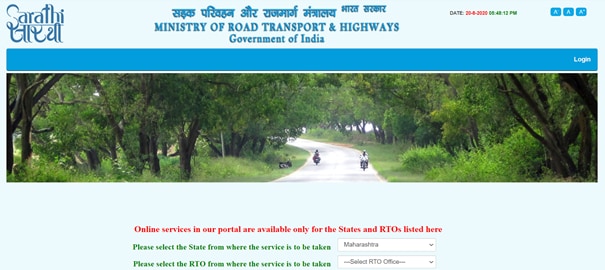 Select the 'Verify Pay Status' Option from the tab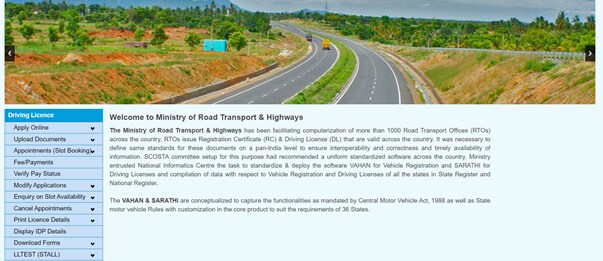 Enter your application number, date of birth, and the captcha code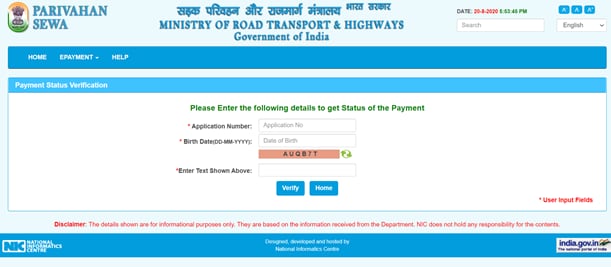 Click on Verify and the system will show you the status of your driving licence
Once you have completed your driving test, it generally takes two weeks or more for you to receive your licence by post. It is important to know that in order to apply for your driving licence; you need to have a learner's licence.
Once you get the driving licence, you can drive anywhere in India, but keep in mind that the licence has an expiry date, generally, 20 years after you have received it, at which point you will be required to renew your licence. If you have applied for an international driving licence and have it, it is applicable for use in most countries for a period of one year.
If you happen to damage or lose your driving licence, you can reapply for one online.
How to Check RC Status and Vehicle Registration Status Online
Follow the steps below to check the RC Status online –
Visit www.parivahan.gov.in
Go to the 'Online Service' tab and select 'Know your vehicle details'.
Enter your vehicle registration number and click on submit.
The RC Status will be displayed on your screen.
Now, to check the vehicle registration status, follow the steps below –
Visit the www.vahan.nic.in/nrservices/ website.
Enter your vehicle number and captcha code.
Once you click on 'Search Vehicle' the system will display your vehicle registration status.
Before you do your driving licence check online, it is important to keep the following things in mind:
Make sure to have your application number ready. This will be issued to you when you apply for your driving licence. It may also be called a 'token number' or 'reference number'.
Ensure that you enter the right details when submitting your date of birth, full name, and the name of the state where you applied for your licence.
You should generally wait at least two weeks before going online to check the status of your DL application as the backend process takes about this long.
You should print and save the details you see on your screen when you check the status.
It is free of cost to do the check online.
Once you get your driving licence and you are ready to go out onto the roads and start driving your vehicle, it is of utmost importance to keep safety in mind. India is a country where road accidents are unfortunately very frequent, and as such, it is imperative for the driver to make their personal safety a priority.
Apart from ensuring that you yourself drive carefully, it is also essential that you consider opting for bike insurance or car insurance policies, such as those available on Finserv MARKETS. You can easily purchase Motor Insurance policy for your car and/or two-wheeler and avail a whole bunch of benefits including cashless facilities, access to a pan-Indian network of over 4000+ garages, and quick claim settlements.