Ahmedabad, the largest city in the state of Gujarat and the fifth most populous city in the country, is also among the major industrial and economic hubs in India. This, in turn, has increased the traffic woes for city residents, and traffic snarls on major roads are frequent. Thankfully, the introduction of the electronic challan system has played a vital role in curbing traffic offences such as overspeeding, rash driving under the influence of alcohol, driving an excessively polluting vehicle, and so on. You must remember that the e challan system, which replaced the paper challan system, constantly monitors the flow of traffic through CCTV cameras at vantage locations, and allows the traffic police to identify traffic rule offenders via the live feed. Once the violators are identified, the authorities issue an e challan, which has to be paid within 60 days. If you are a resident of Ahmedabad, here is a look at the key aspects of the city's e challan system.
What is an e-challan?
An e-challan is a computer-generated challan issued by the traffic police for violations all over India. With the rising number of accidents and offences in India, e challans have become a reliable way for traffic police departments to keep track of wrongdoings and maintain order and safety on the roads.
Latest Traffic Rule Violation Penalties in Ahmedabad
In late 2019, traffic violation penalties in Gujarat were revised. These are the latest penalties as per new rules.
Traffic Violation

Fines imposed by the Ahmedabad City Traffic Police

Driving a two-wheeler without a helmet

Rs. 500

Driving a four-wheeler without wearing a seatbelt

Rs. 500

Overloading a two-wheeler

Rs. 100

Speaking on a phone while driving

Rs. 500 for first-time offences & Rs. 1000 (subsequent offences)

Driving vehicles on the wrong side

Rs. 1500 for three-wheelers Rs. 3000 for LMVs

Rs. 5000 for heavy vehicles

Not having a driver's license

Rs. 2000 for two-wheeler vehicles

Rs. 3000 for 3/4 wheelers)

Driving and unregistered vehicle

Rs. 1000 for two-wheelers Rs. 2000 for three-wheelers

Rs. 3000 for four-wheelers Rs. 5000 for bigger vehicles

Obstructing emergency vehicles

Rs. 1000

Breaching of pollution norms

Rs. 1,000 (lightweight two- wheelers)

Rs. 3,000 (other vehicles)
Traffic violations that attract e challan
These are the violations that will cost you an e challan in Ahmedabad.
Underage driving

Overspeeding

Driving without a licence

Driving drunk

Driving an excessively polluting vehicle
How to Make E Challan Payment Using the Ahmedabad Traffic Police: Challan Payment System

Thanks to the online Ahmedabad challan payment system, paying fines for traffic rules violation is now convenient and hassle-free. You can pay the fine in a few steps :
1. Go to the official website : https://payahmedabadechallan.org/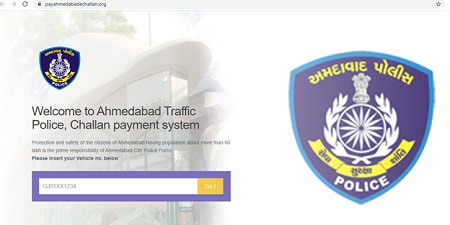 2. Enter your vehicle number.
3. If there are no violations, the page will show that there are no records.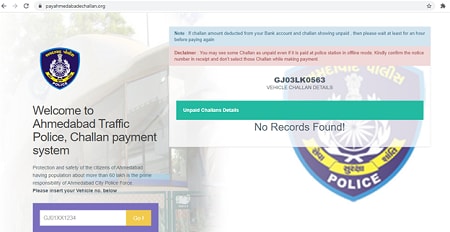 4. If there are violations, you must navigate to the page where the details of the traffic violations are shown, click on the option for paying fines.
5. Enter the preferred mode of online payment such as net banking, credit/debit card etc.
6. You will be redirected to a secured payment gateway.
7. After making the requisite payment, you will receive a confirmation message. 
How to Pay Ahmedabad Traffic challan through Parivahan

As an alternative to paying fines under e challan Ahmedabad, you can opt to pay the e challan via the central government's Parivahan initiative. Here, the Ministry of Road Transport and Highways has provided for a central website to pay e challans, irrespective of the state of your residence. You are just required to: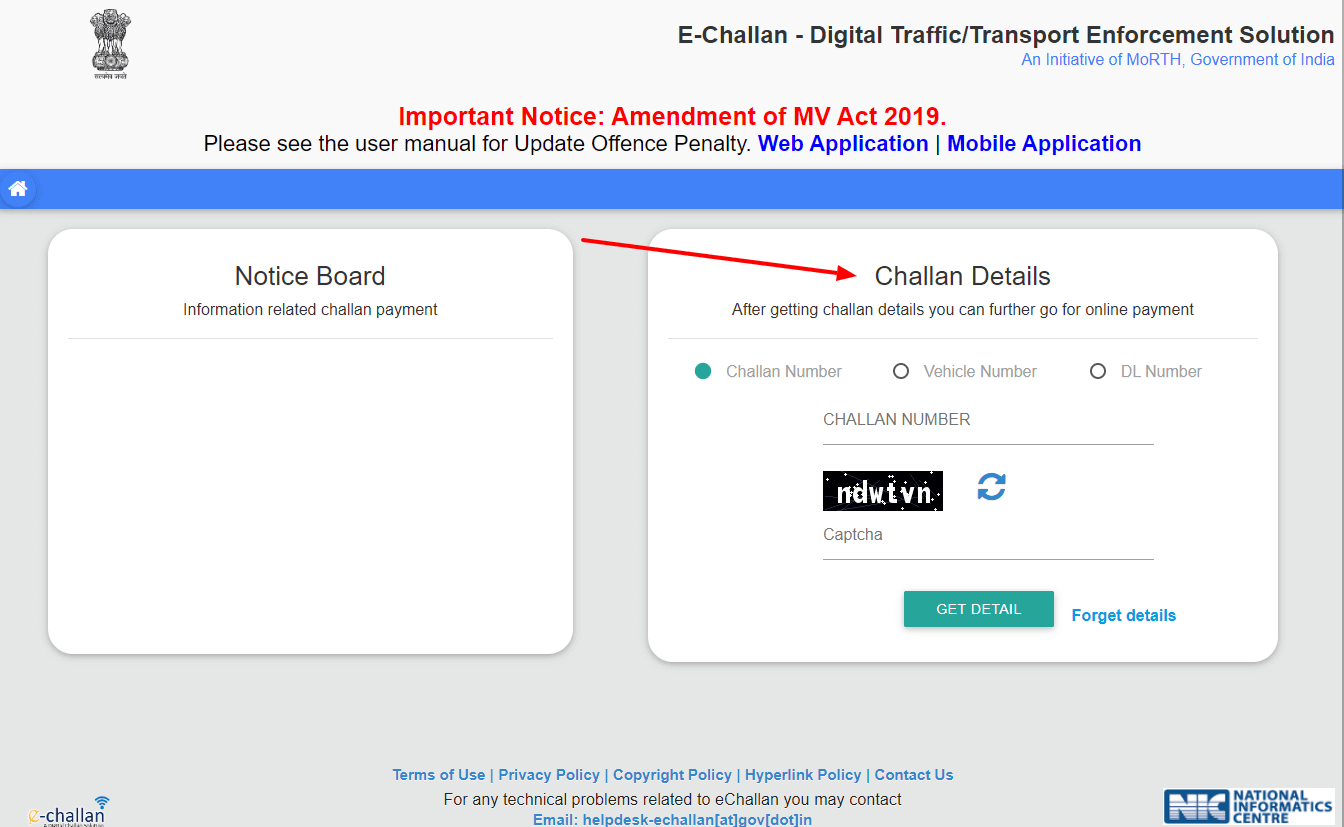 Enter challan number/vehicle number/ driving license number.

Click on 'Get details' to view the information pertaining to the traffic offence and the amount of fine.

Select the option for making the payment for single/multiple offence/s.

Choose your online payment mode and complete payment.

You will receive a confirmation message along with the Transaction Id.
How to pay e-challan offline in Ahmedabad?
Here are the best methods to pay your e challan payment offline in Ahmedabad.
Pay in cash to an Ahmedabad Traffic Police with an e challan machine.

Pay at the Ahmedabad Traffic Police headquarters.

Send a DD, Pay Order, Money Order, or cheque to the headquarters.
How to Check the Status of Traffic Challan in Ahmedabad?
If you want quick access to the status of your Ahmedabad challan at the Parivahan web portal, you are required to complete the following steps: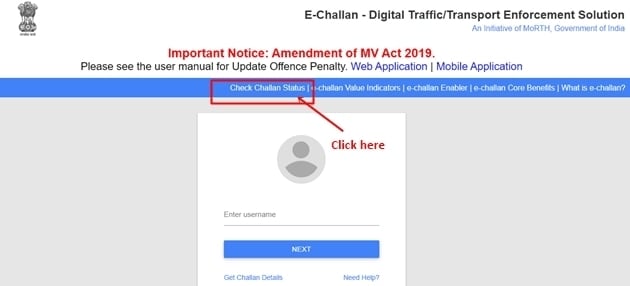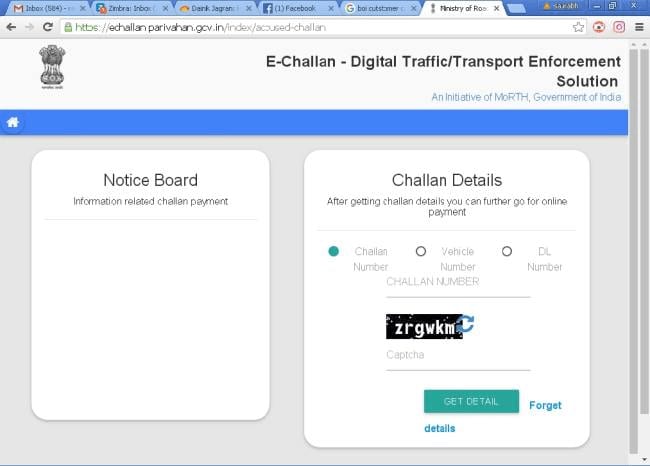 Enter the Captcha code on the webpage.

You will now receive the details of your e challan Ahmedabad.

If there are no e challans issued against you, then the webpage will show that no records have been found.
How to Check Traffic Fine and e-Challan Status on App
If you wish to check and pay your e challan through a mobile app, you can do so easily through the Ahmedabad Traffic e challan app.
Download the Ahmedabad Traffic e challan app.

Install and sign up.

Enter your vehicle number.

Click on 'Get challan details' button.
Traffic Rules and Regulations to Keep in Mind
Here's some basic driving discipline to follow in accordance with the traffic rules in Ahmedabad.
Don't drink and drive.

Ensure that your vehicle's registration and other related documents are up to date.

Ensure that your vehicle has been insured adequately.

Keep all documents with you or in the vehicle at all times to be able to produce them when required.

Don't use mobile phones while driving.

Follow lane discipline.

Don't skip signals.

Park only in designated areas.

Always wear seatbelts/helmets.
Conclusion
In the digital era, you can now view the status of your Ahmedabad challan, and pay the requisite fines seamlessly. You must, however, avoid a scenario of paying traffic fines because of traffic rule violations. Do remember to drive/ride with utmost care. But there can be situations where despite taking precautions your vehicle meets with an accident.
To protect yourself and your vehicle, it is important to avail a vehicle insurance policy. You can select from the extensive motor insurance policies, available on Finserv MARKETS. The policies here provide a wide array of advantages, like up to 50% No Claims Bonus, provision for various add-ons and minimal documentation, etc. The car insurance and two wheeler insurance policies, available on Finserv MARKETS, are equipped with a range of benefits, like hassle-free claim settlement, 24X7 claim assistance, cashless repairing of the damaged vehicle at network garages, and so on.