The state of Uttar Pradesh (UP) shares its geographical boundaries with Himachal Pradesh and Uttarakhand in the North, Madhya Pradesh in the South, Bihar in the East and Haryana in the West. It is the fourth largest state in the country in terms of area, along with being the most populous state, accounting for around 17.35% of India's population. The state capital is Lucknow, and the major cities include Kanpur, Ghaziabad, Agra, Noida, Gorakhpur, Prayagraj etc. The state government has streamlined its process for traffic management, besides providing for an electronic challan system - in consonance with the union government's initiatives.
Latest traffic rule violation penalties in Uttar Pradesh
In sync with the changes in the Motor Vehicle Act,2019 the state government has increased the traffic fines for a range of offences. Here's a look : 
Traffic violations

Fines imposed by the UP Government

Talking on mobile while driving

Rs. 1,000 for the first offence and Rs. 10,000 for the subsequent offence

Riding without helmet

Rs. 500

Driving without seatbelt

Rs. 1,000

Violating parking rules

Rs. 500 for the first offence and Rs. 1,500 for the second offence

Not giving way to emergency vehicles, like ambulances and fire brigades

Rs. 10,000

 

Driving without licence

Rs. 5,000

Violating speed limits

Rs. 4,000

Drunk driving

Rs. 10,000 and/or 6 months imprisonment which can be extended to Rs. 15,000 and/0r 2 years imprisonment for subsequent offence

Minor driving a registered vehicle

Rs. 25,000 along with imprisonment of up to 3 years

Not obeying traffic lights

Fines between Rs. 1,000 and Rs. 5,000 and/or imprisonment from 6 months to 1 year

Selling a vehicle after making illegal modifications

Rs. 1 Lakh

Giving incorrect information while applying for a driving licence

Rs. 10,000
UP Traffic police challan - e-challan payment
In this age of digitisation, the thought of standing and waiting in a queue to pay traffic fines is significantly inconvenient. Now, this is something that people in the past used to do. To make things easier for people in this era, the government of India has initiated a way to pay these fines online. In this process, the challan is generated with an Electronic Challan system. In tune with the e-governance initiatives of the central government, UP also provides for an electronic challan or an e challan system. E-challan UP maintains transparency and focuses on providing improved and proper services to state residents, besides allowing the traffic police to streamline the process of identifying violators and issuing e-challans.
How to Pay your E challan in UP ?
Step 1: For UP traffic police challan online payment, you need to visit the website : http://traffic.uppolice.gov.in/MyChallan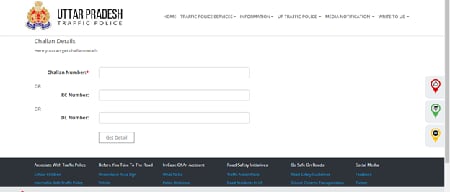 Step 2: Fill the requisite details such as e-challan UP number and click on 'Get Detail.'
Step 3: You will be taken to the payment gateway.
Step 4: You can finally pay the fine on your vehicle.
How to pay e-challan UP through Parivahan?
For UP traffic challan payment via Parivahan, you need to follow the steps given below:
Step 1: Go to the following website: https://echallan.parivahan.gov.in/index/accused-challan
Step 2 : Now provide your e-Challan UP Number or your Vehicle Number or your DL number.
Step 3: Write the Captcha, then click on ' Get detail.'
Step 4: You will be redirected to the page showing your traffic violations and the amount of the fines.
Step 5: You can now pay the fine after which you will get a confirmation message and the transaction ID.
How to pay e-challan UP offline?
You can also make UP traffic challan payment offline. Here, you are required to follow the steps given below:
Step 1 : Take the copy of your e-challan UP to the designated or nearest traffic police station.
Step 2: You now need to contact the authorities responsible for collection of fines.
Step 3: Provide them with your electronic challan, and make the requisite payment in cash. You can also inquire for pending fines, if any.
How to check e-challan UP status online?
Step 1: Visit the Uttar Pradesh traffic police website and click on check e challan status
Step 2: Provide your e-challan number to track your payment status
You will also be notified about your e challan status on your registered mobile number via SMS.

How to check the status of traffic challan in UP through Parivahan?
To check the status of your traffic challan, visit the Parivahan website and provide your e- challan UP number to check the status.
If there are no e-challans issued, you will receive a message : 'Challan not found.'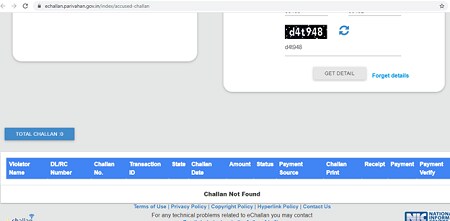 Traffic rules and regulations in Uttar Pradesh
To avoid a situation of  UP traffic challan payment, you must follow the traffic rules. These include:
Following the prescribed speed limits.
Following the mandatory signs such as no entry, one-way traffic, no left turn, no overtaking, horn prohibited, no parking, compulsory turn, and so on.
Following mandated rules such as riding with a helmet and driving with a seatbelt.
Not talking on a mobile while driving.
Not driving or riding after consuming alcohol.
Carrying the requisite documents such as driving licence, PUC certificate and registration certificate.
Always having a valid third-party insurance.
To negate the possibility of paying traffic fines, you must abide by the traffic rules. But did you know that there's another step to vehicle security? Yes, it is always a great idea to avail comprehensive motor insurance for your vehicle to stay out of trouble in case of accidents or any kind of damages. Motor insurance plans, including car insurance and bike insurance, available on Finserv MARKETS, are a great option. You can avail them in a giffy, with minimal paperwork and a fast process.