Earlier known as Baroda, the present city of Vadodara in the state of Gujarat, is located on the banks of the river Vishwamitri. It is among the industrial hubs of Gujarat, with around 35% of the country's power transmission and distribution equipment manufacturers being located within the city limits. The city also houses the Vadodara Stock Exchange. It is situated at a distance of around 181 Km from the state capital Gandhinagar. According to the 2011 census, the metropolitan area of the city has a population of more than 18.2 Lakhs.With a burgeoning population the city traffic police has initiated various steps to effectively manage the traffic-related woes. Along with CCTV surveillance at vantage points, the latest framework on traffic violations has been implemented.
Latest Traffic Violations Penalties in Vadodara
After the Motor Vehicle Act, 2019 was passed by the central government, the Gujarat government reduced penalties for some violations, while maintaining status-quo on certain penalties. The Vadodara traffic police follows the traffic fines as stipulated by the state government. Here is a look at the major violations that can attract e-challans : 
| | |
| --- | --- |
| Traffic Violations | Fines imposed by Vadodara city traffic police |
| Parking violations | Rs. 500 |
| Not producing documents, like driving licence, PUC certificates, third party insurance and registration certificate | Rs. 500 |
| Not wearing a seatbelt | Rs. 500 |
| Riding without a helmet | Rs. 500 |
| Illegal alteration of vehicles | Rs. 5,000 per alteration |
| Overspeeding | Rs. 1,500 for two-wheelers and Rs. 2,000 for Light Motor Vehicles (LMVs) , like cars |
| Not possessing a driving license | Rs. 2,000 for two-wheelers and Rs. 3,000 for four-wheelers |
| Using vehicles without registration | Rs. 500 for two-wheelers and Rs. 5,000 for other vehicles. |
| Failure to make way for emergency vehicles | Rs. 1,000 |
| Not possessing a PUC certificate | Rs. 1,000 for two-wheelers, and Rs. 3,000 for other vehicles |
| Not having third-party insurance | Rs. 2,000 for the first offence and Rs. 4,000 for the subsequent offence |
| Driving under the influence of alcohol | Rs. 10,000 and/or 6 months imprisonment for first offence and Rs. 15,000 and/or 2 years imprisonment for the subsequent offence |
| Minor driving a vehicle | Rs. 25,000 along with imprisonment of up to 3 years |
| Failure to follow traffic lights | Fines ranging from Rs. 1,000 to Rs. 5,000 and/or imprisonment up to 1 year |
| Sounding the horn in a prohibited area or unnecessary honking | Rs. 1,000 |
| Driving when mentally or physically unfit to drive | Rs. 1,000 |
Vadodara traffic police challan - e-challan payment
The Gujarat government has equipped major cities, including Vadodara, Ahmedabad and Gandhinagar with City Surveillance and Intelligent Traffic Management System (CSITMS). As part of the scheme, around 1,100 CCTV cameras are installed across the major roads in Vadodara. In the wake of the pandemic, with people wearing masks, the Vadodara Municipal Corporation plans to integrate these cameras with the facial recognition system. The live feed allows the traffic police's command rooms to monitor live feeds, and identify traffic offenders. An electronic or e-challan is subsequently generated. The foremost benefit of e-challan Vadodara to common citizens is that they can pay the fines online, in a hassle-free manner. Besides, it also allows greater transparency with regards to the details of traffic offences and payment of fines.
How to pay e-challan in Vadodara online?
Now, you can pay the echallan online through the Vadodara traffic police's challan payment system. You are required to complete the following steps:
Step 1: Visit the official website : https://vadodaraechallan.co.in/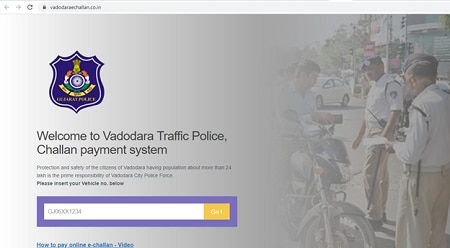 Step 2: After you enter the registration number of your vehicle, you will be directed to the section detailing the fine imposed.
Step 3: Now you will be able to see the option of: Pay fine. You can choose to pay the fine through various online payment options such as debit/credit card, net banking etc. You can now pay the fine through the secured payment gateway.
Step 4:  Once you pay the fine online, you will receive an SMS, confirming that the traffic police have received the fine for the particular challan number.
How to pay e-challan Vadodara through Parivahan?
You can also pay the traffic fine through Parivahan - a central government website. You are required to follow the step as detailed below :
Step 1: Visit the website : https://echallan.parivahan.gov.in/index/accused-challan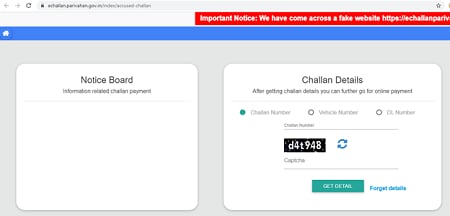 Step 2: Provide details of either your challan number or driving licence number or vehicle registration number.
Step 3: Now  click on the section for paying fines.
Step 4: You will then be redirected to a secured payment gateway, where you can use online payment methods to pay the requisite fine.
Step 5: After making payment, you will receive a transaction ID along with a confirmation message.
How to pay e-challan Vadodara offline?
If, for any reason, you are unable to make online payment, or prefer to make the payment in cash, then you can opt for paying e-challan Vadodara via the offline mode. Here's a look how
As an alternative to digital payment, you can deposit the fine amount in 43 SBI branches across the city: https://vadodaraechallan.co.in/EChallanBankList.pdf
You can also visit the nearest traffic police station and contact the concerned authorities for making payment in cash. Do remember to carry your original e-challan. You will receive a receipt after making a cash payment.
Cash payments against the issued e-challan can also be made to a traffic police personnel, who has the e-challan machine. You can show the issued e-challan, and pay the fine in cash.
How to check e-challan Vadodara status online?
If you think that you have made a traffic violation, but haven't received an e-challan, you can now check whether a challan has been issued against you. Doing a status check online will help you know about the details of the traffic violation, along with the traffic fine. In the case of an e-challan not being issued, you will be notified accordingly. You need to follow a few simple steps:
Step 1: Visit the official website of the city police : https://vadodaraechallan.co.in/
Step 1: Provide your vehicle registration number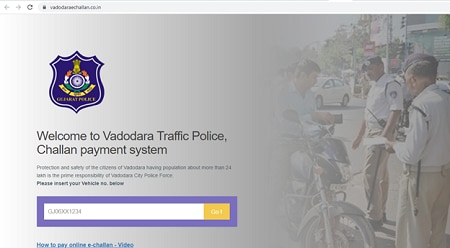 Step 2: You can now view the details of your traffic offence, along with fine imposed.
Step 3: If no challans have been issued, you will receive a message : 'No records found.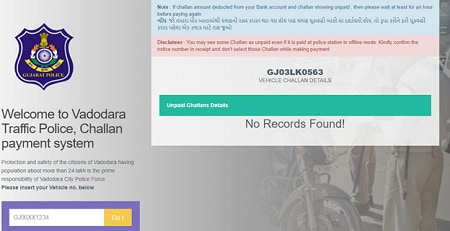 How to check status of Vadodara traffic challan using Gujarat e-challan app?
Now you can check the status of your Vadodara traffic challan, while on-the-go, using a mobile-based app. You are required to complete the following steps:
1. Install the app

2. After providing your vehicle number, click on get details.
3. You can now see the status of your traffic challans.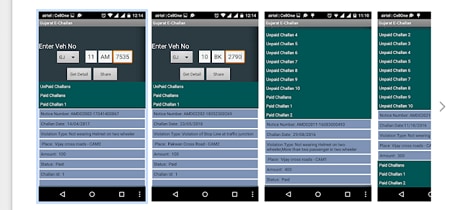 Traffic rules and regulations
You must always endeavour to strictly follow the traffic rules. These include:
Wearing protective gear such as helmets while riding. Also safety equipment in cars such as seatbelts should be always worn for drivers and others.
Not racing on the roads, and following the prescribed speed limits.
Saying no to drinking and driving.
Not entering one-ways, or driving on the wrong side.
Adhering to traffic signals.
Possessing the requisite documents, like driving license, PUC certificate and third-party insurance.
Not talking on a mobile phone while driving.
Along with driving/riding with caution, you must also ensure that your vehicle has a comprehensive motor insurance policy. This will protect your vehicle from a wide range of accidents and damages. The car insurance and two wheeler insurance policies, available on Finserv MARKETS are equipped with multiple benefits, like hassle-free claim settlement, 24X7 claim assistance, cashless repairing of the damaged vehicle at network garages, and so on.