What is Bike Insurance Policy?
Bike insurance policy is a coverage plan formulated to protect your bike against unforeseen perils like accidents, natural calamities, man-made disasters, etc. It is like a financial cushion enabling you to rest easy even during such a crisis, i.e. it offers compensation against damages caused to you and your bike due to the threats mentioned above. Furthermore, insuring your motorcycle with a two-wheeler insurance plan is a legal obligation under the Motor Vehicles Act, 1988. So, if you want to take your two-wheeler out for a spin, you need to buy bike insurance. Let's further understand the importance, features, and key highlights of the best insurance for bikes in India.
Why Buying/Renewing Bike Insurance is Important
Here are a few reasons why bike insurance is of paramount importance:
Increasing Number of Road Accidents
With the increasing number of vehicles on Indian roads, the threat of accidents continues to rise. Hence, it is vital to ensure your bike against damages caused during such unanticipated mishaps.
Third-Party Liability Cover
As bike insurance covers third-party liabilities, you need not worry about paying for the damages caused by an accident.
Protection Against Natural Calamities
With extensive security for damages caused to your bike due to natural calamities like earthquakes, floods, cyclones, etc., your motorcycle remains fit.
Protection Against Man-made Disasters
Along with natural calamities, you must also safeguard your vehicle against the acts of vandalism. A bike insurance policy ensures you feel financially secure during such instances.
Helps Meet the Legal Obligation
As mentioned above, insuring your two-wheeler is mandatory under the Motor Vehicles Act, 1988. So, driving an uninsured vehicle will simply keep you worried about being caught by the traffic police. A bike insurance plan helps you satisfy regulatory requirements and drive in accordance with the law.
Best Bike Insurance Plans of 2022 on Bajaj MARKETS
| | | | |
| --- | --- | --- | --- |
| Bike Insurance Partners | Incurred Claim Ratio (2020-21) | Premiums Starting at* | Buy Plans |
| Bajaj Allianz General Insurance | 68.06% | Rs. 538 | |
| Acko General Insurance | 82.35% | Rs. 538 | |
| HDFC ERGO General Insurance | 70.02% | Rs. 538 | |
How to Buy Bike Insurance Online in India
Follow the below steps to buy two-wheeler insurance online seamlessly:
Step 1: Head over to the 'Bike Insurance Premium Calculator' page.
Step 2: Fill out the form with the necessary details and proceed.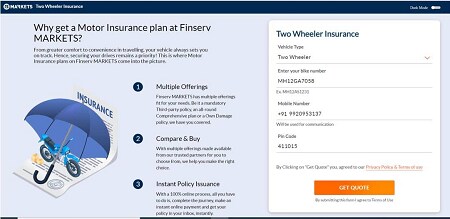 Step 3: Enter your bike details such as the make, variant, registration year, etc.
Step 4: Select the type of coverage you want to purchase, the NCB bonus from your previous policy and the Insured Declared Value. Moreover, you can opt for additional coverage with add-on covers.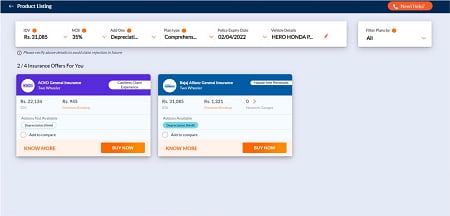 Step 5: Choose a suitable bike insurance plan and go through the policy details before proceeding.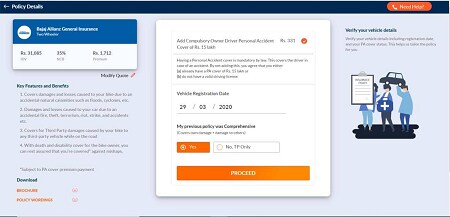 Step 6: Enter your details like your name, date of birth, email ID, address, etc., and proceed.
Step 7: Enter other bike details like engine number and chassis number.
Step 8: Now, enter the details of your previous bike insurance policy.
Step 9: The page shall display all the information you have entered, so go through it once to ensure they are accurate.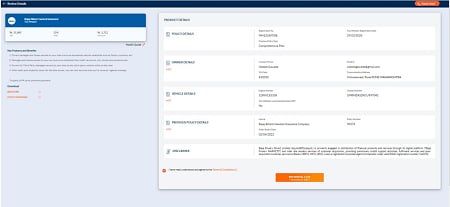 Step 10: Now, pay the premium amount using your preferred payment option and protect your vehicle with bike insurance.
Step 11: After successful payment, your bike insurance policy document will be issued soon!
How to Renew Two-Wheeler Insurance Online in India
Here's a complete step by step guide for bike insurance renewal online:
Step 1: Go to the "Bike Insurance" section on the insurer's website
Step 2: Enter the information required on the page and click on 'Get Quote'.
Step 3: Enter your vehicle details such as make and model, fuel type, etc., and proceed.
Step 4: Now, select the type of coverage, policy expiry date, add-on covers, and No Claim Bonus reward.
Step 5: Go through the policy details and renew your bike insurance plan.
Step 6: You must enter your details, vehicle-related information, and previous policy details next.
Step 7: Finally, make the premium payment online.
Step 8: Voila! You will soon receive your renewed bike insurance policy document.
Types of Bike Insurance in India
Now that you know how to buy/renew bike insurance online, let's move on to explore the types of policies offered by insurers. It will help you gauge your needs and make an informed decision.
Third-Party Bike Insurance
The third-party bike insurance plan is a basic and low-cost bike insurance policy that comes to your rescue if your bike causes an accident. It protects you against losses caused to the third party and all legal liabilities related to an accident. The law mandates this type of two-wheeler insurance cover. Thus, riding your bike without this insurance policy will cost you hefty fines or imprisonment. It also includes a basic accident cover to offer coverage against injuries, death, or disability of the insured.
Comprehensive Bike Insurance
As the name suggests, a comprehensive plan offers extensive coverage. Along with lending a hand in managing legal liabilities and third-party losses (in case of accidents), this type of insurance policy covers you and your vehicle as well. Moreover, a comprehensive bike insurance plan goes beyond accidental losses. It provides financial assistance against damages/losses caused due to man-made disasters, natural calamities, theft, etc. Since comprehensive insurance offers complete protection, it is deemed most lucrative despite being priced higher than a third-party cover.
A standalone own-damage two-wheeler insurance plan offers financial protection to cover expenses incurred in repairing the damages caused to your vehicle due to accidents, natural/man-made calamities, and theft. This type of two-wheeler insurance is purchased by individuals who already have third-party cover and are now willing to protect their vehicle as well.
Key Highlights of Bike Insurance Plans on Bajaj MARKETS
| | |
| --- | --- |
| Highlights | Benefits Offered |
| Third-Party Cover | Offers coverage against damages to third-party property & accidental injuries |
| Own Damage Cover | Provided in a comprehensive plan or as a standalone cover |
| Personal Accident Cover | Available up to ₹15 Lakh |
| Insurance Add-ons | Lucrative add-on covers are available to maximise insurance coverage |
| No Claim Bonus | Up to 50% |
| Cashless Claim Facility | Available at authorised network garages |