Travel Documents Required While Travelling from India to the Maldives
The following is the list of important documents you will need to keep with you while travelling from India to the Maldives:
A passport with a validity of at least 6 months.

Passport-size photographs.

Proof of funds for the planned duration of stay in the Maldives.

A return ticket to India or a ticket to another destination with a valid visa.

All standard necessary vaccinations as required by Maldives laws.

Health Insurance and Travel Insurance for Maldives.
Benefits of Buying Bajaj Allianz Travel Insurance at Finserv MARKETS
You can purchase travel insurance at Finserv MARKETS online within a few minutes. Here are a few benefits of buying travel insurance with us:
Comprehensive travel insurance allows you to extend your stay in a Chinese hotel in case of an unforeseen emergency, thus avoiding unnecessary additional costs.
Buying a Bajaj Allianz Travel Insurance online with Finserv MARKETS will mean that policyholders need not go through a rigorous medical checkup (up to a particular age), resulting in time saving.
Another great benefit of Bajaj Allianz travel insurance is the option of a cashless facility. In case you get admitted to a hospital due to a medical emergency, the insurance provider pays the bill itself without you having to first pay the same and then wait for reimbursement.
How to Apply For Travel Insurance?
At Finserv MARKETS, applying for Maldives holiday insurance is a simple and quick process. Follow these five simple steps to apply for Maldives travel insurance with us online:
What Is The Travel Insurance Claim Process?
Filing Maldives insurance claims with Finserv MARKETS is a quick and convenient process. Follow these simple steps to register a claim with us:
Register your claim online at Finserv MARKETS.

Upload relevant claim documents online.

Your claim will be assessed.

If approved, the claim amount will be directly reimbursed to your account.
Maldives Travel Guide
The Maldives is a paradise on earth offering one of the most luxurious holiday experiences one can get. The place has the world's topmost hotel and travel brands competing to offer services to the tourists that visit every year. In fact, the Maldives is also popular as one of the top honeymoon destinations across the globe.
Places to Visit in the Maldives
Visit Hulhumale Island, which is one of the most breathtaking artificial islands in the Maldives. Ever since 2004, the island has seen commercial development and witnessed increased tourism as well.
Image Source: Travel Tom website
Visit the capital city of Male to enjoy the pristine beaches, local marketplaces, and ethnic restaurants to get a real taste of life in the Maldives.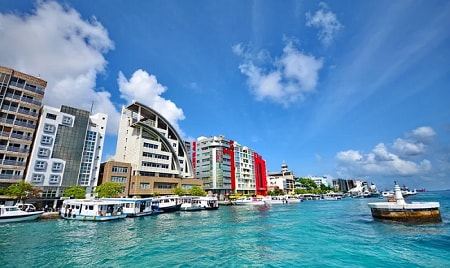 Image Source: Thrillophilia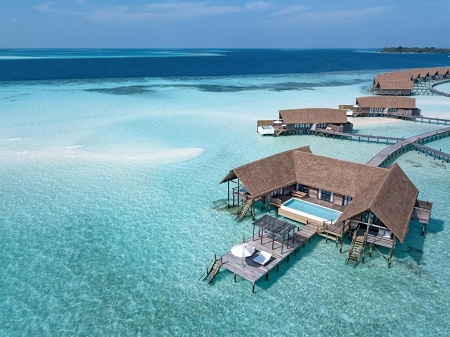 Image Source: COMO Cocoa Hotels website
Maldives Travel Information
Having general knowledge regarding the place you are planning to visit is essential. Here's some general travel information that may come in handy during your trip to the Maldives.
Language Spoken: Dhivehi

Capital: Malé

Currency: Maldivian Rufiyaa

Population: Estimated to be at 0.54 million by the end of 2019

Weather Specifications: Tropical

Temperature: Lows: 25 °C; Highs: 30 °C
Famous Cuisine/Delicacies of Maldives
Bis keemiya

Boshi mashuni

Huni roshi

Saagu bondibai
Maldives Trip: Safety And Precautionary Measures to Be Undertaken
Here's a list of things to remember when planning a trip to the Maldives:
Keep your passport with you at all times.

Make sure you are aware of the country's laws and follow them.

Do not overextend your stay if your visa has expired.

Avoid travelling to remote or isolated places without some guidance.

Since the Maldives has a 100% Islamic population, be considerate of the culture and traditions.

Alcohol, bathing suits, and public display of affection are illegal in public places in the Maldives
Indian Embassy in the Maldives
In case you need any assistance from the Indian governmental authorities while you're in the Maldives, you can visit the Indian Embassy in the country.
You can find details about the Indian Embassy down below:
The Embassy of India, Athireege Aage, Ameeru Ahmed Magu, Henveiru, Male, Maldives - 20125
hc.male@mea.gov.in
Visa Enquiry Telephone Number:
(+960) - 3323015/3323016
List of International Airports in the Maldives
Here is the list of international airports in the Maldives you should know about:
Velana International Airport

Gan International Airport

Hanimaadhoo International Airport

Maafaru International Airport

Maamigili International Airport
Maldives Currency and Foreign Exchange Information
The official currency used in the Maldives is the Maldivian Rufiyaa (MVR) and is locally called rufiyaa. As of now, 1 Indian Rupee equals 0.21 MVR but this rate fluctuates as per the change in foreign exchange market. It is recommended that you convert your currency to MVR before you reach the Maldives and carry an adequate amount of currency for the duration of your stay. It is also a good idea to carry an international credit or debit card that can be used in the Maldives.
Why Should I Choose Bajaj Allianz Travel Insurance Available On Finserv MARKETS?
Besides wide travel insurance coverage, Finserv MARKETS offers several convenient benefits such as:
Quick online application

Hassle-free claim settlement

More than 10,000 network hospitals around the globe

24/7 on-call support