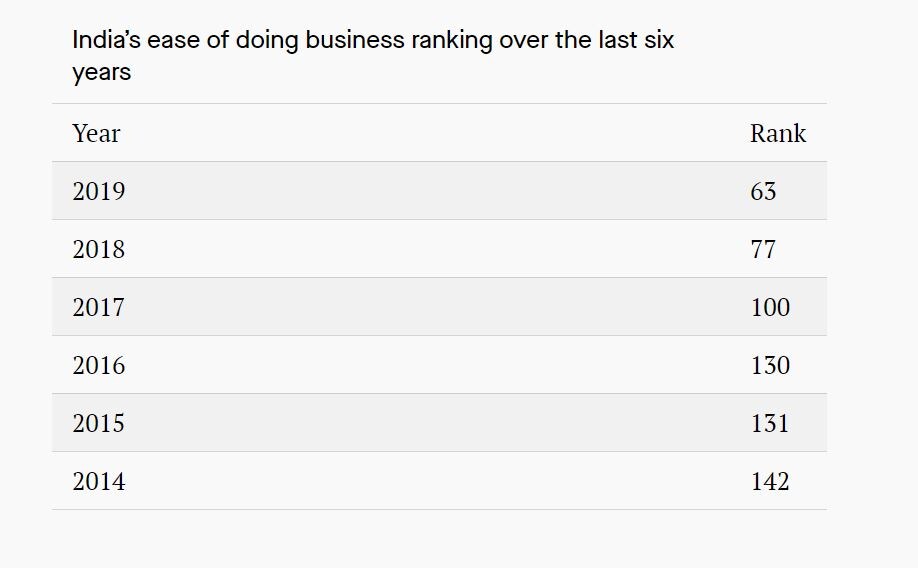 The Ease of Business Rankings takes into account eight factors:
Starting a business

Construction permits

Getting electricity

Getting credit

Paying taxes

Trade across borders

Enforcing contracts

Resolving insolvency
India's overall ranking, considering all 8 of these factors, is 63rd. But India is ranked very high in the world - 25th among 190 countries - when it comes to getting credit for a business.
Getting a business loan in India, then, is a very hassle-free process. Knowing how to get a business loan can come in handy in quite a few situations. Quarterly cash crunch, the growing pains of expansion, the risk of launching a new product - the financial burden of a lot of problems can be made lighter by getting a business loan.
Follow the below steps to get a flexible business loan today.
Step 1: Set Your Business Goals
Your personal aim for your business will decide the means you choose to get there. Ask yourself the following questions to figure out which business loan is right for you:
Answering these questions will help you zero in on your preferred terms for a business loan. Having answers for such questions, and other fundamentals of your business, will also make you an attractive borrower for the lender.
Step 2: Find The Right Loan
There are two types of business loans in the market right now: Secured Business Loans, and Unsecured Business Loans. Explore the difference below to know which one is right for you.
Secured Business Loans: When you get a secured business loan, you give the lender an asset of considerable value in exchange for the loan amount. This covers the bases for the lender, but a new business owner may not have an asset of considerable value in the first place.
Unsecured Business Loans: These loans can be availed without any collateral. The lenders, in exchange for taking on a riskier deal, charge a greater interest rate than they do with secured business loans. However, with a detailed business plan, up-to-date finance and a good credit score, you can get an affordable interest rate for unsecured loans as well.
Beyond these two, identify the specific target area of your business that you want to grow. Do you want to increase your working capital or do you want to upgrade your machinery? Accordingly, you would either opt for a machinery loan or a working capital loan. There exist several other types of loans, too, including, but not limited to, term loans, line of credit loans, short-term loans and medium-term loans. Knowing your business needs will help you pinpoint a business loan most suitable for you.
Step 3: Find The Appropriate Loan Lender
There are different banks, non-banking financial companies(NBFCs), online lenders, etc that offer business loans to business owners. They have different advantages and disadvantages. Banks generally require more paperwork and cannot lend with interest rates below a particular limit as they are governed by regulations from the Reserve Bank of India. NBFCs can exercise greater freedom as they are not under, or registered with, the RBI - they are registered under the Company Act of 1956. Based on your comfort levels and your needs, you can pick the one that is right for you. Understand the terms and conditions of the loan you opt for, before zeroing in on a preferred lender.
Step 4: Check Eligibility Criteria
Business loans eligibility criteria mainly have to do with your age and the age of your business. The age of your business is called business vintage, and most lenders require a business vintage of at least 3 years. The Bajaj Finserv Business Loan, available on Finserv MARKETS, offers an inclusive, simple and straightforward set of business loans eligibility criteria for for prospective lenders:
You are between the age of 26 and 66.

You are an Indian resident.

You have a business vintage of at least 3 years.
Step 5: Prepare The Documents
If you opt for a business loan on Finserv MARKETS, you will be subjected to a documentation process that is short, sweet and simple. Below are some of the important documents that are required when you apply for a business loan:
Identity Proof. You can use your Aadhar card, drivers' license, Voter ID card etc as your identity proof.

Address Proof. Any regular bill - your electricity bill, your gas pipeline bill, or a phone bill - suffices as your address proof.

Business Ownership Proof. Business ownership documents need to be submitted alongside your loan application.

Business Balance Sheet. A balance sheet of your business transactions for the past one year vetted by a Chartered Accountant needs to be submitted with your application.
Income Tax Returns. Lenders prefer borrowers whose businesses have filed income tax returns for some period of time - most lenders require ITR of at least one year.
Also read about how to get business loan without an ITR.