What is a CIBIL score?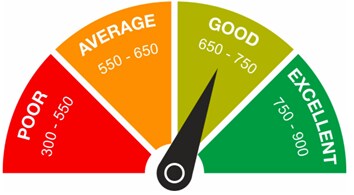 Image Source: karvy.com
Just as it is important to regularly assess the physical and mental well-being of an individual, regular assessment of an individual's financial fitness is crucial to ensure financial health. Regular assessment of finances gives an idea of one's financial health and allows to plan for a corrective action, in case of liabilities exceeding assets. One of the key indicators that can determine your financial fitness is the CIBIL score or credit score.
A CIBIL score is a three-digit number that defines your credibility as a borrower. It is a marker of your debts and repayment history gathered from banks and financial institutions. A good credit score signifies that your repayment history is clean and that your debts were paid off in time - boosting your credentials of a meticulous financial planner. It further strengthens your eligibility to borrow new credit from financial lenders. A credit score that ranges between 750-900 is considered as excellent and ticks all the right boxes for borrowing fresh credit at negotiable interest rates. A credit score check can be normally done by providing your PAN card and other general information details to reliable credit bureau agencies. Also read about CIBIL Charges and Services you need to be aware of in India
Factors that may Affect Your Credit Score
1. Loan Repayment History: 
Missing the repayment of your credit card bills and loan EMIs can adversely impact your credit score and can hamper your chances of availing fresh credit from lenders.
2. Credit Utilization Ratio:
It is determined by the amount of credit used up from the available credit. The higher the ratio, the heavier the debt repayment burden and lesser the credit score along with the likelihood of securing any fresh loans.
3. Credit Assortment:
Having the right mix of secured and unsecured loans helps your reach a good CIBIL score. Excessively availing unsecured loans can negatively affect your credit score.
4. Increasing Credit Card Limit:
Frequently increasing your credit card limit might portray you as someone who is highly dependent on credit and likely to default on repayments. Again, this could lead to a decreased CIBIL score.
5. Zero Credit History:
No record of credit history makes it difficult for the lenders to assess your risk category in case you never availed a loan or credit card.
6. Role of a Loan Guarantor:
Your CIBIL score might be affected even if you are a loan guarantor and not just a borrower. If the primary borrower fails to repay a loan, the guarantor is liable to pay up. Upon failing to do so, the guarantor's credit score might take a hit.
Tips to Maintain a Creditworthy CIBIL score
1. Practice regular payment of your utility bills, credit card bills and loan EMIs without skipping the due date.
2. Ensure rightful utilization of credit available to you. Try and keep the credit utilization ratio as low as possible and let it not exceed the permissible limit at all costs.
3. Balance your credit mix by opting for a combination of credit - both secured and unsecured. Don't just choose unsecured loans.
4. Make sure your repayments and outstanding balance are regularly being updated by the lender. Immediately bring any sort of information discrepancies to the lender's notice for swift corrections.
5. Identity thefts have become very common and frequent credit monitoring is highly recommended to keep an eye on any loan uninitiated by persona non-grata in your name.
6. If you are a loan guarantor, do not miss the repayment of loan if the primary borrower fails to pay up. You have legally signed up for it!
How to do a Credit Score Check
It is a healthy practice to perform a credit score check once in every 6 months. Doing so, helps you watch your debt-to-income ratio and make an effort to not let debt cross beyond 40 percent of your income. While several credit bureaus offer free CIBIL scores that could involve paperwork and your physical presence, checking your CIBIL score online on Finserv MARKETS is totally hassle-free with no paperwork. On Finserv MARKETS, you can securely check your CIBIL score through Financial Health Check Report (FHCR). Just key in your PAN card/passport/driving license information and other basic details. The report will provide extensive information on your financial performance, which will help you make informed decisions in the future.