According to media reports, the Shishu Yojana scheme has benefited a cumulative number of over nine crore small borrowers thus far. The announcement of subsidy on interest will cost the government Rs. 1,540 crore and will be applicable from June 1 this year to May 31, 2021. This reduction of interest rate was earlier announced under the Rs. 20 lakh crore Atma Nirbhar Bharat relief package by the Finance Minister. The announcement and subsequent nod by the Centre is estimated to benefit three crore borrowers.
The interest rate subvention was announced in the wake of a nationwide lockdown that was imposed as part of the government's efforts to curb the spread of the pandemic. Many small businesses were suddenly affected, and the announcement has come as a relief. This move is also said to act as an incentive to borrowers to repay loans promptly and regularly.
Apart from the announcement of interest rate subvention, the Finance Minister had also announced a special Rs. 20,000 crore package as subordinate debt for MSMEs that were strained or declared NPAs.
What Exactly is a Mudra loan?
Mudra is an acronym for Micro Units Development & Refinancy Agency. The Pradhan Mantri MUDRA Yojana was launched in 2015. As part of the PMMY, loans can be availed under three schemes. The Tarun Yojana allows borrowers to opt for loans up to Rs. 10 Lakhs. The Kishore Yojana allows borrowers to avail loans in the range of Rs. 50,000 to Rs. 5 Lakhs, while the Shishu Yojana lets borrowers opt for loans up to Rs. 50,000. All these loans are zero-collateral loans and are given by small finance institutions, non banking financial companies (NBFCs), regional rural banks (RRBs) and commercial banks. The repayment tenure for a Mudra loan is in the three-five year range.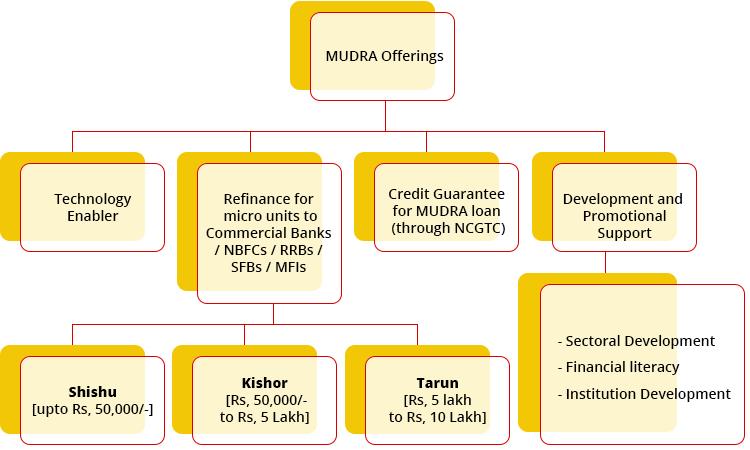 Even More Affordable

Mudra loans are affordable because of their relative low rate of interest. The RBI directives ensure that commercial banks or FIs providing Mudra loans do so at MCLR or base interest rate. Similarly, for Regional Rural Banks orRRBs that extend Mudra loans, there is a 3.5 per cent cap over the refinance rate of Mudra. For NBFCs, this cap is at 6 per cent over and above Mudra refinancing (**). The recent announcement ensures that loans are cheaper for small borrowers who have opted for loans up to Rs. 50,000. According to news reports, Shishu loans make up for nearly 45 per cent of all loans availed under the Mudra loan scheme. Reports also point out that loans to the tune of Rs. 3.3 lakh crore have been sanctioned under the PMMY scheme.
Any small businessperson who needs working capital can opt for a Mudra loan. The loan could be used for buying new equipment or machinery for small businesses, renovation or even boosting production of a certain product. As part of the Mudra loan scheme, any business that is into trading, manufacturing, allied agricultural activities (non farming) or providing some services can opt for this loan. Financing is also provided for commercial vehicles, tillers and tractors used for agricultural activities.