How to Apply for Fullerton India Personal Loan?
Once you have figured your requirements and collected the necessary documents, all you need to do is visit the Finserv MARKETS website, where the application process for personal loans is quite simple and easy
Step 1:
Visit the official Finserv MARKETS website and select the personal loan option displayed on the page.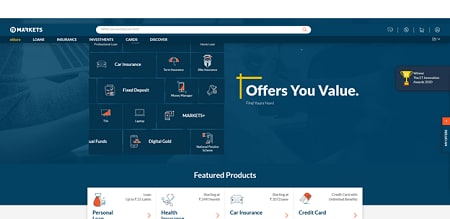 Step 2:
You will now be redirected to another page and click on the "Apply Now" option
Step 3:
Now select your profession, and enter your mobile number, date of birth as mentioned on the PAN Card and enter the respective details to proceed further
Step 4:
Start filling in the required details such as your current residence status, company type, salary and work experience.
Step 5:
Finally, submit the scanned copies of all the required documents with the application form, on approval of loan the money will be credited in your bank account.
The application process for Bajaj Finserv Personal Loan is simple, you just need to make sure you qualify for the eligibility criteria set for personal loans. Along with the application form, loan applicants are required to submit minimal documentations for the verification process. Once the loan gets approved the loan funds get disbursed within 24 hrs of personal loan approval. Also, there are no restrictions on the end usage of the loan funds, so the loan amount can be used for all kinds of monetary necessities with ease. The repayment tenure for Bajaj Finserv Personal Loan is quite flexible and usually ranges from 1 to 5 years. For smoother loan repayments you can make use of the personal loan EMI calculator available online at Finserv MARKETS. This will help you get an estimate of the loan amount to be paid every month and help you manage your finances better. At Finserv MARKETS you can also avail Fullerton India personal loan at attractive rates to make the most of your personal loan to meet your needs.