Money has become the accepted medium for the exchange of goods and services. We spend our hard-earned money to purchase products or experiences that we require or desire. One can always monitor the result of the money we spend. But a substantial portion of our earnings is taken away as taxes. Being a responsible citizen of the country, one has to pay tax on his/her income. Most people do not have an idea of what happens with all the money that is collected as tax. Almost everyone has a vague idea, but no one is certain. On a broad level, the taxes we pay go into the government's kitty and is used for various public expenditures. To understand the rationale of taxation and how the collected fund is utilised, we will have to look at the Union Budget.
Budget
The government is like a household. It has various sources of revenues and on the other hand, it has several financial obligations. Every year the government presents a budget that provides a sneak-peek into the government's finances. It is a statement of the government's earnings and expenditure. The budget contains two important elements—revenue receipts and revenue expenditure. Both are of equal importance to understand how our taxes are utilised.
Every year the Union Budget is presented on February 1, except in an election year. The figures in a budget like revenues and expenditures are an estimate, and the government presents the revised figures with the next budget. In the case of the Union Budget 2019, the government has proposed to spend Rs 27,86,349 crore in 2019-20, while it expects to earn Rs 20,82,589 crore in the same period. However, revenue receipts and revenue expenditure form just a part of overall spending and expenditure.
Revenues
The government has several sources of revenues and they are listed under different categories in the budget. There are two main categories of government earnings—revenue receipts and capital receipts. We have to limit our scope just to revenue receipts as taxes are a part of revenue receipts. Revenue receipts neither create assets nor reduce any liability, these are essentially current income receipts for the government. Revenue receipts are further categorised under tax and non-tax receipts.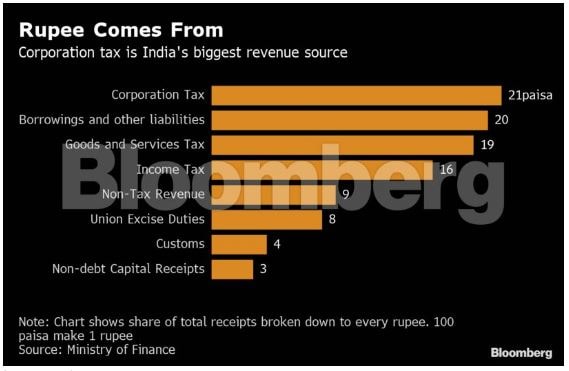 Source: Bloomberg
It is amply clear from the name that tax revenue is generated through different types of taxes. Direct taxes like income tax and indirect taxes such as goods and services tax and various cess levied by the government from tax revenue. Non-tax revenue includes dividend income received by the government as a shareholder of public sector undertakings, besides other revenue sources. For 2019-20, the central government has budgeted Rs 16,49,582 crore as revenue from various taxes, after excluding the share of tax revenue to be shared with the states. The central government is likely to pay Rs 8,09,133 crore to the state governments from its total tax collections. A back of the hand calculation shows that the government is expected to collect Rs 24,58,715 crore through various taxes.
The biggest source of tax revenue is corporate tax, which is expected to contribute Rs 7,66, 000 crores to the gross tax revenue. The government expects to collect Rs 5,69,000 crore through income tax that you pay. GST is likely to contribute Rs 6,63,343 crore to government's tax kitty.
Expenditure
Just like revenues, there are two major types of expenditures—revenue and capital. Revenue expenditure is the maintenance expenditure which the government makes towards the assets which it owns to keep them functioning. It does not create any new asset. These expenditures are recurring in nature and are incurred by the government regularly such as payment of salaries and pensions.
Under revenue expenditure, the government spends for payment of salaries, central sector schemes like Bharatnet and crop insurance scheme and centrally sponsored schemes such as Pradhan Mantri Gram Sadak Yojna, Pradhan Mantri Awas Yojna and Swachh Bharat Mission. In the current financial year, the government is expected to spend Rs 5,68,660 crore on central sector schemes, while Rs 3,31,544 has been allotted for centrally sponsored schemes.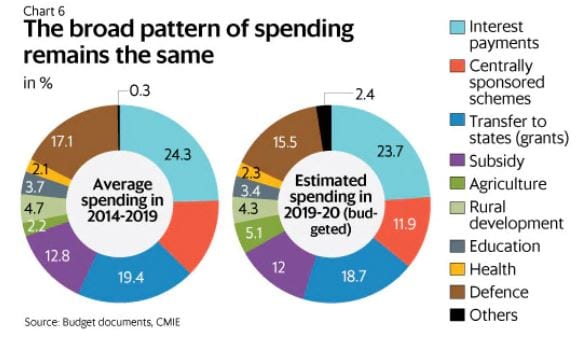 Source: Livemint
To simplify the figures let us take a bird's eye view of the government's finances. The proportion of various sources of income and types of expenditure may change slightly every year. For every rupee that the government earns, 70 paise comes from direct and indirect taxes, while non-tax revenue and borrowings make up the bulk of the remaining 30 paise. On the expenditure side, the government will pay 23 paise to state governments, while 18 paise will be used to pay the interest on various borrowings. Central sector schemes soak up 12 paise, while centrally sponsored schemes get 9 paise. Subsidies will take up 9 paise and the government will spend 5 paise for pensions.
Conclusion
Government finances are complex. The government has to balance its revenues and expenditures. The Indian government has been trying to shore up its tax revenues to boost development work. The government also has to forego potential revenue in the form of tax deductions and exemptions on several financial products. For instance, premiums paid for health insurance qualify for tax deductions under Section 80D of the Income Tax Act, 1961. You can purchase health insurance to protect your health as well as save taxes through Finserv MARKETS in a hassle-free process. However, tax saving should not be the primary aim of purchasing insurance plans as the taxes that we pay helps the government function smoothly and funds the various government schemes.