Focus on consumption
It is amply clear that the government will have to stimulate economic activity to spur growth. Since consumption accounts for 70 percent of our GDP, it is important to revive consumption to revitalise the investment cycle. A virtuous cycle will have to be created. When consumption increases, capacity utilisation will improve. When capacity utilisation will reach a critical level, companies will invest more to set up new factories. New factories will generate new jobs and further boost consumption, which will create a virtuous cycle in the economy.
Reviving the investment cycle is not a simple process. Several structural reforms will have to be initiated in tandem with medium and short term reforms. Medium and short term reforms will give an instant boost to consumption as structural reforms take 4-5 years to show results.
Tax Reduction
The best way to boost consumption is to leave more disposable income in the hands of the individuals and more investible surplus with businesses. It can be done through a slight reduction in income tax for individuals and implementing a 25 percent corporate tax for companies across the board. The goods and services tax slab rates can also be tinkered with to support specific crucial industries.
For instance, car manufacturers have been demanding a reduction in GST rate on vehicles to 18 percent from 28 percent to battle a severe slowdown being faced by the sector. The government can also make financial investments attractive through lower taxation. Tax saving mutual fund investments such as equity-linked savings scheme have come under the shadow of long term capital gains. Even after being taxed, ELSS remains one of the most tax-efficient investment options. You can invest in a wide variety of mutual fund schemes through Bajaj Markets from the comfort of your home.
Public Spending and Rate Transmission
The government could also boost public spending to develop infrastructure which generally has a positive impact on several connected sectors such as cement, steel, wires, paints and tiles. The government has been requesting the Reserve Bank of India to cut interest rates in order to improve liquidity. The RBI has reduced the repo rate in the last four consecutive monetary policy meeting, but the transmission has been weak. Banks have passed on only 1.1 percent of the total 2.6 percent reduction in interest rates to the industry and consumers. The government could nudge banks to improve the transmission of rate cuts to consumers.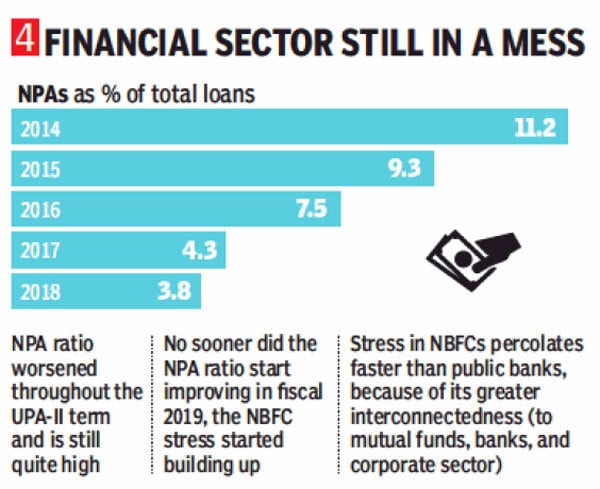 Source: Business Today
Structural Reforms
Besides immediate steps, the government will have to take some long-pending structural reforms. The government should focus on relaxing FDI rules, land and labour reforms and ease of doing business. The government should take up long-pending land and labour reforms to make land acquisition easier for industries and reduce labour compliance costs. The majority of jobs are generated by the micro, small and medium enterprises and they continue to face high compliance costs across the country. A focus on ease of doing business beyond major cities like Delhi and Mumbai and help in improving investment sentiments. Source: SIMCON Blog.