Section 80C is the most popular way for tax saving in India. It offers a deduction on a lot of instruments. However, the aggregate deduction on all investments put together is Rs.1.5 lakh.
If you fall into one of the higher income tax slabs and that does not seem enough, do not worry, as there are also other tax saving options available under other sections of the Income Tax Act.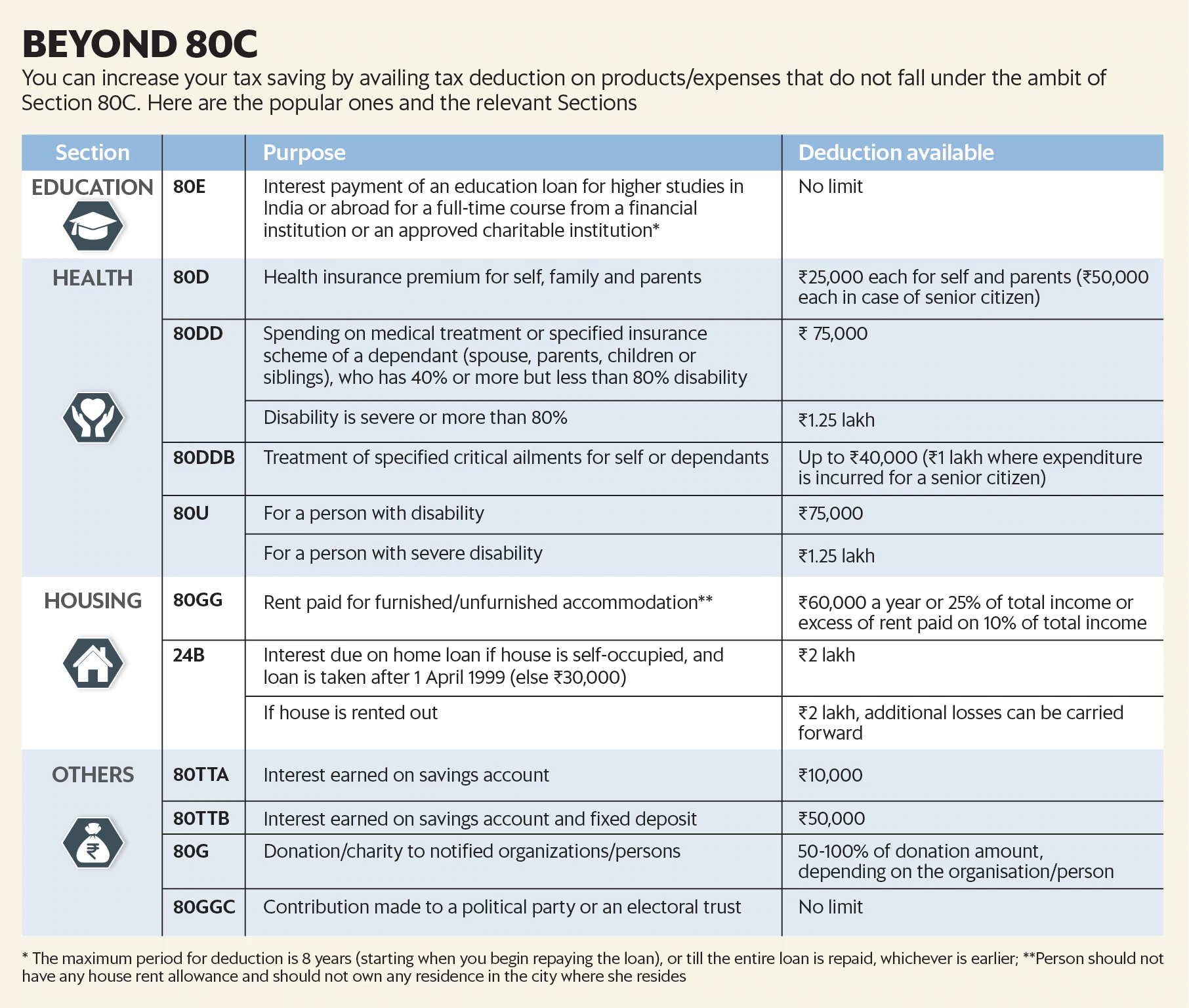 Section 80D
This is one of the common options for tax saving apart from tax deductions under Section 80C. Section 80D allows for deduction on health insurance premium up to Rs.25 thousand for insurance of self, spouse, and children who are dependent. An extra deduction worth Rs.25 thousand can be availed for parents aged below 60. For both you and your parents above the age of 60, the total limit of deduction is Rs.1,00,000.
With Bajaj Allianz Health Insurance available on Finserv MARKETS, you get much more than tax benefits, it provides medical coverage from Rs.1.5 lakh to Rs.50 lakhs across 6500+ network hospitals across the country. It carries the credibility of a 93% claim settlement success rate.
Section 80DD
In one of the key options for tax saving apart from income tax deductions under Section 80C, you can claim a deduction on medical expenditure for a handicapped and dependent relative.The deduction can be up to Rs.75 thousand for disability between 40-80%, and Rs.1.25 lakhs for more than 80% disability. This also includes money paid to a specific scheme for the caretaking of such relative.
Section 80DDB
This is one of the important tax saving options. This section offers deduction up till Rs.40 thousand for medical expenditure for self or for a dependent relative. For senior and super senior citizens, the deduction limit is Rs.1,00,000.
Section 80TTA
Not known to many, interest earned on a savings account is also one of the tax-saving options. The maximum deductible amount is Rs.10 thousand. The account can be with any bank, post office, or co-operative society.
Section 80GG
Most salary amounts have an HRA (House Rent Allowance) component. However, if yours doesn't have one and you or your family members are not owners of a house at the place where you work, you could avail a deduction on your rent amount. The maximum possible deduction would be the least of
Rs.5000 a month

Rent minus 10% of the gross total income (adjusted)

25% of the total adjusted income
Section 80E
Your higher education loan can also be an option for tax saving other than Section 80C. If you're planning to take a loan for your higher education or for that of a family member, you can avail a deduction upon the loan interest without any upper limit for deduction.
Section 80EE
This is one of the key options for tax saving in India for youngsters. For people buying a home for the first time, a deduction up to Rs.50 thousand is allowed on the interest of the home loan.
Section 80CCG
This section offers a deduction on Rajiv Gandhi Equity Savings Scheme under certain conditions. Since 2017, the RGESS is being gradually terminated.
Section 80U
This section offers a deduction of up to Rs.75,000 to individuals suffering from physical disability. The limit is elevated to Rs.1,25,000 in case of severe disability.
Section 80G
Donations to certain specified social organisations are deductible up till 50% or 100%. These include the National Defence Fund, Prime Minister's National Relief Fund, National Children's Fund, etc. However, payments made in cash above Rs.2,000 are not deductible.
Section 80GGB
The contribution made by a company to a political party can be tax-deductible up to 100% under this section.
Section 80GGC
This section offers tax saving in India to individuals for their contributions to political parties.
Section 80RRB
If you are a patentee, you can claim a deduction up to Rs.3 lakhs for a patent registered under the Patents Act 1970. This is available only to residents for tax saving in India.
Section 80TTB
If you are a senior citizen, you can claim a deduction up to Rs.50,000 on your deposits under this section.
The sooner you begin tax planning (and tax saving!), the better! With the host of tax saving options at your disposal, you can have the pick of the litter. If you'd like to invest in a tax-saving instrument that not only reduces your tax outgo but also helps build financial security, the Bajaj Allianz Health Insurance plan on Finserv MARKETS is the plan for you! While you can save tax on deduction under section 80D, you can also avail comprehensive coverage of up to Rs. 50 lakhs. With lightning-quick settlement claims, cashless facilities available at over 6500+ hospitals available across the length and breadth of India and free medical check-ups and guidance, you can avail the best of both worlds!