However, making a decision in haste might actually mean that the years of effort which you have put in your savings might actually go in vain. An informed decision is crucial in making sure that your investments yield fruitful results and you do not miss out on any benefits that the market has to offer.
Here, we will look at some of the reasons why you should continue your Systematic Investment Plan (SIP) to better your investment portfolio.
The state of the economy
This might not seem to be a high point for the Indian economy. According to data provided by the Periodic Labour Force Survey (PLFS) of the National Sample Survey Office (NSS), the rate of unemployment in India now stands at 6.1 percent. There has been a crunch in liquidity and service sectors have also seen some significant downfall.
A Mint report quoted Navneet Munot, the Chief Investment Officer at SBI Funds Management Pvt. Ltd in saying that there is evidence of a serious slowdown in the rate of consumption, and this has been reflected in sales of automobiles, air travel FMCG, textiles and other discretionary products.
Since the dollar has been gaining strength against the Indian rupee, the money flowing into the emerging markets have seen a significant slowdown. The state of the market has lead to questions and worries around mutual fund SIPs. People have been pulling out their money from the investment market in the fear that it won't be safe in the current market scenario. However, market experts have recommended that people should continue their mutual fund SIPs and not worry much about the state of the market.
Why continue your SIPs?
Although the short-term financial prospects seem so volatile, the long-term structural growth looks entirely intact. This also makes for a good time for equity investors to start investing, as the slow market trends call just for that since you will be buying more units for the same amount of money. However, it is recommended that new investors ought to maintain a 65:35 ratio between large and mid-cap for equity investments.
Having a good ratio makes sure that the money is well-divided between the funds so that if one fund goes down, you will still be making money on the others.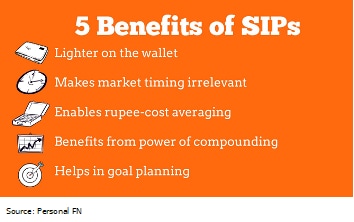 Your large-cap investments can bring some stability into your investment portfolio, while your small and mid-cap investments can take a few kicks to keep the balance in the seemingly fluctuating market trends. However, before taking the final call on your mutual fund SIPs, it is best to consult your investor.
Looking at the debt market, it is clear that the yields of the money market have gone down. The data shows that the 10-year government bonds have fallen 11.02 percent, since the month of January. From June onwards, it has fallen 6.3 percent. When the period of growth and inflationary environment is low, debt funds have a tendency to do well. This is because people then look forward to moving on to safer modes of investment and the demand for bonds goes up even higher, leading to capital gains for those who invest in debt funds.
The state of the market denotes that it is an excellent time to continue your SIP. Since the market is going through a rough phase, it is a great time to further expand your investment portfolio by purchasing units at a lower price. This can help you with maximizing your wealth in the long run, which, after all, is the purpose of a mutual fund scheme.

The equation is quite simple. When the market is up, you buy less units since their price is significantly lower. When the market is low, you have the option to buy more units.
SIPs come with two simple goals — the first is to inculcate the habit of investing regularly, and the second is not to stop investing when the market sees a slowdown. Both of these factors are equally necessary for maintaining a healthy investment portfolio. It is advised that you do not mess up your investment by not sticking to the original plan of investment.
Mutual fund schemes on Bajaj Markets are a great way to build wealth in the long run. If you are not familiar with the intricacies of the market, you do not have to worry, as your portfolio is managed by investment experts who have a constant eye on the market. These professional fund managers pick the best performing funds in the market, which then reduces the overall risk of your investment. Having good fund managers also ensures that you stay away from making hasty decisions around your portfolio after seeing short-term market fluctuations. Fund managers know what is best for your investment portfolio.
Conclusion
Mutual funds on Bajaj Markets come with zero percent commission and brokerage, which means that the money you will invest will not be lost in additional charges. Mutual funds on Bajaj Markets come with 100 percent transparency, so you will be quite clear about the charges that you are incurring. Besides, you get constant access to your portfolio so that you know how your funds are performing in the market. The entire process is smooth and hassle-free. All you need to do is submit a few documents to complete the KYC process and fill up a few details on the website.
Based on your investment goals and risk profile, you will also get access to exclusive offers that make personalized financial planning a walk in the park. With these offers, your investment portfolio will keep on growing in the long run and will be able to make even more money.