FASTags by Allahabad Bank: A Brief Overview
The National Payments Corporation of India (or NPCI) and the National Highways Authority of India (or NHAI) are responsible for joint management of FASTags. FASTags are an easy and convenient method to pay your toll tax, while eliminating human interaction, making the entire process seamless and time-efficient. Of the many banks in India who have adopted this new programe, Allahabad Bank is one of them, offering its customers the option of availing of FASTags.
How to Buy a FASTag
If you wish to purchase a FASTag for your vehicle, you can do so online as well as offline. Examine the sections mentioned below in order to learn more about the same.
Allahabad Bank FASTag - Apply Online
In order to avail of the Allahabad Bank FASTag online, follow the steps mentioned below.
Step 1: Visit the official website of Allahabad Bank and on the homepage use the search window to look up 'FASTag'
Step 2: Once on the FASTag page, click the "Apply Now" button
Step 3: Key in information pertaining to yourself including your name, date of birth and contact details. You must also select the kind of ID proof you wish to submit and upload a photo of the same
Step 4: Click on the 'Continue' button
Step 5: You will be redirected to a new page where you must confirm your application by paying the fees that apply to the class your vehicle falls under
Once Allahabad Bank has verified your application and the details you have submitted, it will dispatch your FASTag to the address that you mentioned in your application.
Allahabad Bank FASTag - Apply Offline
If you wish to apply for your Allahabad Bank FASTag offline, you can do so in the following ways.
Visit an Allahabad Bank Branch
You have the choice to visit the nearest Allahabad Bank branch and speak with a representative regarding your desire to purchase a FASTag. In order for your application to be processed, you must carry all the required documents. These include your vehicle's registration certificate, self-attested KYC documents and your driver's licence. Additionally, make sure you bring the vehicle for which you are applying for a FASTag as well.
Head to a Toll Plaza
FASTags may also be purchased at toll plazas. When you visit the point-of-sale counter make sure to bring your vehicle's registration certificate, self-attested KYC documents and your driver's licence. Ensure that you visit this toll plaza with your vehicle that requires a FASTag.
Read More: FASTag Registration
Allahabad Bank FASTag Fees and Charges
Understand what the fees and charges related to your FASTag amount to by studying the table provided below.
| | | | | |
| --- | --- | --- | --- | --- |
| Vehicle Type | Tag Class | Deposit (in ₹) | Threshold Amount (in ₹) | Tag Colour |
| Car/ Van/ Jeep | 4 | 200 | 200 | Violet |
| Light Commercial Vehicle/ Mini Bus | 5 | 300 | 140 | Orange |
| Tata Ace/ Similar Mini Light Commercial Vehicle | 4 | 200 | 100 | Violet |
| Bus (3-Axle) | 6 | 400 | 300 | Yellow |
| Bus/ Lorry (2-Axle) | 7 | 400 | 300 | Green |
| Truck (3-Axle) | 6 | 500 | 300 | - |
| Truck (7-Axle and above) | 15 | 500 | 300 | - |
| Tractor with Trailer/ Tractor/ Truck (4/ 5/ 6-Axle) | 12 | 500 | 300 | - |
| Earth Movers/ Heavy Construction Machinery | 16 | 500 | 300 | - |
Documents Required for an Allahabad Bank FASTag
In order to apply for a FASTag from Allahabad Bank, you must have the following papers to submit along with your application.
Certificate of Registration for your vehicle

A passport size photograph of you i.e., the vehicle owner

KYC documentation that helps prove your address and identity
Read More : How Does FASTag Work?
Understanding how Allahabad FASTag Recharges Occur
If you wish to conduct an Allahabad Bank FASTag recharge online, you may do so via the following methods.
1. Recharge your FASTag through Bajaj Markets
Listed below are the steps meant to be followed if you wish to recharge your FASTag via Bajaj Markets.
Step 1: Begin by downloading the Bajaj Markets application onto your smartphone if you haven't already and open it.
Step 2: Visit the "bill payment" section.
Step 3: Here, you must select the "FASTag services" option.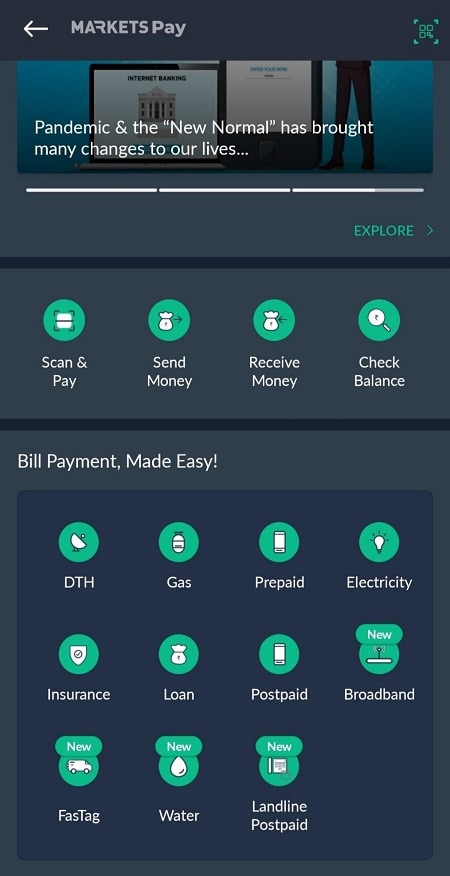 Step 4: Now you must search for your FASTag service provider or select it from the options given below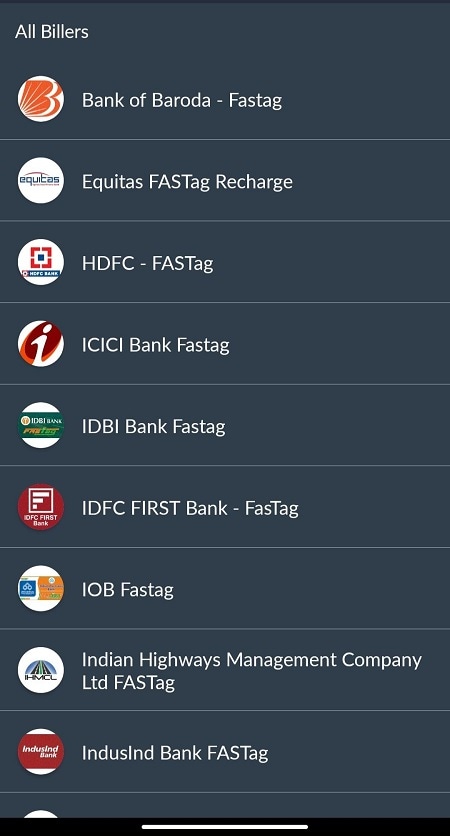 Step 5: Next, you must key in your vehicle number
Step 6: Proceed by pressing the "view bill" button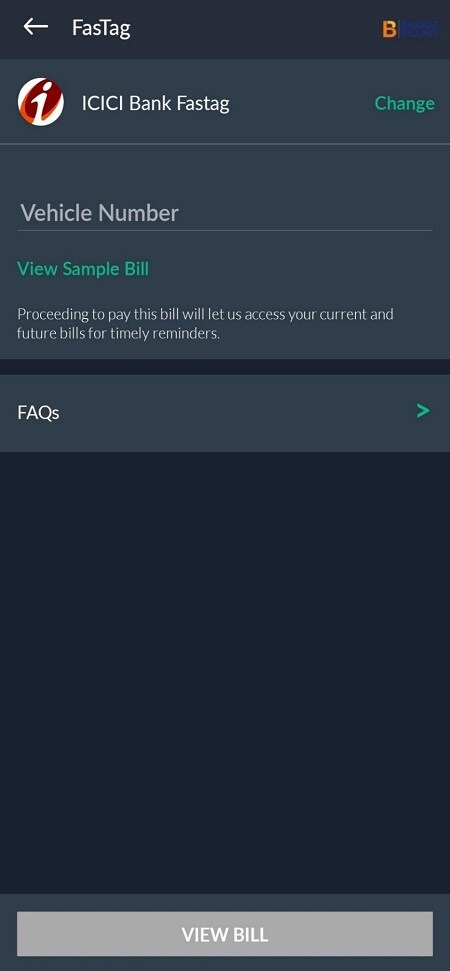 Step 7: Enter the amount you would like to recharge your FASTag with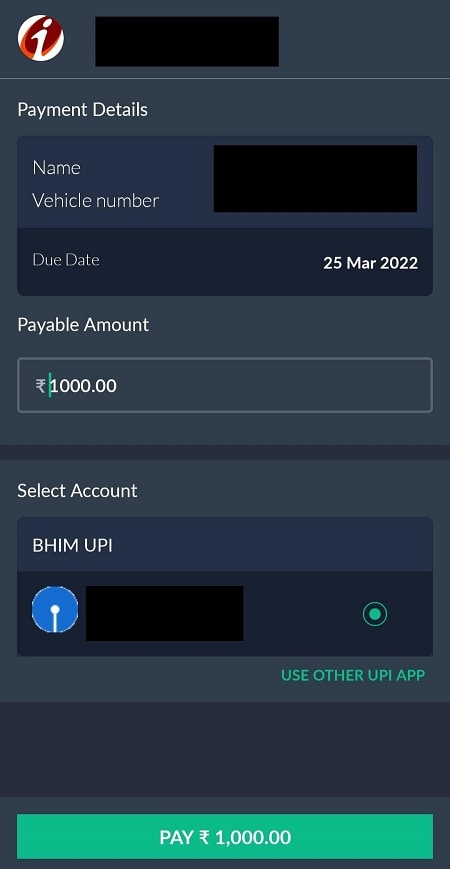 Step 8: Next, select the UPI account that you have registered with on Bajaj Markets. In case you have several accounts, select the bank via which you want your payment to be made
Step 9: You will be redirected to a new page where you will be asked to fill out your UPI PIN such that your payment can be processed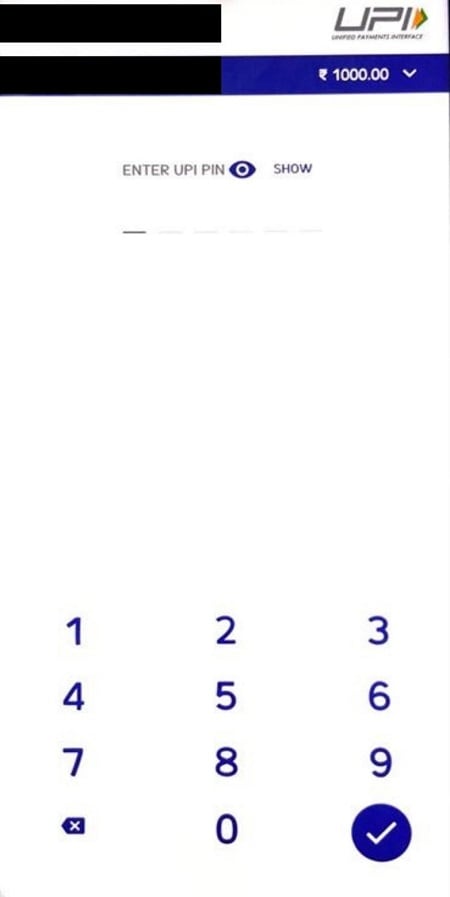 By following the steps provided above, your FASTag recharge will be initiated. Your screen will now display a transaction status window that showcases the details pertaining to your transaction.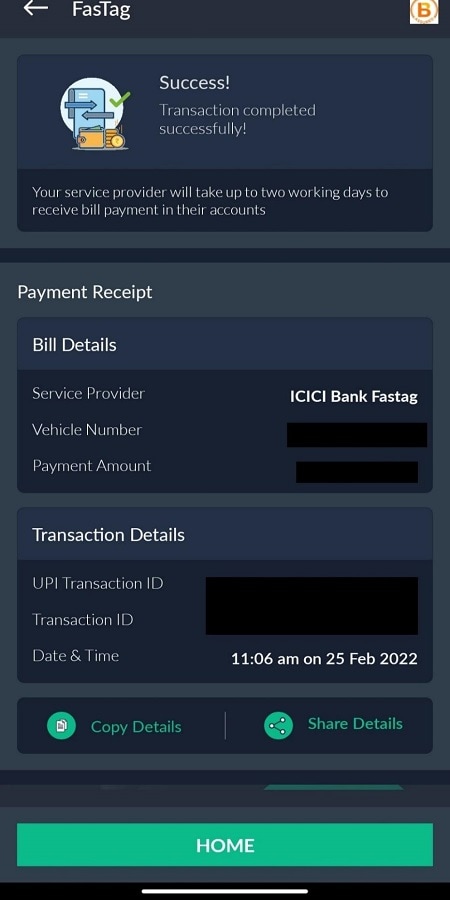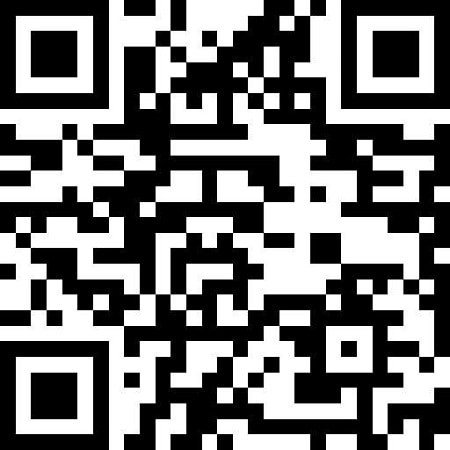 By scanning the QR code provided here you can access the Bajaj Markets app with ease such that you can recharge your FASTag in no time.
2. Alternative Methods to Recharge your Allahabad Bank FASTag
Apart from using the Bajaj Markets smartphone application, you can use the following resources in order to recharge your FASTag.
Credit and debit cards can be used to make FASTag payments on the official Allahabad Bank website.

You can also take advantage of mobile banking to add funds to your FASTag account via the website mentioned above

Digital wallets can be used to direct funds to a FASTag account

Paytm also has provisions to make FASTag payments

FASTag payments can also be made via UPI applications like Google Pay and Phone Pe
How to Check your FASTag Balance
If you have depleted the funds in your FASTag that you purchased via Allahabad Bank, and wish to see what your balance amounts to, you can use the resources mentioned below.
1. Allahabad Bank Website
Step 1: Visit the official Allahabad Bank website
Step 2: Click on the section that focuses on FASTag services
Step 3: Use your Allahabad Bank FASTag login details to access your account
Step 4: Now you will be able to see all the information pertaining to your FASTag account including the current balance on your tag
2. Give a Missed Call
You can always make a missed call on the toll-free number associated with Allahabad Bank's FASTag services in order to understand what the balance in your FASTag wallet amounts to.
3. Send an SMS
If you bought your FASTag from Allahabad Bank, each time you cross a toll plaza with your vehicle, you will receive an SMS on your registered mobile number. Each of these SMSs will indicate what amount has been deducted from your FASTag wallet. If you are ever curious to know what your past transactions are and what your current balance is, simply check the most recent SMS sent to you from Allahabad Bank pertaining to your FASTag.
4. Use My FASTag App
As a FASTag owner you also have the option to use the 'My FASTag APP' which is available on smartphone devices. Once you log into your FASTag account using your credentials you will be able to see information pertaining to it including the current balance on your tag.
Allahabad Bank FASTag Customer Care
The Allahabad Bank customer care number that has been designed to address FASTag related queries and to lodge complaints is 1800 258 6680.
Conclusion
Owning a FASTag allows you to drive on Indian roads with ease as it prevents you from having to make cash payments each time you cross a toll plaza. This is particularly useful as it allows you to save on time as well as fuel. The long lines associated with cash payments at tolls used to result in vehicles wasting fuel while they waited to cross tolls. Since FASTags have been mandatory since February 2021, the number of vehicles queuing up to make these cash payments has declined. This is because the RFID technology present in FASTags enables cashless transactions to occur. If funds within a FASTag wallet begin to decline, it is possible to recharge them with ease on platforms such as Bajaj Markets.