FASTag by YES Bank
Toll collection has never been faster at National Highway toll plazas and FASTags are credited with making this a possibility. These stick-on tags are meant to be placed on the windshields of vehicles. Operating with the aid of RFID technology, each time a vehicle with a FASTag sticker crosses a toll booth, RFID sensors deduct toll charges from the account linked to the FASTag. Thus far the government has given certain banks the authority to issue these FASTags among which YES Bank is one.
How to Buy a FASTag
Are you in the market to purchase a FASTag? If so, YES Bank has got you covered. With online as well as offline purchase routes available, the FASTag issued by YES Bank is worth taking a look at.
YES Bank FASTag - Apply Online
If you wish to avail of a FASTag issued by YES Bank online, simply follow the steps mentioned below.
Step 1: Begin by visiting the YES Bank FASTag registration website. Else, you can visit the main YES Bank webpage and click on the 'FASTag section'.
Step 2: Click on the 'FASTag – Apply Now' button
Step 3: You will be redirected to the FASTag application page. Here, enter details pertaining to yourself: mobile number, address and vehicle registration number.
Step 4: After filling out these details, upload the specified documentation.
Step 5: Pay the applicable charges
Step 6: Once your payment has been processed, your application will be submitted and verified. On verification, your FASTag will be dispatched to your registered address.
YES Bank FASTag - Apply Offline
In case you prefer to purchase your FASTag in person; visit the following on-site locations.
National highway toll plazas have point-of-sale counters for the banks authorised to issue FASTags. Visit any one of these point-of-sale counters and buy yourself a FASTag issued by YES Bank. Carry the pertinent paperwork and make sure you bring along the vehicle you wish to register.
You can also visit the nearest YES Bank branch and speak with a bank representative responsible for issuing FASTags. Ensure you carry the required documents for a smooth application process.
Read More: FASTag Registration
YES Bank FASTag Charges and Fees
There are certain charges and fees that apply each time a FASTag is issued. Among these:
As a FASTag owner you need to maintain a certain minimum balance.
Let us examine the following table to understand what charges and fees you will be expected to pay when availing your FASTag.
| | | | |
| --- | --- | --- | --- |
| Type of Vehicle | Class of Vehicle | Security Deposit | Minimum Balance To Be Maintained |
| Car / Jeep / Van / Tata Ace & similar mini Light Commercial Vehicles | 4 | ₹ 200 | ₹ 100 |
| Light Commercial Vehicle | 5 | ₹ 300 | ₹ 140 |
| 3-axle Commercial vehicles | 6 | ₹ 400 | ₹ 300 |
| Bus / Truck | 7 | ₹ 400 | ₹ 300 |
| Vehicles (4, 5, and 6-axle) and Tractor / Tractor with trailer | 12 | ₹ 400 | ₹ 300 |
| Vehicles with 7-axles and above | 15 | ₹ 400 | ₹ 300 |
| Earth Moving Vehicles / Heavy Construction Machinery | 16 | ₹ 400 | ₹ 300 |
Documents Required to Apply for a YES Bank FASTags
If you wish to apply for a FASTag, it is imperative that you keep certain documents handy as they need to be submitted along with your application. Understanding what these documents are prior to applying for a FASTag can help you save time when you actually buy a FASTag. Look at the list mentioned below in order to understand what these documents are.
The certificate of registration for your vehicle

A passport size photo of yourself (i.e., the owner of the vehicle)

KYC documents that establish proof of your identity and your address (this could be a PAN card, voter ID, passport, Aaadhar card or driver's licence).
Read More : How Does FASTag Work?
How to Recharge your YES Bank FASTag?
Online recharges can be made via a number of platforms. It is important to recharge your FASTag account once funds begin to dwindle as you are required to maintain a minimum balance. Continue reading in order to understand how to perform a YES Bank FASTag recharge online.
1. Recharging your YES Bank FASTag via Bajaj Markets
The Bajaj Markets application is a useful tool which provides users with a ton of helpful services including 'FASTag recharge'. Read the steps mentioned below to recharge your FASTag issued by YES Bank on the Bajaj Markets smartphone application.
Step 1: Unlock your smartphone and click on the Bajaj Markets application.
Step 2: Click on the "Bill Payment" section.
Step 3: Select the "FASTag services" button.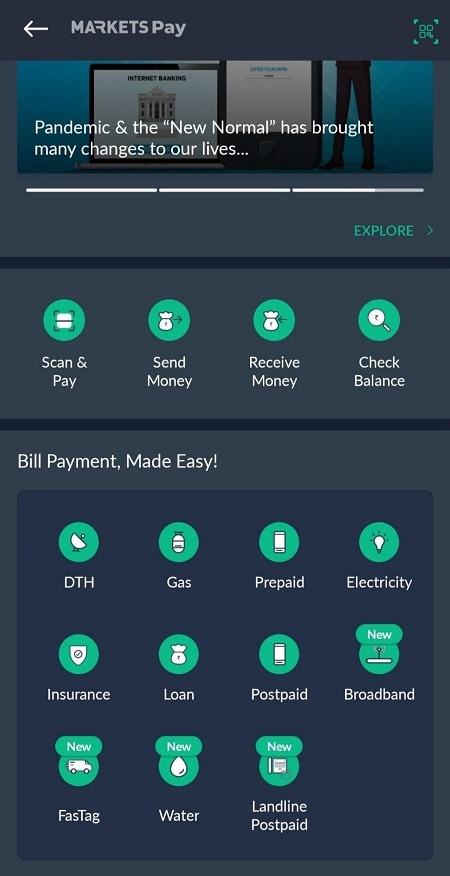 Step 4: Now, you must either search for your service provider or else select it from the options provided.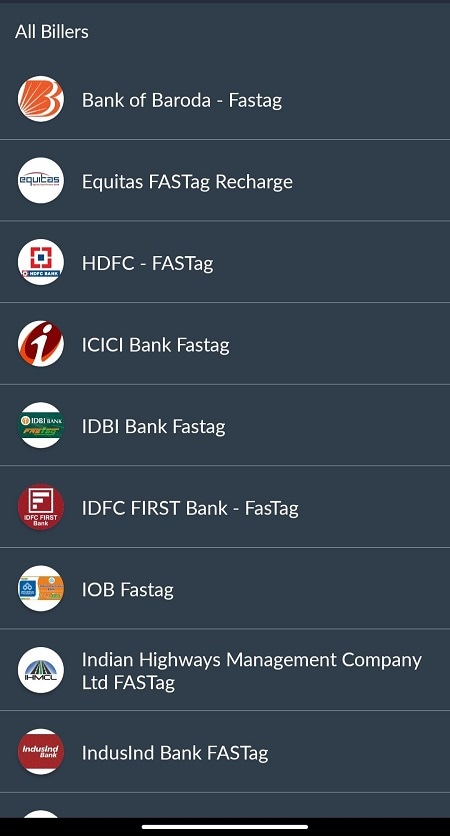 Step 5: Fill out your vehicle number (if you would like, you can refer to a sample bill at this point in your application process).
Step 6: Press the "View Bill" button to proceed.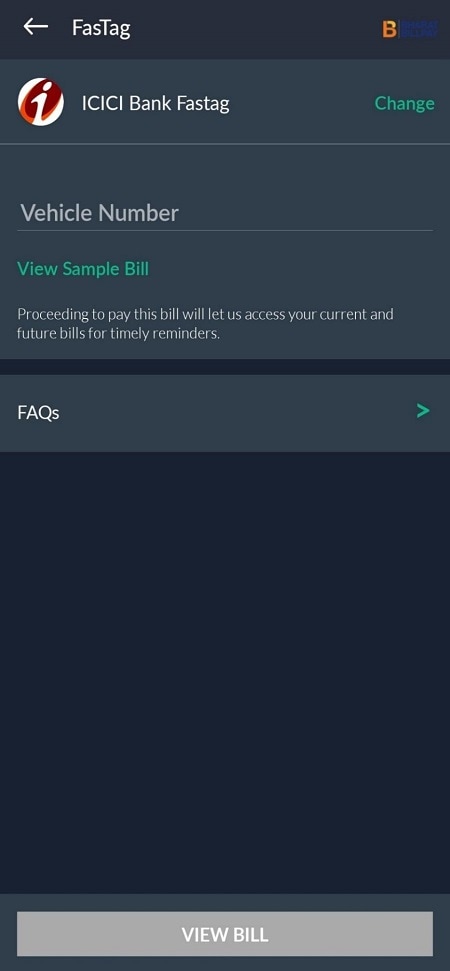 Step 7: Tap the amount of money you would like to add to your FASTag wallet.
Step 8: Tap on the UPI account that you have registered via the Bajaj Markets application. In the event that you have registered multiple accounts, select the one which you would like to use for payment.
Step 9: Click the "Pay" button, then key in your UPI PIN.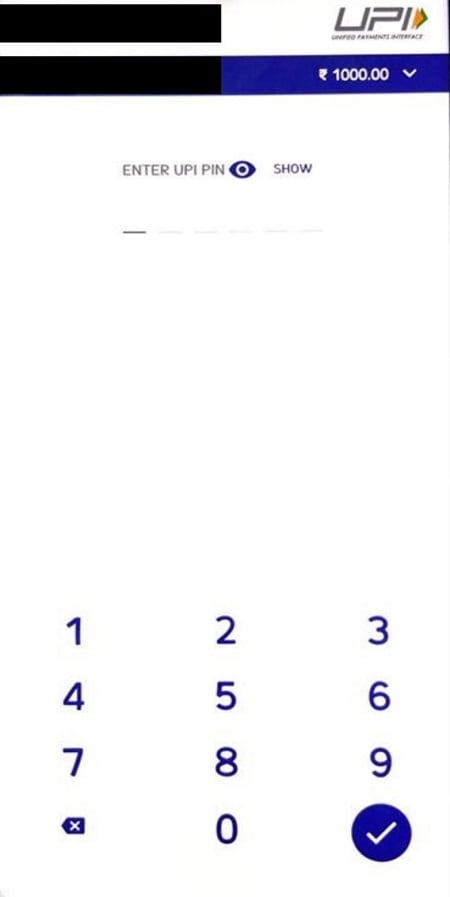 Step 10: Your FASTag payment will be initiated. Once it has been processed a transaction status window will appear on your screen. This window will show you details pertaining to your transaction.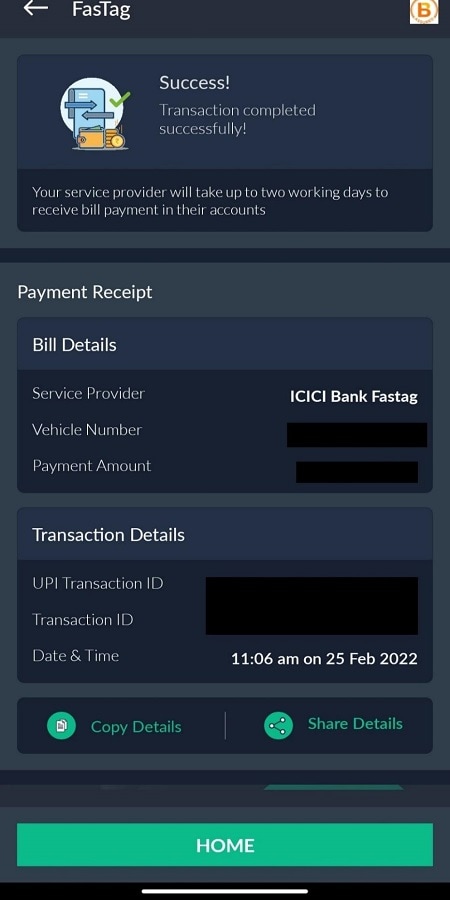 Scan the QR code featured here with the camera on your smartphone in order to be redirected to the Bajaj Markets application. You will be able to carry out your FASTag recharge here in no time provided you follow the step by step guide we've provided you!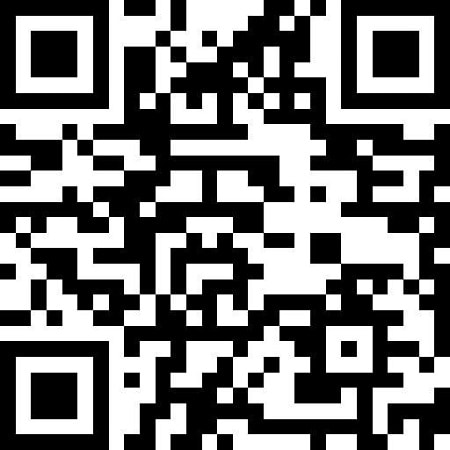 2. Alternate Methods to Recharge your YES Bank FASTag
In addition to Bajaj Markets, there are other methods via which you can recharge the FASTag issued to you by YES Bank. They are as follows:
UPI applications including Google Pay, PhonePe and Paytm can be used to add funds to your FASTag.

You can use your credit or debit card to add more money to your FASTag wallet by visiting the official YES Bank website.

Recharges can be made via internet banking on the website mentioned above.
How to Check YES Bank FASTag Balance
You need to know your FASTag balance to avoid any issues at a national highway toll plaza due to insufficient funds. Use any one of the methods mentioned below to check the balance on your FASTag.
1. Visit the Official YES Bank Website
Visit the official webpage for YES Bank and use your YES Bank FASTag login credentials to log into the FASTag portal. This will allow you to view information pertaining to your FASTag including the balance in your FASTag wallet.
2. Place a Missed Call
NHAI provides FASTag owners with the option to place a missed call from their registered mobile number to 88843 33331. This call will automatically disconnect once a long ring occurs. Following this, FASTag owners will receive an SMS mentioning their FASTag balance.
YES Bank FASTag Customer Care
Should you have any grievances about your FASTag or simply want to have a question answered, don't hesitate to reach out to YES Bank's dedicated FASTag customer care centre on 1800 1200. You can also reach out on WhatsApp by saving the YES Bank FASTag contact number +91 82912 01200 and messaging 'Hi'.
Conclusion
FASTags allow vehicles to pass through toll plazas without having to stop thereby removing any wait time and reducing bottlenecks that used to be common occurrences at toll plazas. This held particularly true during peak hour traffic. As there are many advantages associated with their usage, the government has made FASTags mandatory as of February 2021. This applies to all vehicles barring two-wheelers. If you haven't already purchased a FASTag and own a vehicle that requires a FASTag, you should consider purchasing one now. Else, if you already have a FASTag and wish to add funds to it, consider using the Bajaj Markets application on your smartphone to add money to your FASTag wallet.