Various components of an employee's salary structure can contribute to decreasing their tax burden. One such component, the HRA, can come in handy by making an employee eligible for tax benefits. However, not everyone has HRA as a part of their salary. In such cases, Section 80GG comes in.
What is Section 80GG?
If you are an employee, HRA (House Rent Allowance) would generally be an important part of your salary structure. However, if you do not receive any House Rent Allowance (henceforth referred to as HRA), and if you are staying in a house on rent, you can apply for tax deductions under section 80GG of the Income Tax Act.
By deductions, it is meant that you can deduct tax from your gross pay of the current year to infer at the net taxable salary on which the income tax would be charged.
Deduction under Section 80GG - Terms & Condition
There are a few conditions that you have to meet to qualify for the tax deductions under Section 80GG. Here are those conditions:
Self-employed individuals can claim deductions under this section. Salaried individuals who do not receive HRA as part of their salary are also eligible to claim such deductions.

Organizations cannot claim deductions under 80GG for their rental costs

You are eligible to claim this deduction if you are a part of Hindu Undivided Family

Under 80GG, you can claim deductions if you a tenant residing in any furnished, semi-furnished or unfurnished house

If you have claimed income tax deduction under any similar sections, you cannot avail of the benefits of Section 80GG.
Eligibility for Claiming Deductions under 80GG
Here are a few eligibility criteria that must be met while applying for 80GG deductions:
You must be salaried/self-employed

You must not receive HRA as a part of your salary

You must have submitted a declaration through Form 10BA
Claiming 80GG Tax Deductions
To claim deductions under 80GG, you must follow the steps given below: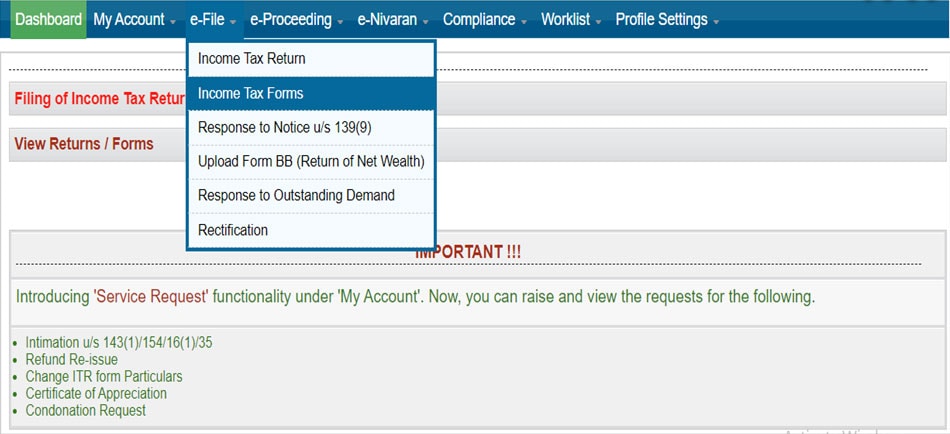 Source: https://incometaxindiaefiling.gov.in/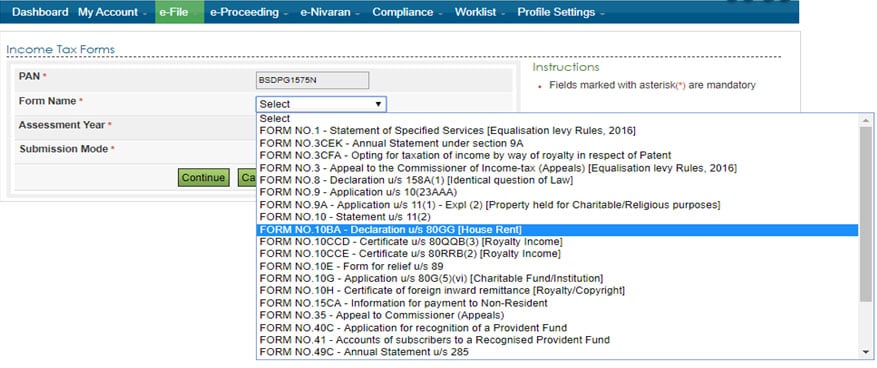 Source: https://incometaxindiaefiling.gov.in/
Select the assessment year for which you are filling the form

Click 'prepare and submit online' from the dropdown list

The complete form will now appear. You can fill in the relevant details after perusing the guidelines given in the blue tab.
In case your rent exceeds ₹1 lakh, you must fill in the PAN details of the owner of the property you are renting out.
Exceptions under Section 80GG
Now let's have a look at certain exceptions under section 80GG:
You cannot be the owner of a property (residential) at the place where you normally reside or carry out work

You would not be able to avail of deductions in the event that you are already claiming deductions on residential property owned in a separate location. If you are residing in a city and own a property or house in another city, you cannot claim HRA deductions.
Amount Applicable for Deductions
You can claim the least amount among any of the following:
25% of your annual income

₹5000 per month/ ₹60,000 per year

Total rent paid after deducting 10% of basic salary
Conclusion
Section 80GG is an easy and effective way to get income tax deduction. However, the deductions might, at times, fall short of reducing your complete tax burden. In such cases, you can opt to invest in various financial products that will help you avail of deductions under other sections of the ITA.
If you are looking to get additional tax deductions, you can simply purchase a product like Bajaj Allianz ULIPs (Unit Linked Insurance Plans) on Finserv MARKETS. The principal investment amount, the income derived and maturity proceeds are all tax-free. Other than the tax savings, this plan helps you build a substantial corpus over the years. ULIPs available on Finserv MARKETS provides you with double advantages wherein a part of your premium is paid towards life coverage while the remaining is utilized for putting resources into assets of your choice. You can choose from three different plans: Investment Plans, Retirement Plans or Child Plans. Invest in ULIPs on Finserv MARKETS now to avail of these benefits!