Bank of Maharashtra FASTag - An Overview
A FASTag is a reloadable passive tag that can be attached to your vehicle and is linked to an automatic toll collection system run by the National Highway Authority of India. FASTags have made commuting faster and much more convenient, and a number of banks across India have joined the initiative.
Among the multitude of banks across India that have tied up with the National Payments Corporation of India (NPCI) to facilitate the programme, the Bank of Maharashtra has also joined their ranks. Thanks to the Bank of Maharashtra FASTag service, as you zip through a toll plaza, the Bank of Maharashtra FASTag will be scanned and the toll charge will be deducted directly from your linked bank account. With the aid of the Mahabank FASTag, you can now skip traffic jams at toll plazas, and enjoy your journeys without a worry. Read on to know more about how the BoM FASTag operates.
How to Buy FASTag?
If you wish to secure a BoM FASTag, the most vital requirement is having an account with the Bank of Maharashtra. Here is how you can get FASTags online as well as offline.
Steps to getting Bank of Maharashtra FASTag Online
Applying for a FASTag via the Bank of Maharashtra is a very straightforward process. Follow these steps to obtain a Bank of Maharashtra FASTag online.
1. Go to the FASTag Bank of Maharashtra website
2. Create a customer ID and enter personal information such as date of birth, name, phone number and address.
3. An OTP will then be sent to your phone number for verification.
4. Enter details related to your vehicle, customer category and your pin code.
5. Upload copies of proof of identity, proof of address and a photo of your vehicle.
6. Once your application is complete, all you have to do is submit it, and wait for approval.
Steps to Get FASTag from Bank of Maharashtra Offline:
Some may consider the online option easier, while others may prefer to get their FASTag in person. Here is what you need to do to get a FASTag offline:
Visit your Local Bank of Maharashtra Branch
Visit the nearest BoM branch, and carry the required documents as mentioned for the online procedure. Also, bring the vehicle that you want the FASTag for.
Purchasing a FASTag at a toll plaza is also an option, and you must bring the same documents as well your vehicle.
BOM FASTag Fees and Charges
There are certain charges you need to pay while getting the Bank of Maharashtra FASTag. Here is a quick look at the fees:
Vehicle Under Consideration

Tag Class

Security Deposit (₹)

Threshold Amount (₹)

Car/Jeep/Van

1

200.00

200.00

Light Commercial vehicle 2

-axle

2

300.00

140.00

Bus 2-axle

3

400.00

300.00

Bus 3-axle

4

400.00

300.00

Mini-Bus

5

400.00

300.00

Truck 2 - axle

6

400.00

300.00

Truck 3 - axle

7

500.00

300.00

Truck 4 - axle

8

500.00

300.00

Truck 5 - axle

9

500.00

300.00

Truck 6 - axle

10

500.00

300.00

Truck Multi axle (7 and above)

11

500.00

300.00

Earth Moving Machinery

12

500.00

300.00

Heavy Construction machinery

13

500.00

300.00

Tata Ace and Similar mini–Light Commercial Vehicle

14

200.00

100.00
Documents Required for BoM FASTags
The documentation needed for procuring your FASTag via the Bank of Maharashtra includes the following:
Original copy of all KYC documents

Vehicle registration certificate

PAN card

Valid driver's licence

Proof of address (adhering to the RBI guidelines)
Read More : How Does FASTag Work?
How to Recharge BoM FASTag through Bajaj MARKETS
Recharging your FASTag is very convenient and can be done in a matter of minutes with the help of the Bajaj MARKETS app. Here is what you need to do:
Go to the Bajaj MARKETS mobile app.

Under the Bill Payment section, select FASTag services.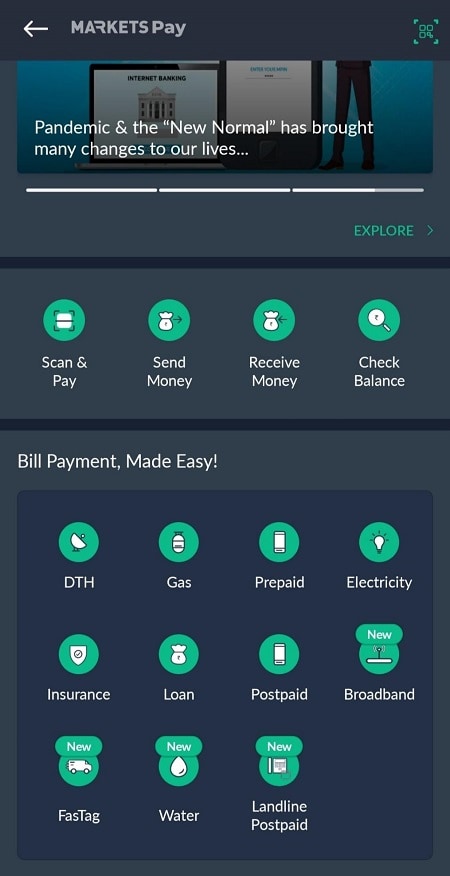 3. Find your service provider in the list on the screen and click on the name.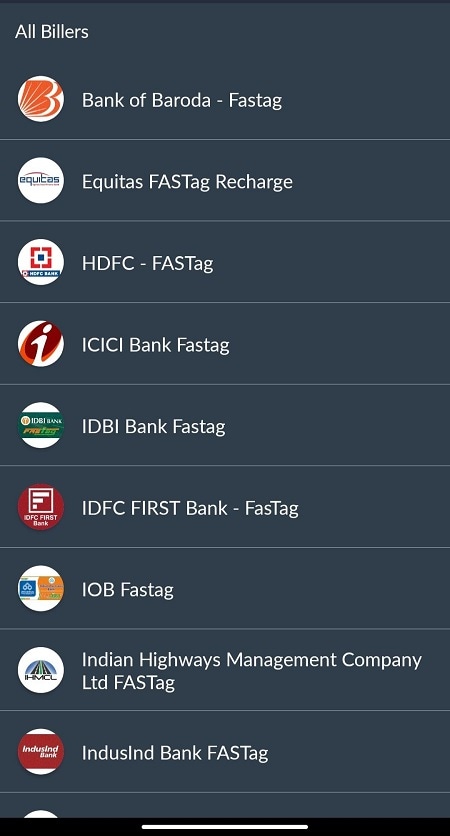 4. Enter your vehicle number. You can select the Sample Bill option for reference.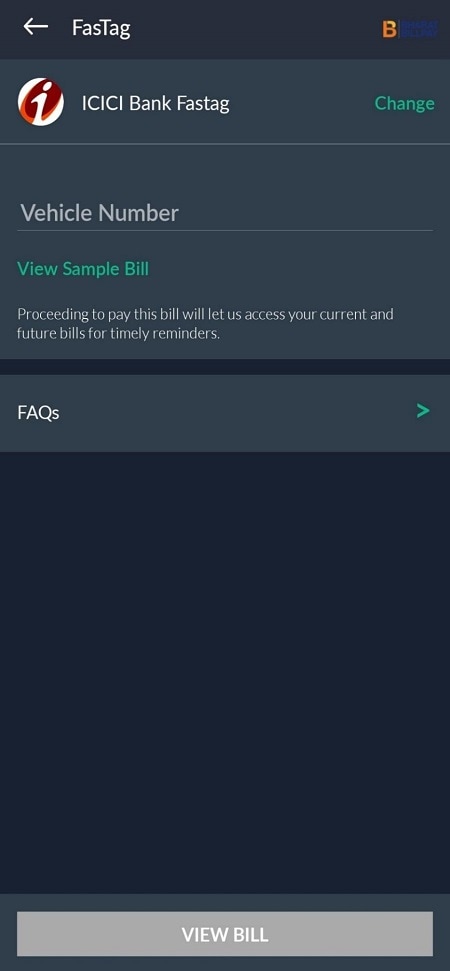 5. Click on View Bill to proceed.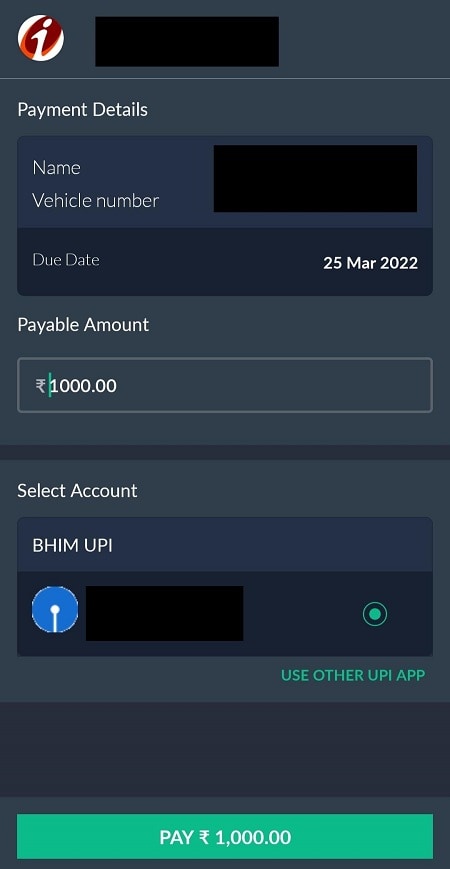 6. Check the payable amount, and select the UPI account and bank you have linked to the app.
7. Select the 'Pay 'option and enter the pin to confirm the payment.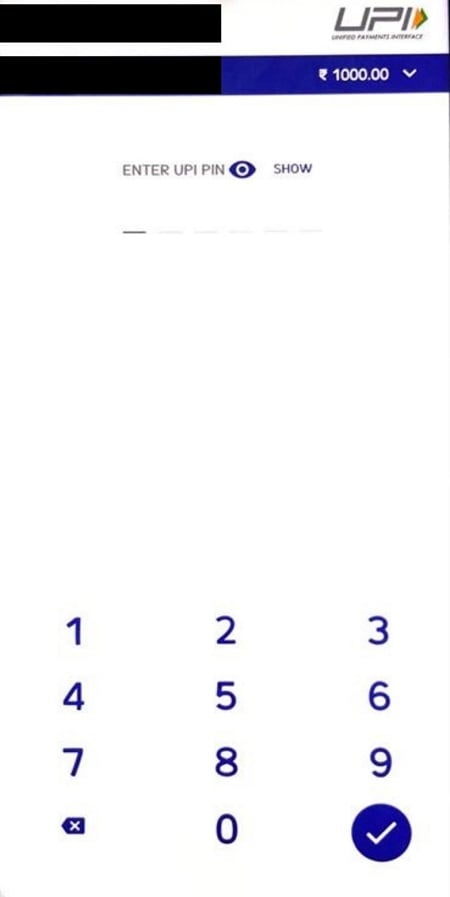 8. Your recharge will be initiated and your transaction status will be displayed in the app once it is completed.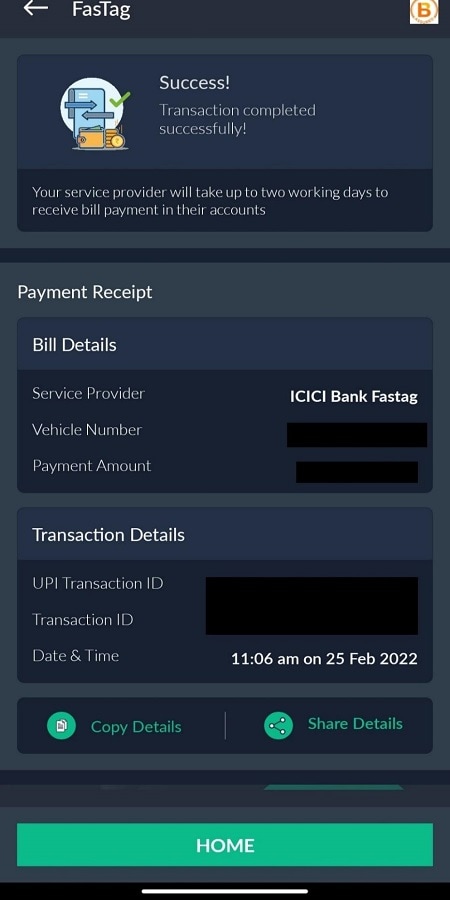 This QR code will direct you to that section of the Bajaj MARKETS app where you can make the payment for your FASTag recharge.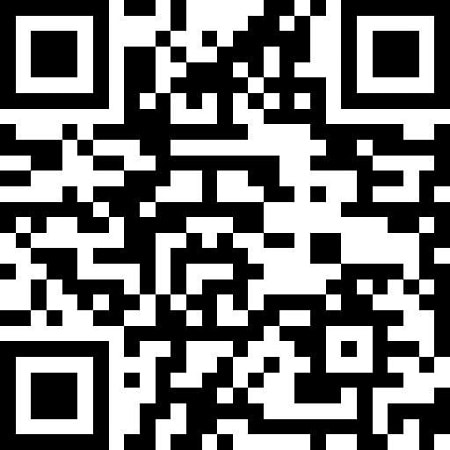 How to Check BoM FASTag Balance
If you want to run a quick Bank of Maharashtra FASTag balance check, you can do so in a few different ways:
1. Check FASTag Balance via SMS:
Every time you pass a toll plaza, you will receive an SMS on your registered mobile number

Go to your SMS inbox and locate the message chain

You will find details about your balance
2. Check FASTag Balance Online:
Visit the official website of your linked bank, mobile wallet or agency which has a FASTag portal

Login using your credentials

Click on the 'View Balance' option
3. Check FASTag Balance via Email
Check your email inbox after passing a toll

A notice about the toll deduction is sent to your account Check the latest deduction notice and you will find the balance
4. Check via 'My FASTag App'
Install the My FASTag App from the Google Play Store or the Apple Store I

Enter the UPI ID for your FASTag

Click on 'validate' and the app will then take you through the rest of the steps

Once you are done with the login process, you can check your balance
Bank of Maharashtra FASTag Customer Care
If you have any complaints, queries, or just want to check the balance for your Bank of Maharashtra FASTag, you can contact customer care at
| | |
| --- | --- |
| Customer Care Email | |
| Customer Care Phone Number | 1800 233 4526, 1800 102 2636 |
| BoM Digital Banking Team Email | |
| BoM Digital Banking Team Phone Number | 020-2561 4486, 020-2561 4252 |
The NTEC-FASTag has made toll plaza payments extremely quick and easy. All you need to do is set up a tag with a bank, such as a Bank of Maharashtra FASTag, and you can enjoy benefits like instant online recharges, reduced travel time, convenient cashless payments and notifications every step of the way.