One of the processes that have been modified by the IRDAI recently is health insurance portability. Through this facility, Indian customers can now transfer their mediclaim policy from one insurer to another without losing any of the benefits or credits of their health insurance policy.
This regulation was hugely beneficial to the insurance market and provided clients with more flexibility.
What is Health Insurance Portability?
IRDAI introduced health insurance portability in the year 2011. With this feature, you (the policyholder) can transfer the earned credits for pre-existing conditions and other time-bound exclusions from one plan to another. This transfer can either be made under the same insurer or from one insurer to another. Even after the transfer, your continuity benefits from the previous plan remain intact, which includes the no-claim bonus and free medical check-ups.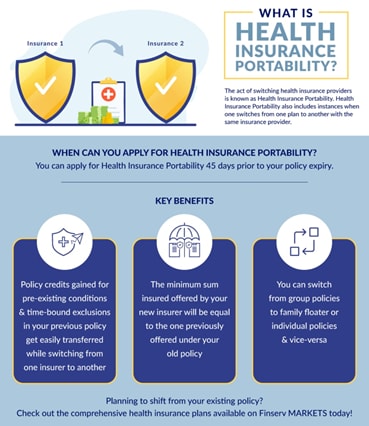 Past & Present Scenario
Before October 1st, 2011, if you wished to switch to a new health insurance company, then you had to sacrifice all the health insurance benefits of your current policy. Everything had to be started afresh, you had to fill in a new application, and all the accumulated advantages were nullified.
Past rules also stated that the clients had to stick around with the insurer for a specified period of time to obtain coverage for pre-existing diseases. If you planned to switch, then your previous waiting period was cancelled, as your records were bound to be erased. However, the current reforms have effectively removed these obstacles and made things simpler for customers.
The current waiting period for availing coverage on pre existing diseases is just 2 years. Please consider the following important suggestions before initiating a transfer:
Only family floaters and individual plans can be transferred.

Only health insurance policies that are provided by non-life insurance entities are eligible for the transfer.

The transfer process should be initiated at least 45 days before the premium renewal date of your existing policy.

Your insurer has to obtain all your details within one week.

The final decision on the application should be communicated to the client within 15 days.
Health Insurance Portability Concept With Illustration
Mr Khurana was not pleased with the reimbursement limit offered on his existing health insurance. He thus decided to make a switch from his current provider to a new one. With his existing insurer, he has a health insurance plan of four years and a sum insured of INR 2.5 lakh. It also has a cumulative bonus of INR 50,000.
After getting in touch with his current provider, he was informed that the switch could be made with the same sum insured without having to lose the earned benefits. However, Mr Khurana was not pleased by the process and had several doubts. Hence, he got in touch with the new insurer to gain a better idea on health insurance portability.
To his surprise, the new provider informed him that they do not offer the same sum insured amount as that of his previous provider. So, he will have to opt for the nearest higher sum insured that is available. Let us assume the closest sum insured available at this new insurer is INR 3 lakh.
Thus, Mr Khurana will get a full continuity benefit for INR 2.5 lakh to the extent of the waiting period served under the previous policy but no benefit under the enhanced sum insured (i.e. INR 50,000).
In simple words, he can avail a higher sum insured at the new provider, but won't get any additional benefits on the increased amount.
Process of Porting My Health Insurance Policy
You can apply for health insurance portability only when your existing plan is due for renewal. The transfer has to be initiated at least 45 days before the policy renewal date. Your request will either be accepted or rejected in 15 days – after which your application has to be compulsorily approved. Both the accumulated bonus and sum assured can be transferred.
Here's how you can port your current health insurance plan to a new one –
Fill the health portability form with the existing policy details.

Then fill the proposal form with the details of the new health insurance policy.

Submit the supporting documents and make the premium payment.
And you are done!
Now, let us take a look at the documents required when porting your health insurance plan.
Documents Required for Health Insurance Portability
Keep the following documents handy when submitting health insurance portability request.
Identity Proof

Address Proof

Duly Filled Portability Form

Duly Filled Proposal Form

Insurance Policy

Claim History (if applicable)

Declaration of no claims (if applicable)

Documents related to medical history
Things That You Can Port In Your Health Insurance Policy
Below are the things that you can port in your health insurance plan –
Members enlisted in the existing policy

Existing sum insured amount

Accumulated bonus (if any)

The waiting period for pre-existing ailments

The waiting period for specific health conditions

Maternity waiting period (if applicable)
When Should You Opt for Health Insurance Portability?
Whether or not to opt for health insurance portability can be confusing. To make it easier for yourself, ensure that you evaluate the reason why you need to transfer.
It would help if you considered porting in case the new insurer is offering a better restore benefit compared to your existing plan. It can also be because the new insurer has a large number of network hospitals under them, or maybe they offer a customized plan for specific medical issues.
Health Insurance Portability – Rules and Regulations
You can opt for porting only when the renewal date of the existing plan is nearing and not at any time during the policy term. This way, the new term of your policy begins with the new insurer.

The new insurer will provide you with a waiting period benefit. But other features such as the premiums charged and underlying terms and conditions will be made according to your new insurer.

For hassle-free transfer, you have to apply for the portability at least 45 days before the policy is due for renewal. You have to submit a written application with your existing insurer, mention the new insurer that you plan to transfer to, and renew the plan without any break in the tenure.
Rights of the Insured
You can switch your current insurance plan from one insurer to another

Switching of the policy can be done for individual as well as family health insurance plans

The new insurer is liable to provide you with the credit for the waiting period and bonuses that you may have accumulated over the years

The new insurer is also liable to provide you with a sum insured amount that is equal to or possibly near to the existing sum insured.

Once the portability request has been raised, both the old and new insurance providers have to complete the necessary formalities as per the specified guidelines by IRDA.
Things to Consider While Porting Health Insurance
We understand that porting your health insurance plan to a new insurer that offers better services and benefits compared to your existing one is a wise decision. However, there are a few things that you should keep in mind before switching –
Benefits offered by the new insurer:
It is worthy of transferring from your existing insurer to a new one only if they are offering you better features and benefits. Hence, before you put a request for health insurance portability, ensure that you are checking the features, benefits, coverage, and exclusions offered under the new insurance provider.
A few insurers have set an age limit for policy renewal. So, if your current insurer has an age limit for policy renewal, ensure that you are switching to an insurer that offers lifelong renewal.
Cashless claims can only be availed at network hospitals. Therefore, it is wise to choose an insurance provider that has a large number of empaneled hospitals for your convenience.
When switching, it is crucial to know the premiums charged by the new insurer. There are a few insurance providers that offer low premiums, but the coverage offered by them is also limited. Hence, choose a plan that offers adequate coverage and fulfills all your health-related needs.
Conclusion
Many people buy health insurance at an early stage in life. At that moment, not everyone takes into account his/her changing lifestyle and future needs. During such times, health insurance portability makes switching to a new policy easy.
If you are looking to port your existing health plan to a new one, consider the health insurance plans available on Finserv MARKETS. You can benefit from features such as cashless claim settlements, reinstatement benefits, tax benefits, hassle-free renewals, and so much more.
You can also read some of our top blogs to know more about health insurance in India: