What is Health Insurance Portability?
Health insurance portability is the process of switching from one plan to another. As per IRDAI's health insurance portability guidelines, you can either switch from one insurance plan to another (offered by the same provider) or to a new insurance provider. It means that your continuity benefits from the previous plan remain intact, which includes the no-claim bonus and free medical check-ups.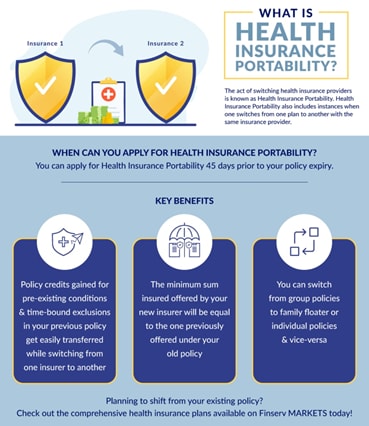 Past & Present Scenario
Before October 1, 2011, if you wanted to port your health insurance to a new company, then you had to sacrifice all the health insurance benefits earned under your current policy. Everything had to be started afresh by filling in a new application, only to lose all the accumulated advantages.
Earlier, health insurance portability rules also stated that the clients had to stick around with the insurer for a specified period of time to obtain coverage for pre-existing diseases. If you planned to port your health insurance policy, then your previous waiting period was cancelled, as your records were bound to be erased. However, the reforms in the Health Insurance Portability and Accountability Act, 1996 (HIPAA) have effectively removed these obstacles and made things simpler for policyholders.
Consider the following important suggestions before you decide to port your health insurance policy:
Only family floaters and individual plans can be transferred. However, porting health insurance from group to individual is possible only with the same insurance company.

Health insurance portability is possible only for policies that are provided by non-life insurance entities.

The transfer process should be initiated at least 45 days before the health insurance premium renewal date of your existing policy.

Your insurer has to obtain all your details within one week of placing a health insurance portability request.

The final decision on the application should be communicated to the policyholder within 15 days of submitting the health insurance portability request.
Health Insurance Portability Concept With Illustration
Mr. Khurana was not pleased with the insured coverage offered under his existing health insurance plan. Thus, he decided to port his policy from his current provider to a new one. He has been associated with his existing insurer for four years and the sum insured is ₹2.5 lakh. Moreover, he has earned a cumulative bonus of ₹50,000.
After getting in touch with his current provider, he was informed that health insurance portability was possible with the same sum insured without having to lose the earned benefits. However, Mr. Khurana was not pleased with the process. Hence, he got in touch with the new insurer to gain a better idea about health insurance portability.
Unlike his current insurer, they did not offer the same sum insured. So, he would have to opt for the nearest higher sum insured that was available. Now, let us assume the closest sum insured offered by the new insurer is ₹3 lakh.
Thus, Mr. Khurana will get a full continuity benefit for ₹2.5 lakh to the extent of the waiting period served under the previous policy but no benefit under the enhanced sum insured. In simple words, he can avail a higher sum insured with the new provider, but won't get any additional benefits on the increased amount. For Mr. Khurana, it turned out to be one of the disadvantages of health insurance portability.
The above example proves that the answers to questions like 'should I port?', 'what is better? Porting to a new insurer or a new plan', etc., are subjective. You need to understand your needs, gain an understanding of the pros and cons of porting, and then make a decision.
Common Reasons Behind Health Insurance Portability
Let's check out a few common reasons why an insurance holder might choose to port health insurance:
Poor services

Inadequate coverage for certain health issues

Slow claim settlement process

Hiked premium once a claim is made

Co-payment clauses

Lack of transparency

Room rent limits affecting the claim amount

Better deals from a different health insurance company

The desire to seek services from a specialised health insurer that offers personalised services in sync with the individual's needs
What are the Benefits of Porting a Health Insurance Plan?
Porting to a different health insurance plan offers a multitude of benefits. And they are:
Protects Continuity Benefits
We all want a way out of our existing plan to a better insurance policy, but without having to forgo our earned benefits. Health insurance portability enables you to avail the continuity benefits of the existing policy. It means you do not lose your accumulated benefits by changing the health insurance policy or insurer. For example, if you have earned a 40% NCB under the existing policy, you can enjoy the same percentage of NCB with the new insurance provider.
Carrying the Waiting Period Credit Forward
The waiting period completed or covered under the current health policy is carried forward to the new plan. Let us assume that your existing policy has a waiting period of 2 years for critical illnesses. And you will complete the waiting period by the end of the policy tenor. However, as per the new policy, the waiting period is 3 years. Here, your completed waiting period shall be deducted, thereby reducing the waiting period to 1 year.
One of the reasons why people port their health plans is poor services. So, if you are not happy with your current insurer's claim process, coverage, customer support, etc., you can look for a company that meets your needs. However, do your research to ensure that the new insurance company provides better services.
Changing the plan or the insurer enables you to get the same services at a more feasible price. It is especially beneficial for you if your health insurance premiums have gone up simply because you raised a claim during the policy tenor.
How to Port Health Insurance Policy
You can apply for health insurance portability only when your existing plan is due for renewal. The transfer has to be initiated at least 45 days before the policy renewal date. Your request will either be accepted or rejected in 15 days. If the insurer doesn't accept or reject your application within that time frame, your request has to be approved mandatorily. Both the accumulated bonus and sum insured can be transferred.
Here's how you can port your current health insurance plan to a new one:
Step 1: Fill out the health portability form with the existing policy details.
Step 2: Then, fill out the proposal form with the details of the new health insurance policy.
Step 3: Submit the supporting documents and make the premium payment.
Documents Required for Health Insurance Portability
Keep the following documents handy while submitting the health insurance portability application:
Identity proof

Address proof

Duly filled portability form

Duly filled proposal form

Insurance policy

Claim history (if applicable)

Declaration of no claims (if applicable)

Documents related to medical history
Things You Can Port Under Your Health Insurance Policy
Here's what you can port from your health insurance plan:
Members enlisted in the existing policy

Existing sum insured amount

Accumulated bonus (if any)

The waiting period for pre-existing ailments

The waiting period for specific health conditions

Maternity waiting period (if applicable)
Pros and Cons of Health Insurance Portability
Check out the below table to understand the pros and cons of porting your health insurance. This will help you answer a question–to port or not to port?
| | |
| --- | --- |
| Pros | Cons |
| It allows policyholders to change their health cover according to their current medical conditions/requirements and lifestyle. For instance, it enables you to switch from a group health insurance policy to a family floater health plan. | You can choose portability only when the health insurance plan is due for renewal. So, if you purchased a plan on June 9, 2022, and the plan expires on June 8, 2023, you cannot apply for portability before you have completed 10 months. The window offered for application is 45 to 60 days before the due date. |
| With this feature, the current sum insured and any bonus earned under the old health policy are combined to give you a new sum insured. | As a policyholder, you can only move to a similar type of health plan and not to something completely different. For example, you cannot go from a top-up plan to a cancer insurance policy. |
| Porting of health insurance enables you to avail a plan for lower premiums. | You have to pay higher premiums to enjoy additional benefits under a new health plan. |
| Benefits of the existing policy stick with you even after switching to a different plan. Moreover, you do not have to worry about exclusions like the waiting period. | You may lose a few benefits from the existing policy if you choose to go from group insurance policies to individual plans. |
When Should You Opt for Health Insurance Portability?
Questions such as whether you should port health insurance policy in India can be quite confusing. To make it easier for yourself, ensure that you evaluate the reason why you need to switch to a different insurance provider.
It would help if you considered porting in case the new insurer is offering a better restore benefit compared to your existing plan. It can also be because the new insurer has a large number of network hospitals under them, or maybe they offer a customised plan for specific medical issues.
Health Insurance Portability Rules and Regulations by IRDAI
You can opt for porting of a health plan only when the renewal date of the existing plan is nearing and not at any time during the policy term. This way, the new tenor of your policy begins with the new insurer.

The new insurer will provide you with a waiting period benefit. But other features such as the premiums charged and underlying terms and conditions will vary according to your new insurer.

For hassle-free transfer, you have to apply for the portability at least 45 days before the policy is due for renewal. You have to submit a written application with your existing insurer, mention the new insurance provider that you plan to transfer to and renew the plan without any break in the tenor.
Rights of the Insured
You can switch your current insurance plan from one insurer to another

Health insurance portability is possible for individual as well as family health insurance plans

The new insurer is liable to provide you with the credit for the waiting period and bonuses that you may have accumulated over the years

The new insurer is also liable to provide you with a sum insured amount that is equal to or possibly near to the existing sum insured

Once the portability request has been raised, both the old and new insurance providers have to complete the necessary formalities as per the specified guidelines by IRDAI
Things to Consider While Porting Health Insurance
We understand that porting your health insurance plan to a new insurer for better services and benefits is a wise decision. However, there are a few things that you should keep in mind before switching:
Benefits Offered by the New Insurer
Transferring from your existing insurer to a new one would make sense only if you receive better features and benefits. Hence, before you submit your health insurance portability application, check the features, benefits, coverage, and exclusions offered by the new insurance provider.
Some insurers have set a limit on the policy renewal, i.e. individuals beyond a certain age cannot renew their health insurance plans. Hence, do your research and confirm that the new insurance provider offers lifelong renewal.
Cashless claims can only be availed at network hospitals. Therefore, it is wise to choose an insurance provider that has a large number of empanelled hospitals for your convenience.
When switching, it is crucial to know the premiums charged by the new insurer. There are a few insurance providers that offer low premiums, but the coverage offered by them is also limited. Hence, choose a plan that offers adequate coverage and fulfils all your health-related needs.
Rejection of Health Insurance Portability Requests
IRDAI has given us the power to port health insurance plans. However, it has also provided health insurers with the right to reject portability applications. It means every request is treated as new, and thus, it shall go through the verification process.
When a health insurer receives an application to port healthcare plans, the underwriter first examines the risk exposure to determine the premium rate. The insurance company is allowed to reject your proposal in case it seems unfavourable. During such cases, continuing with the existing insurer would be your only option.
Reasons for Rejection of Health Insurance Portability Requests
IRDAI has allowed insurance providers to reject a portability application if it doesn't meet their terms and conditions. Your portability request could be rejected on the following grounds:
Inadequate information

Delay in submitting the document

Poor claim history due to multiple claims

Unavailability of the previous policy document

A break in policy renewal
Other important grounds for the rejection of health insurance portability request:
Insurance companies generally refuse to cover senior citizens. The possibility of an individual falling sick increases with age. However, there are some insurance companies that accept people within the age group of 60-69 years. These companies are like knights in shining armour for senior citizens. Most insurance companies may also impose stringent rules and charge high premiums.
Unfavourable Medical History
People with pre-existing diseases are often rejected during health insurance portability. In fact, even having a minor illness, which could later turn into a life-threatening disease could reduce the likelihood of your portability request being approved. Pre-existing diseases and other critical medical conditions require ongoing treatment, regular follow-ups and medication, which leads to high as well as recurring costs. This, in other words, means multiple claims. So, if a person with a history of hypertension, diabetes, cancer, or other major illnesses applies for portability, they shall be categorised as a 'high risk' applicant.
Porting Out of a Floater Cover
Port out of a family floater health plan raises multiple questions. So, if you choose to move from a family health insurance plan to an individual policy, the insurer could get doubtful. It is commonly believed that such requests come from people suffering from a chronic health condition, which requires better coverage. Hence, such portability applications are generally rejected.
Porting From Group Health Insurance or Family Floater to an Individual Health Cover
People covered under group health insurance policies or family floater policies eventually move out and choose individual health insurance plans. However, it is imperative to make sure that you switch to an individual plan and not a new insurer. If you want to change your insurer, you might have to hold your horses…for a year. As someone covered under a group/family plan, you must first switch to an individual medical cover offered by the current insurer. The next step would be to complete an entire tenor with the new plan and only then switch to a new insurer.
Before you make the final switch, do not forget to check the features, coverage, add-on covers, and other benefits offered by the new insurer. Compare the plan offered by your existing and prospective insurer based on their terms, conditions, sum insured, age limit, waiting period, network hospitals, co-payment clause, room rent capping, and so on.
Conclusion
Many people buy health insurance at an early stage in life. At that point, not everyone takes their changing lifestyle and future needs into account. That's when health insurance portability comes into the picture. It empowers you with the right to switch to a new policy.
If you are looking to port your existing health plan to a new one, consider health insurance plans available on Bajaj MARKETS. You can benefit from features such as cashless claim settlements, reinstatement benefits, tax benefits, hassle-free renewals, and so much more.