Wireless technology is the latest advancement in the area of communication technology. Most gadgets currently in use comprise of wireless technology at its core. It is the backbone of the tech world. Right from the ancestral First Generation (1G), wireless tech has come a long way to meet the growing demands of its consumers globally. Moving through 2G, 3G and 4G, 5G is still at a nurturing stage. How prepared is India is for this technological advancement?
Scope of 5G in India
Alongside other developed and developing countries, India is moving in the lead to inculcating changes that emerge from the world of wireless technology. India's telecom sector is known to be the second-largest telecom industry in the world (on the basis of the total number of telephone users, including both fixed lines and mobile phones) with minimal tariff rates. As per the Internet and Mobile Association of India, India's telecom industry ranks 3rd largest in the Internet user base, with about 190 million users as of June 2013.
According to a report published in the Times of India, India and Israel had made an agreement over 5G in July 2013 (way before 4G was implemented in India). Both countries had settled for a joint venture to develop 5G. Along with India's market and capital, Israel was meant to be a good resource for technology and innovation.
Major players in the cellular spectrum are showing remarkable advances to launch 5G. Nokia has been on talking terms with Indian cellular operators to launch trials of 5G in India. Even Samsung expects to work closely with telecom operators in India once they decide to roll out their 5G networks.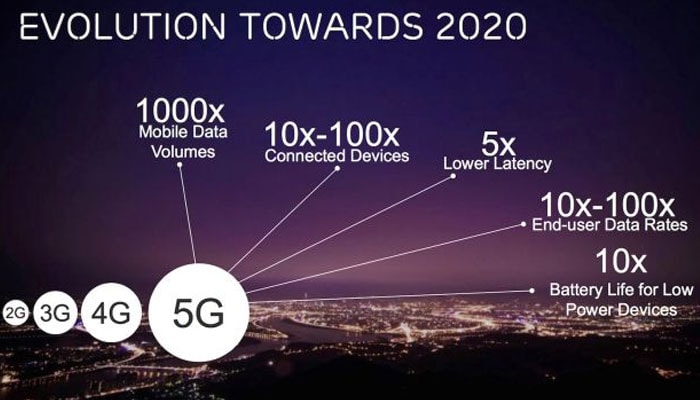 Source: Zee News

The State Road Transport Corporation of Andhra Pradesh (APSRTC) has provided a pilot based 5G WiFi service at a city bus stand, making it the country's first bus stand with 5G WiFi. The APSRTC has associated with leading telecom service providers, Quad Gen and BSNL. Both companies have set up wide MIMO (multiple inputs, multiple outputs) antennas that are capable of providing data of up to 1.2 Gbps.
Due to the success of 4G implementation in India, the future for 5G is very bright. As the world is moving towards green technology, the wireless industry is also leaning towards Green Computing. Researchers have already begun to implement this technique for 5G and thus, there still is scope for studying and analysing the effects of implementing Green Computing in 5G wireless networks. In case these implementations turn out successful, it will be an added benefit for the Indian market due to the present scenario of pollution levels in the country.
The outcome of Budget 2019 on the telecom industry:
The telecom industry was disappointed by the outcome of the Budget 2019 as it did not provide much-anticipated relief from high taxes and levies imposed on the sector.
The Tower and Infrastructure Providers Association commented that the Government's move to raise customs duty on optical fibre capable to 15% from the current 10% will severely impede the roll-out of 5G in India.
The telecom service industry, which has been flagging high levies like license fees and spectrum usage charges, had pinned its hopes on the Budget 2019 to provide respite.
The government expects to begin rolling out the next-generation wireless services in 2020. However, telecom companies and 5G equipment suppliers have raised concerns over the high prices of 5G gear manufacturing which do not fall in line with those in other countries where 5G services recently commenced.
The finance minister also announced the expedition of the BharatNet project, meant to bridge the rural-urban digital divide, to provide internet connectivity in local bodies in every panchayat in the country. The government aims to connect all 2.5 lakh village panchayats with high speed broadband by March 2020 with the assistance of universal service obligation fund (USOF) under a public-private partnership.
The USOF, which is under the jurisdiction of the Department of Telecommunications, is an independent body that subsidises telecom infrastructure development across rural India. A USOF fund of Rs. 50,554 crore was available at the end of May 2019, as per latest official data. So far, the government has connected 1.19 lakh village blocks in the first phase of its BharatNet program.
In the telecom sector, the Indian Government earns revenue in the form of licence fees and spectrum usage charges from telecom operators, calculated based on the adjusted gross revenue of telecom companies.
The Government expects a 28% increase in non-auction revenue at Rs. 50,519.8 crores in FY 2019-20 from the telecom sector against a revenue of Rs. 39,245 crore earned for the current fiscal year ended March 31, according to Budget 2019 documents.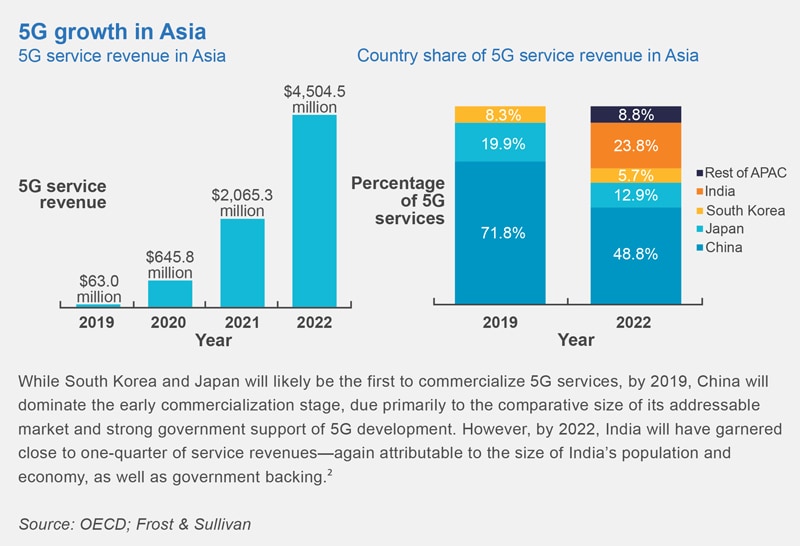 Source: PrincipalGlobal.com
Challenges to 5G evolving from 4G:
Some of the challenges that India faces continue from the preceding generations.
High energy consumption
As technology advances, power consumption will increase as well. The increase in energy consumption will consequently lead to a rise in C02 emissions. The increased amount of energy consumption required for generating large amounts of data services and establishing base stations was not a significant factor in the development of 4G. However, it did become a critical threat for researchers later on.
Spectrum Crisis
With the rise in demand for providing services to mobile consumers, currently available RF (Radio Frequency) spectrum failed to fulfil demands and became congested. The continuous usage of these spectra has made it difficult for operators to get higher frequency bands to satisfy consumer demands.
High Data Rates
Demand for mobility and higher data rates have been continuously increasing with the launch of new applications. For each technology, either the former generations or the most recent advanced generations, this has been a major concern. The demand for high data rates keeps increasing with each generation.
Apart from these concerns, problems such as seamless coverage, spectral efficiency, diverse Quality of Service (QoS), incompatibility of heterogeneous networks and wireless devices will encounter the 5G market in India.
Vision of 5G in India:
Although 4G is expanding its roots all over the world, it has failed to meet expectations of the growing needs of technology. With an upload speed of 512 Mbps and download speed of 1 Gbps, 4G has sufficed to fulfil current needs, but in the near future, the demand for higher data speed and multiplicity of networks will fail the quality of the 4G wireless communication system. This led to the base of the emergence of the Fifth Generation.
Unlike 4G that is based on an unvarying radio access technology (LTE), 5G emphasises more on the development of already existing systems in order to improve capacity. It also accommodates much-needed changes that are evolving in radio technology, including changes in the system design principles.
Till date, most of the radio spectrum remains unused due to restricted frequency bandwidths for the existing technology. With 5G, the vision is to utilise this unused spectrum in order to meet the excessive need of capacity and accessibility. For this purpose, new techniques are being formulated with more frequency bands to access the radio spectrum more effectively.
Conclusion
Witnessing the growing demand for high speed, reliable data transfer and better connectivity, the cellular world is moving a step ahead towards the Fifth Generation of technology. The main challenges that confront 5G are spectrum crisis, high energy consumption and high data rates. Moreover, the total number of cellular towers connected to optical fibre are much less than that of developed countries like China, United States, Korea and Japan. This provides the perfect excuse for the delay in the launch of 5G in India. With barely 15% of optical fibre connections, India will require another 4-5 years of dedicated commitment and significant investments to upgrade these connections. Researchers predict that given the required cellular spectrum and set-up (active equipment and mobile towers), India is likely to be 5G ready by the end of 2022. Once 5G gains ground in the Indian market, there will be a lot more it will have to achieve.
"Finserv Markets, from the house of Bajaj Finserv is an exclusive online supermarket for all your personal and financial needs. Loans, Insurance, Investment and an exclusive EMI store, all under one roof – anytime, anywhere!"