Income tax is one of the most significant sources of revenue for the government. This naturally means that taxpayers must be aware of each step that goes into paying their taxes on time. While most taxpayers in India are aware of the significance of Income Tax in their financial lives, they might find it difficult to decipher complex jargon and legalese. A common question that leaves most stumped is the nuance between the terms 'income tax declaration' and 'tax filing'. Here, we attempt to elucidate the distinction between the two terms.
What is Income Tax declaration?

Put simply, the taxation process in India begins with an Income Tax declaration and ends with Income Tax Return filing.
Income Tax declaration is a piece of information given by an employee to the employer. The declaration includes details about an employee's gross income and expenditures and requires the employee to furnish details and evidence of investments into instruments such as PPF, life insurance, annuity plans etc, allowances such as leave travel allowance (LTA), House Rent Allowance (HRA), interest paid on loans such as housing or educational loans.
A proper procedure needs to be fulfilled in order to reach an appropriate TDS figure as per the salary income of the employee.
Why is the Income Tax declaration important? This information when shared with the employer helps them to arrive at an appropriate net taxable income to deduct TDS (Tax Deduction at Source) from the salary as per the particular slab rate. The Income Tax declaration provided by an employee to the entity deducting TDS is also important because it helps the employee claim tax benefits and influences the final tax deducted.
When should an Income Tax declaration be submitted by an entity? The information must be shared towards the end of the financial year, in January or February or as required by the employer. Through Form 12BB, one can provide an estimation around their intended investment.
What is Income Tax filing?
Through the process of Income Tax Return (ITR) filing, you formally share details about all incomes, including but not limited to salary, with the Income Tax Department (ITD) of India. As per the tax slab that you fall under, the nature of your work, and many other factors, you are required to file the correct Income Tax form (there are 7 forms, in total). Thus, the process of submitting your Income Tax Return to the IT Department is known as Income Tax Return filing.
In order to file an income tax return accurately and in a hassle-free manner, one must consider systematically prepare before going forward to do filing electronically.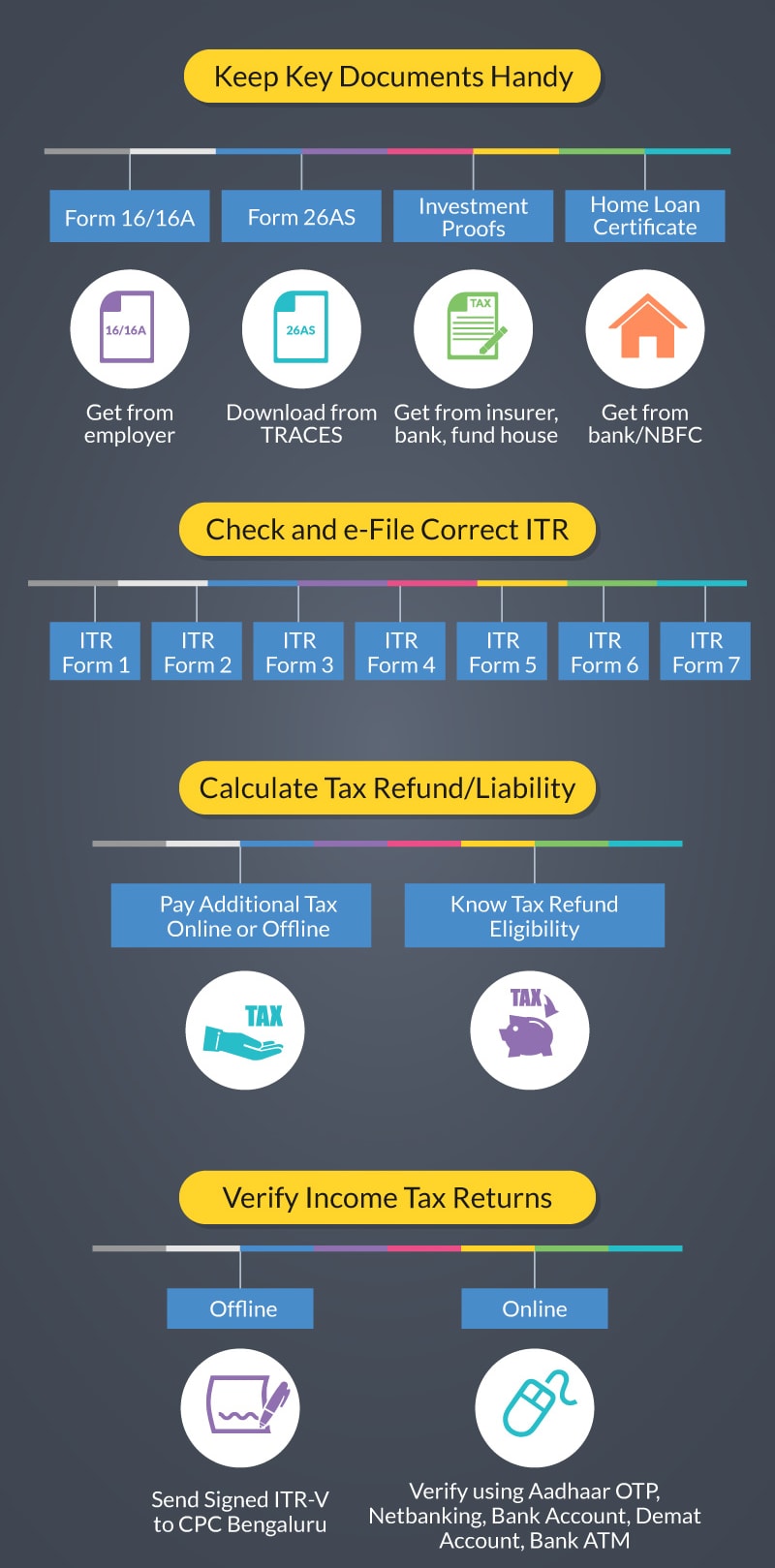 Source: paisabazaar
What makes Income Tax filing important? Filing Income Tax returns is a mandatory process for those with an income beyond a certain threshold (for instance, INR 2.5 Lacs for the general taxpayer category). It also becomes easy for one to claim income tax deductions and tax refunds once the Income Tax returns are filed. The process of loan approval becomes smooth because ITR filed accurately acts as proof of income.
When is Income Tax filed? Income tax filing generally takes place between the months of April to July; in some cases, extensions are provided on the deadline. Eligible individuals must accurately file their Income Tax returns (in most cases electronically) so as to prevent any penalties. The ITR filing process is complete once the same is verified by the assessee online.
In order to work on effective tax planning, the taxpayers must begin with understanding the aforementioned distinction between income tax declaration and income tax return filing. Alongside, they must also begin investing in tax saving instruments as the tax filing season nears. For instance, investments under the National Pension Scheme (NPS) are eligible for tax deductions up to a certain limit. You can invest in the National Pension Scheme on Finserv MARKETS and benefit not only from tax-saving of up to Rs. 50,000 under Section 80CCD(1B), but also avail complete transparency with absolutely no hidden information or charges and flexibility to choose your own fund managers and investment options.
Such investments will not help you make an informed decision with regards to your finances, but will also be integral to your tax-saving goals. In this manner, you can handily secure your future while also focusing on the significance of timely and accurate income tax declaration and income tax return filing.