Every year millions of foreign travelers visit India for leisure, business, education, medical treatment and other purposes. In 2019, close to 10 million foreign tourists visited India and 25% of them came on e-tourist visas.
India is not only a hot tourist destination but a favorite place for people from many countries to undergo high-quality but affordable medical treatment and care. Therefore, lakhs of patients visit the country on e-medical visas. Apart from tourists and patients, the Bureau of Immigration receives thousands of visa applications from students who visit the country for higher education.
To encourage more foreign tourists and travelers to India, the government has eased various visa application norms and expedited visa processing. The government has also lowered the cost of visas, introduced e-visas and streamlined visa processing with an online visa application option for foreign travelers.
To begin your Indian visa online application process, you can visit the official visa online application website managed by the Bureau of Immigration, Ministry of Home Affairs, Government of India. The online visa application website at https://indianvisaonline.gov.in provides all the information related to the Indian visa online application process, including documents, eligibility, costs and other terms and conditions.
In this article, we will discuss the steps to apply for a visa, understand the eligibility criteria and visa process, learn how to track your online visa application, and share some other important details.
Types of Indian Visa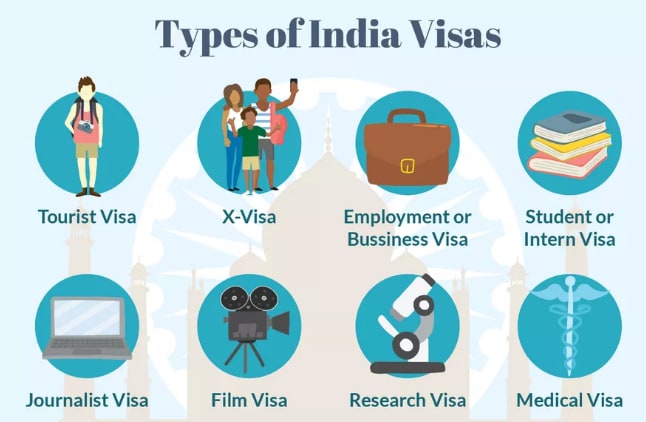 Source: Tripsavvy.com
All foreign citizens visiting India need a passport and visa, except those from Bhutan, Nepal and Maldives. If you plan to stay less than 60 days in India, you can make a visa online application for an e-visa. However, if you have to stay longer than 60 days, a regular visa is your best option.
Steps to apply for an Indian visa
To apply for an Indian visa, you need to first visit the visa application website authorised by the government of India at https://indianvisaonline.gov.in. Once you reach the website, you need to provide the following details correctly:
| | |
| --- | --- |
| | |
| | |
| | Expected date of arrival in India |
| | |
After you have filled the visa details correctly and submitted your online visa application form, you must print the completed Indian visa online application form and sign the document. You need to submit this physical copy along with supporting documents and passport to the concerned Indian Mission/Post or Indian Visa Application Center (IVAC). Note that you need to schedule an appointment to submit the physical copy.

Points to remember while filling the online visa application form
Each applicant has to fill separate application forms for visa processing.

Verify that all the visa details are correct before submitting the form. Though you can save the form and submit it later, you cannot change the details once submitted.

Save the application ID generated after submitting the application form. You will need this ID for tracking your visa application status.

You also need to upload 2 digital photographs for regular visa application.

Incorrect details can lead to rejection of application.
Eligibility criteria for Indian visa application process
To be eligible for Indian visa online application, you must fulfil the following eligibility conditions:
Your passport must be valid for at least 6 months after your visa period ends in India

Your Indian visa must have at least 2 blank pages for visa stamps

You also need to submit a copy of your driver's licence and the address must match the home address declared on your visa application form

You have to produce tickets onward and return journey tickets. Enforcement of this rule is not strict and may vary

You must have sufficient funds to show to complete your trip in India
Steps to track your Indian visa online application status
You can easily track visa applications by using your passport number and application ID. Just follow these simple steps:
Visit the official website of the consulate or Indianvisaonline.gov website

Go to the visa application tracking menu

Enter your passport number or application ID and date of birth

Enter the captcha code and click 'Submit'

After you submit the details, your visa application status is displayed
Also, Indian immigration authorities will periodically send you updates on the visa application status on your registered mobile number or email address.
Whether you are a foreign resident travelling to India or an Indian resident travelling abroad for work, leisure or business, it's important to read and follow proper guidelines before applying.
If you are an Indian resident travelling to a foreign country, don't forget to get adequate travel insurance protection. Travel insurance protects you against contingencies such as medical emergencies, trip cancellation, flight delays, personal accidents, loss of passport and baggage, and even home burglaries in your absence.
Buying travel insurance online doesn't cost much time or money. In fact, you can buy Bajaj Allianz travel insurance on Bajaj Markets at affordable premiums and avail of benefits like swift claim settlements, customized insurance policies, high medical coverage and more! Don't forget to make travel insurance an integral part of your trip abroad.