Mutual funds have been a popular investment vehicle in the financial market for long-term wealth creation. However, in the past few years, Unit Linked Insurance Plans (ULIPs) have proved themselves to be an equally worthy option to safeguard your wealth as well as create some more.
While both ULIPs and mutual funds have their respective advantages and disadvantages, it is up to the individual to decide in which financial product he/she wants to invest?
If, as a novice, you are confused between ULIPs vs mutual funds and which is a better investment option, the below explanation will help you get some perspective. We will be discussing in detail what is ULIP, the difference between ULIPs and mutual funds, and the factors to consider when choosing either of them.
What are Mutual Funds?
Mutual funds are a single financial trust, wherein the money is pooled together from multiple investors and further parked in various market-linked funds. A fund manager, usually a financial expert, manages these pooled investments. This investment option is an excellent way for investors to get exposure to an expert-managed portfolio. The primary objective of the fund manager is to provide optimum returns to his/her investors.
A few highlighting benefits of investing in mutual funds are as follows:
Investors can redeem the fund units at any time as most mutual fund schemes offer flexible withdrawals

Mutual funds allow investors to build a diversified portfolio, thus, reducing the risk involved when investing in market-linked funds

The investment portfolio is entirely managed by a financial expert known as a fund manager

The lock-in period for tax-saving mutual funds is three years
What are ULIPs?
A Unit-Linked Insurance Plan, or ULIP, is a unique offering that allows you to avail the benefits of both investments as well as a life insurance cover under a single plan. A part of the premium paid is used for life coverage, and, at the same time, the rest is invested in different types of market instruments such as bonds, stocks, etc.
A few benefits of investing in ULIPs are as follows:
It provides the dual benefit of investment and life insurance cover

Allows investors to achieve their future financial goals easily as the policy provides a five-year lock-in period

Allows you to partially withdraw from the investment after completion of the lock-in period

It offers several tax benefits under the old and new income tax structure
Difference Between ULIP and Mutual Fund
To gain some insight on ULIPs vs Mutual Funds, you must understand the key differentiating points between the two. The following table gives an elaborate comparison of ULIPs vs Mutual Funds.
 

Unit Linked Insurance Plan (ULIP) 

Mutual Fund

Purpose Of The Policy

It offers life insurance as well as investment benefits

It only provides investment benefits

Aim

Ideal for long-term investment and helps you build your wealth over time while providing protection to you and your loved ones

Ideal for accomplishing short-term or near-future financial goals

Regulatory Board

The Insurance Regulatory and Development Authority of India (IRDAI)

The Security and Exchange Board of India (SEBI)

Returns

If invested in long-term ULIPs, the returns are relatively high. However, the returns are mainly dependent on the market performance

Investing in equity mutual funds will provide reasonable returns while debt mutual funds may yield moderate to low returns

Money Utilization

A part of the premiums paid are used for insurance coverage, while the remaining portion is invested in funds of your choice

The premiums paid are mainly investment in funds

Flexibility

With ULIPs, you have the flexibility to decide what portion should be invested and what goes towards life insurance.

Moreover, you also have the liberty to switch between the funds (equity to debt and vice versa), depending on your market performance

Mutual funds provide no flexibility as you cannot switch between the funds

Tax Benefits

You can avail tax deductions on the premiums paid under Section 80C of the Income Tax Act, 1961.

Moreover, the maturity amount is also tax-free under Section 10(10D)

Note: ULIPs issued after February 1, 2021, will be treated as capital gains if the annual premium paid is more than ₹2.5 lakh. Such policies will be taxed at 10% upon maturity

Only Equity-Linked Savings Scheme (ELSS) mutual funds allow you to avail tax deductions of up to ₹1.5 lakh under Section 80C of the Income Tax Act, 1961

Lock-In Period

Minimum of five years

No lock-in period for regular mutual funds.

Three-year lock-in period for tax-saving ELSS schemes

Fund Management Charges
 1.35%
 2.50%

Recommended Policy Term

Long term

Short, medium, or long term
Factors to Consider Before Deciding Between ULIP and Mutual Fund

Mutual Fund is solely an investment option. In comparison, ULIPs have an advantage of offering investment benefits, while simultaneously providing life coverage in a single premium.
 Mutual fund schemes, as well as ULIP investments, are managed by an expert fund manager. Hence, returns in both these avenues can be high. However, the risks involved in mutual fund schemes are comparatively high. If unfortunately, the investments do not work, an investor will earn low returns compared to the money they initially invested. On the other hand, even if the ULIP returns are low, your beneficiaries can still rely on the benefit of the life insurance.
In comparison, the return of investment in case of ULIPs is slightly low. This is because only a part of the premium is invested in the market. Also, whether the investment works or not, ULIPs promise a 'sum assured'. This feature does not apply to mutual funds.
Flexibility on investment
As an investor, you can shuffle your money between different market funds depending on your risk appetite, anytime during the ULIP term. For instance, if you want to make a safe investment choice, you can invest in balanced or debt funds in the market. However, at any point, if you feel that you want to increase your risk of investment, you can direct your investment to an equity fund.
The only flexibility provided under mutual funds is that the investor knows whether they are investing in equity-oriented funds or debt funds. Moreover, you can switch your mutual fund investments from one open-ended scheme to another within the same fund house for better financial planning.  
Irrespective of what type of ULIP plan you choose, the investments made on the premium are subject to income tax deductions under Section 80C of the Income Tax Act. ULIP tax benefits are also applicable to the returns at the time of maturity or on the 'sum assured' granted to the nominee upon the untimely death of the policyholder during the ULIP tenure, under Section 10 (10D) of the Income Tax Act.
However, note that ULIPs issued after February 1, 2021, will be treated as capital gains if the annual premium paid is more than ₹2.5 lakh. Such policies will be taxed at 10% at maturity. Tax deductions are not applicable for all mutual funds. Investments made only in Equity-Linked Saving Schemes (ELSS) are subject to tax deductions for mutual funds.
At the time of making ULIP investment, you have to consider a lot of charges such as premium allocation charge, administration charge, fund management fees, mortality charges, etc.
However, note that there is no entry or exit fee on liquid mutual funds. This means that you can redeem your investments, and the money will be credited into your bank account within a few hours. On the other hand, some debt mutual funds have exit fees. But the expense can be ignored by aligning your investment tenure with the period for which the fund levies an exit fee.
As is clear from the above point, ULIPs involve a lot of underlying expenses. Not many ULIP providers will be upfront with you about these charges. However, after recent regulation changes, ULIPs have become quite transparent and also provide upfront information on fund allocation.
In case of mutual funds, the fund managers provide a detailed report of the investments made on your behalf. Therefore, you get a much clearer idea about how your funds are being utilized.
ULIPs have a lock-in period of five years. Therefore, you have to keep investing in the plan for five years. In case you have to terminate the policy, then you will have to pay the surrender charges, which can be an expensive move.
On the other hand, mutual funds give you the liberty to enter and exit the policy according to your investment plans.
In case of your (the policyholder's) sudden dismissal, the ULIP investment will compensate your family with the sum assured amount under your policy.
However, in mutual funds, the investment policy is transferred to the nominee. As we know, mutual funds are solely an investment instrument and do not provide life insurance coverage.
If you have further doubts on the differences between these products, this infographic will surely help sort out those questions: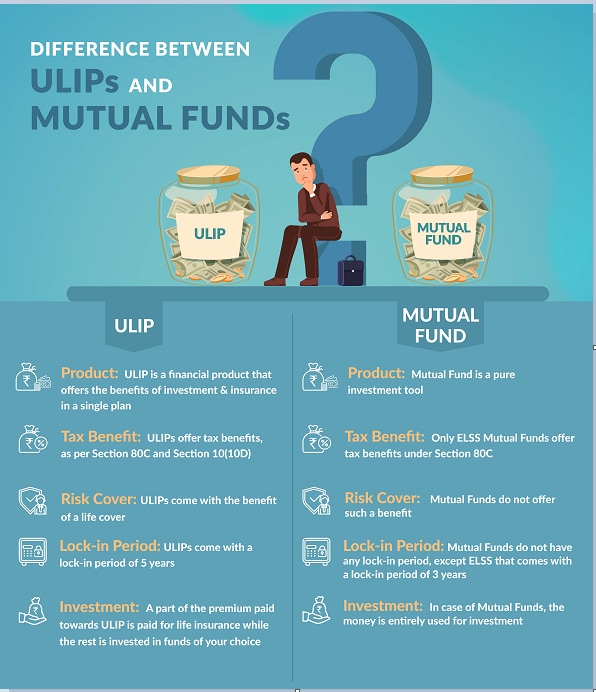 Conclusion
Both ULIPs and Mutual Funds have their unique benefits and drawbacks. But which one to choose depends entirely on your investment horizon, risk appetite, and financial goals.
As a matter of fact, mutual funds are a suitable investment option if -
You willingly want to invest in fund without the liberty to switch funds later in the future

You want the liberty of liquidity on your investments

You are investing to achieve short-term as well as long-term financial goals
On the other hand, ULIPs are suitable if 
You are looking for a tax savings investment instrument

You have a low to medium risk appetite

Want to invest in long-term investment horizon
For attractive ULIPs that provide an opportunity to invest in top-rated funds across industries, visit Finserv MARKETS today! The different ULIP products available on Finserv MARKETS include long-term child plans, retirement plans, and investment plans with investment flexibility and high asset management experience.
The different ULIP products available on Finserv MARKETS provide for long-term child plans, retirement plans, and investment plans with investment flexibility and high asset management experience.
To know more about the eligibility criteria and the documentation required to apply online for claim processing, visit us today!