Overview of ULIPs
In Unit Linked Insurance Plans (ULIP), the investments made are liable to risks related to the capital markets. This risk is solely borne by the investor. You should, therefore, make your investment choices after speculating on your risk appetite and investment needs.
Further, before investing in ULIPs, be aware of your future needs for financial assistance.
What is ULIP NAV?
In ULIPs, part of the premiums you pay is invested in various funds as per your investment goals. The Net Asset Value (NAV) of these funds is basically the value of the assets of your fund minus its liabilities. The NAV may also be known as the 'book value'.
To understand Net Asset Value better, it is significant that we understand the working of Unit Funds. For ULIP investments, funds from various investors are put together to form one large sum of investment which is then invested in various instruments in the market. To accredit the company to divide the fund returns among investors, the total investment is then divided into various small units with a specific face value by the fund manager.
The formula used to calculate the NAV is as follows:
NAV = (Value of Current Assets + Market Value of Investments Held) - (Value of Current Liabilities & Provisions) / Total number of outstanding units on the date (before redemption/creation of units)
How is ULIP NAV calculated?
Knowing what is ULIP NAV and how to calculate it makes it easier for investors to track the value of their funds and to redirect and switch their premiums when the fund is not meeting expectations.
Let us have a look at how to calculate ULIP NAV.
Step 1: Select a valuation date for the calculations that suit your needs best.
Step 2: Calculate your fund securities using the following formula.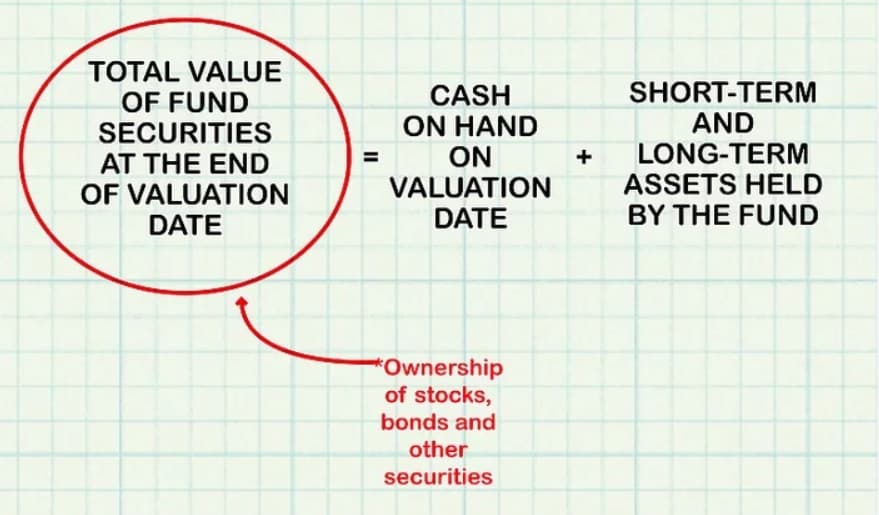 Step 3: Subtract outstanding liabilities of funds. Fund liabilities are the amounts borrowed by the funds to make extra investments to pay for outstanding loans. It can be calculated as follows.

Step 4: Now, divide the outstanding shares in your funds. This calculation will result in the Net Asset Value, or, in other words, the value of your shares in the fund. You can multiply the NAV by the shares you own if you have multiple shares in a fund.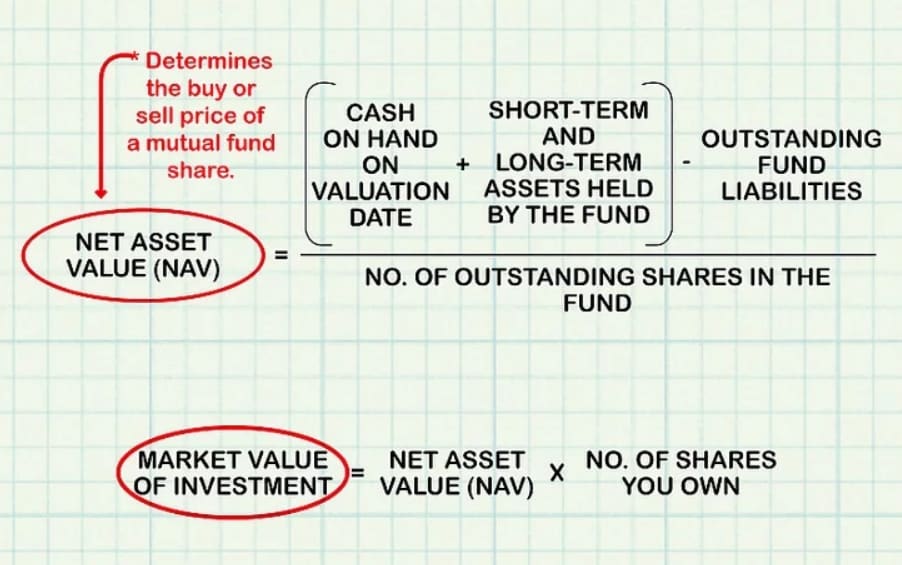 To understand this calculation better, let us take an example. An insurance company named XYZ insurance provided ULIP plans to two customers, Mr. A and Mr. B. Now, Mr. A decided to pay ₹40,000 whereas Mr.B decided to pay just ₹30,000. After deducting fund management charges, let us assume that Mr. A's invested amount is ₹39,600 and Mr. B's invested amount is ₹29,500. Meaning, the sum amount available to be invested in other market funds is ₹69,100. This value is known as the Net Investment Value.
Now, let's assume that the fund manager created fund units with a face value of ₹10. Basis this, Mr. A will hold 3960 units and Mr. B will hold 2950 units. Hence, within the fund, the total units will be 6910.
On the first day after investment, the fund's NAV will be ₹69,100, divided by the total number of units, that is 6910, that leaves us with ₹10.
Let us assume that after investment, there is profit which increases the fund's value to ₹1 lakh. Now, a new ULIP NAV will have to be calculated by dividing the profit by fund units, which is 6910, which even after profit, will remain unchanged. Now, the new value will be ₹11.22, meaning, each investor made a profit of ₹1.22 per invested unit.
The Bottom Line
Investments, in the long run, can make a significant difference to your investment portfolio. For your long term goals, there are various Bajaj Allianz Life ULIP Plans available on Finserv MARKETS. With equity and debt or combinations of both, you have the flexibility to choose the fund that aligns with your investment goals. The Unit Linked Investment Plans on Finserv MARKETS offers you a variety of products that suit your goals. With investment plans, your child's education plans and retirement plans, Bajaj Allianz Life ULIP plans will help you identify a plan that fits you like a glove.
With complete transparency, you know what charges you are paying for and what funds are being utilized. Browse through the ULIP Plans available on Finserv MARKETS and choose a policy that suits your needs best!