Benefits of ULIPs
ULIPs come with a slew of benefits for investors. These include:
ULIPs are a good instrument for young professionals to inculcate a habit of saving and investing their money, since most ULIPs come with a lock-in time period of 5 years.

They play a dual role in letting you, both, grow your wealth and protect your wealth at the same time.

ULIPs allow you to customize your portfolio in accordance with your risk appetite and investment goals. You can also switch and redirect your funds, depending on market movements.
Even though ULIPs offer such expansive benefits to investors, most policyholders express reservations in purchasing ULIPs. This is largely due to the unfounded belief that ULIPs are complicated instruments owing to the number of fees and charges associated with them.
However, this is far from reality. In fact, the IRDAI (Insurance Regulatory and Developmentory Authority of India) has mandated that the Net Reduction in Yield (RiY) of your fund value should be no more than 3% at the time of maturity for policies with a term of 10 years. For policies with a term above 10 years, the RiY should be no more than 2.25%. This, thus, makes ULIPs all the more lucrative for investors.
An increasing number of insurance providers are also being completely upfront and transparent about the charges one might incur when opting for ULIPs. When applying for a ULIP, here are the five main charges that you are bound to come across:
Premium Allocation Charge, which remains high during the initial 5 years of the policy.

Policy Administration Charge, as the name suggests, is levied on a monthly basis and counts towards paperwork, premium intimation and so on.

Fund Management Charge, which counts towards the management of your ULIP funds. This is usually charged as a percentage of the accumulated amount.

Surrender or Discontinuance Charge, which is deducted on premature encashment of units.

And finally, Mortality Charges
Mortality charges are primarily found in Unit-Linked Insurance Plans. Here is a brief explanation of what they are, so that you can be confident about getting your first ULIP.
What are the mortality charges?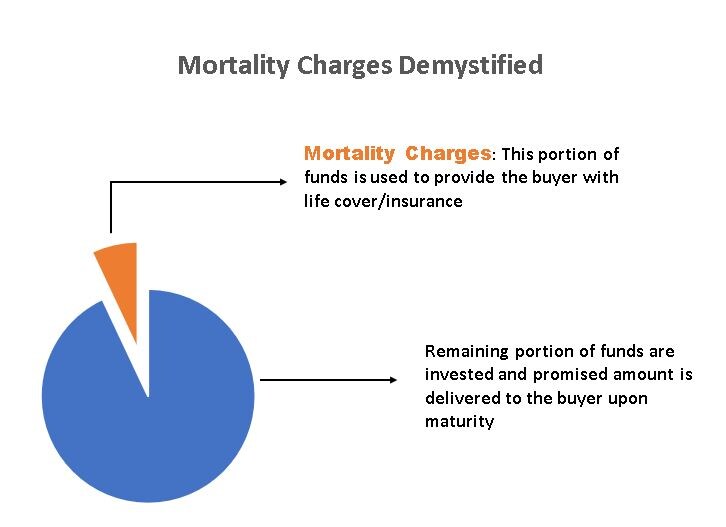 In ULIPs, a portion of the funds is invested across one or multiple investment vehicles, like debt, equity, etc. while another portion of it is used to provide a life cover to the investor. This portion of funds, which is used to provide life cover is what is referred to as mortality charges. Mortality charges are akin to insurance premiums: just as insurance products charge you for providing an assured amount of funds in case of a mishap, so do ULIPs - the only difference being that ULIPs also allow you to invest under the same umbrella of funds, as outlined in the graphic above.
How are mortality charges calculated?
Mortality charges are calculated based on the average human mortality rates. Your mortality charges would take into account your age, medical history, and any lifestyle diseases. Simply put, the younger and healthier you are, the more likely you are to incur a lower premium.
Return of Mortality Charges (RoMC)
Most of the financial advice available on the internet advocates for keeping insurance and investment goals distinct from each other. In an article published in Economic Times, this is exactly the issue that the author raises while analyzing the value that ULIPs hold for the investor. Consequently, this feature of ULIPs has mostly held them back from potentially becoming mainstream insurance vehicles.
With the idea of the return of Mortality Charges, this question is becoming irrelevant, since you no longer need to worry about mortality charges eating into the returns on your investment. With this feature, the investor no longer has to part with the premium that he/she pays for the risk cover. On maturity of your plan, the mortality charges you've shelled out over the course of the plan duration are added to the value of your fund.
Where can you avail this benefit?
Bajaj Allianz ULIPs, available on Finserv MARKETS are among the pioneers of the return of mortality charge feature. The ULIPs on Finserv MARKETS return the entire corpus of funds that are dedicated to your life cover premium, at the time of maturity. Therefore, the mortality charges are added to the funds upon maturity, given that you do not surrender or discontinue the policy.
Conclusion
Return of Mortality Charges is therefore redefining the way insurance and ULIPs have been perceived in Indian markets. With Bajaj Allianz ULIP plans available on Finserv MARKETS, you enhance the value of your investment and allow you to make the most of your investments. You can also tailor your plans according to your financial goals and needs. You can choose from Retirement ULIPs, Child ULIPs and Investment ULIPs, as per your financial convenience. What's more? You can avail ULIP tax benefits under section 80C of the income tax act on premium payment as well as the maturity amount. So why wait? Head to Finserv MARKETS to get an instant ULIP quote today!