India has set for itself an ambitious target of generating 175 GW of power from renewable sources by 2022. Of this capacity, 100 GW comprises solar projects. Now, 40 GW from this capacity has been slated for rooftop solar panels on buildings.
The lofty target assumes greater significance considering that before this target was set by the NDA government in 2014, India had negligible solar installations. As we have started from scratch, the growth clocked in over the last five years is unarguably impressive.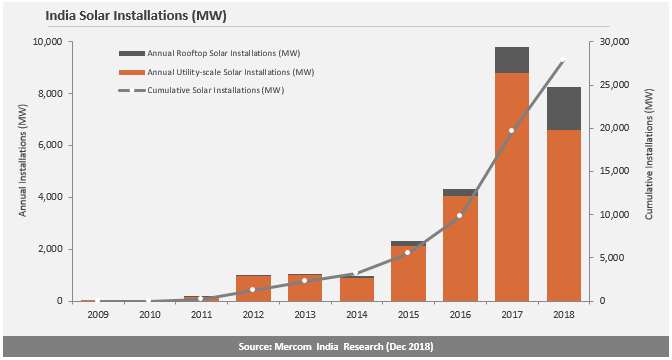 India had nearly 30 GW of solar capacity as of June 2019. Renewable energy capacity additions continue to increase in India, accounting for approximately 22.3% of India's capacity mix at the end of the financial year 2018-19, with solar being the biggest driver of this growth.
With increasing awareness, plummeting cost of solar power, and various government incentives like tax saving schemes for businesses based on solar energy, the pace of rooftop solar installations has also gathered momentum. The capacity of rooftop solar installations in India stands at nearly 4 GW. Karnataka emerged as the leader with the highest number of solar assets in 2018 followed by Rajasthan, Andhra Pradesh, Tamil Nadu, and Maharashtra. Together these five states accounted for 81 percent of large-scale installations in the year.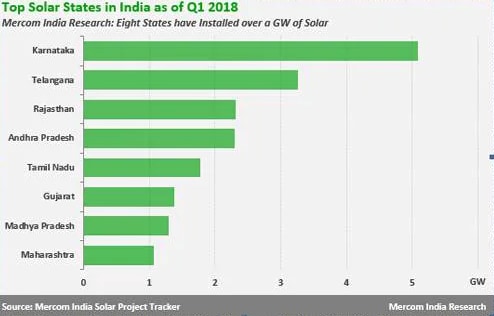 Solar power is beginning to light up classrooms, dormitories and canteens of multitudes of educational institutions across the country. Solar power is heating water, helping run laboratories, shining auditoriums, assisting in administrative work and illuminating street lights on school grounds. Due to surging electricity bills and the desire to protect the environment, an increasing number of educational institutions are turning to solar power to meet their daily energy needs.
India is an agrarian economy and even today providing proper, continuous power supply to farmers is a distant dream. Therefore, the government has also set a target of adding over 10,000 MW of solar capacity to solarize the agriculture sector. Government's Kusum program along with its effort to provide distributed solar solutions to far-flung areas of the country which aren't connected to the grid has really made a difference.
Solar power is one of the most versatile forms of energy, with boundless potential and can be a game changer for the agricultural sector, saving precious water resources, reducing dependency on the grid, and even becoming an additional revenue stream for farmers.
Although India is well-endowed with strong river systems, water is a scarce resource in a country of 1.3 billion people. As both electricity and water demand is increasing, traditional sources of energy have become a liability not just because of pollution but also due to heavy water consumption. Coal requires large quantities of precious water compared to solar and wind. Every megawatt hour (MWh) of electricity generated by coal withdraws approximately 16,052 gallons from the environment and consumes approximately 692 gallons of water. Conversely, a typical solar project utilizes only 1 kilo litres of water per MW on a daily basis.
Apart from the government's efforts to facilitate the adoption of solar power both in the residential and commercial sectors, corporates are also rising up to the occasion. Per the Companies Act, companies with a net worth of Rs. 5 billion or more, or a turnover of at least Rs. 10 billion, have to spend 2% of their average three-year annual net profit towards corporate social responsibility (CSR) in a given financial year.
The government has taken up compliance of CSR seriously, levying penalties on non-compliance. As it is still a nascent concept in India, there is scope for much more to be done. In 2017-18, companies spent nearly Rs. 8.37 billion on environmental sustainability.
India also aims at increasing its solar manufacturing to reduce its dependence on imports. The country has levied protectionist measures like a safeguard of 25% on solar cell and module imports to protect the interests of domestic manufacturers and encourage them to 'Make in India'.
Though the pace of solar capacity additions has been impressive in the past few years, coal continues to be the predominant source of power. Besides, India's energy sector is also grappling with a range of issues that need to be addressed to facilitate the pace of solar capacity additions. For instance, India's transmission infrastructure is in dire need of a revamp to handle the influx of renewable energy so the grid stability can be maintained at all times. On the financial front, the stakeholders have been affected by the ongoing credit crunch apart from reeling under huge payment delays on the part of distribution companies in various states. Land procurement has become a complicated ordeal in areas which have good irradiation levels.
Thankfully, young entrepreneurs have started entering the renewable energy segment which has been catalyzed by an increasing number of NBFCs extending easy credit to them for establishing their footprint in the sector. Today, you can avail a business loan easily to lay down the foundation of your enterprise or start up. For instance, Bajaj Finserv business loan available on Bajaj Markets, offer convenience at your fingertips through minimal documentation.
To catalyze the pace of renewable additions, these pressing issues still need to be addressed aggressively besides giving more policy and regulatory support to the Indian solar market that is only behind China and the United States.