In India, wealth creation isn't possible without nurturing private enterprises and entrepreneurs, investors and consumers - which are significant wealth creators. Conducive business ecosystem and supportive regulatory climate go a long way in ensuring sustained wealth creation in the country.
The government has set a lofty goal of maturing into a $5 trillion economy by 2025. This ambitious goal comes at a time when the economy is facing headwinds and it has slowed to a 5-year low of 6.8%. Moreover, there are ominous signs showing that slowdown may be deep. For instance, the automobile sector is facing its worst crisis in over two decades and reports suggest that the industry is staring at thousands of job losses. Besides the auto industry, the real estate sector is also undergoing a sluggish period with the number of unsold homes increasing. On the other hand, fast-moving consumer goods (FMCG) companies have reported a decline in volume growth in the first quarter.
That's not all, the overall investment in new projects is on the decline and private sector projects have also stalled, data from the Centre for Monitoring Indian Economy (CMIE) suggests..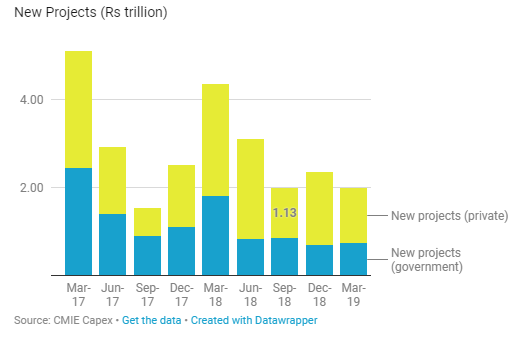 Indian companies, both public and private sector, announced projects worth ₹1.99 trillion in the quarter ending March 2019, 16% lower than what was announced in the quarter ending December 2018, and 46% lower than the year-ago period.
As in the December 2018 quarter, the fall in overall capex (capital expenditure) announcements was driven by a slump in new project announcements by the private sector. New private sector projects fell 25% in the just-ended March quarter compared with the previous quarter, and 34% compared with the same period last year.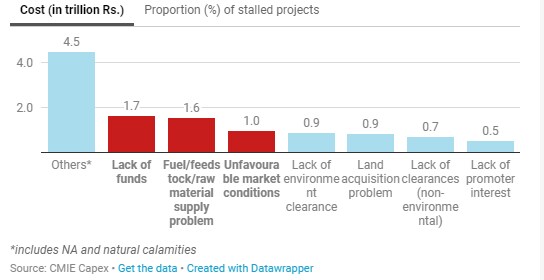 Investment in the manufacturing, mining, and real estate sectors have all declined significantly. The decline in construction and real estate investment is especially stark, falling by nearly 80% compared to the December quarter and the same period last year.
Last year, a survey had shown that India's richest 1% held 58% of the country's total wealth, which was higher than the global figure of about 50%. According to the survey, the wealth of this elite group increased by over Rs 20.9 lakh crore during the period under review. India's top 1% of the population now holds 73% of the wealth while 67 crore citizens, comprising the country's poorest half, saw their wealth rise by just 1%.
The announcement of several populist schemes by the government such as farm loan waivers and income support, do hold the potential to provide some impetus to savings and wealth creation.The government should promote inclusive growth by encouraging labour-intensive sectors that will create more jobs, imposing higher income tax on the super-rich, implementing policies to tackle all forms of gender discrimination and sealing the leaking wealth bucket by taking stringent measures against tax evasion.
Wealth creation is a long-drawn process. Investors need to start saving early in their life, so that savings have a longer runway to grow. A steady kitty of savings needs to be invested periodically by keeping expenses as low as possible for as long as possible, along with building additional streams of income.
Majority of adults in India do not understand the basics of financial concepts and this eventually can lead to poor investment decision making. For any economy to prosper through sustained wealth creation, understanding investment basics is critical, particularly for young people who are early in their career. While good decisions increase potential to grow capital, any wrong decisions or indecision can hamper long-term financial success. In any economy, it is crucial for the citizens to make informed and effective money management decisions that in turn go a long way in helping build the nation's wealth.
Financial literacy, ultimately, will lead to financial stability for investors which would translate into better wealth creation in the country.
Bajaj Markets, from the house of Bajaj Finserv, is an exclusive online supermarket for all your personal and financial needs. We understand that every individual is different and thus when you plan to achieve your life goals or shop for the gadget of your dreams, we believe in helping you Make it Happen in a few simple clicks. Simple and fast loan application processes, seamless, hassle-free claim-settlements, no cost EMIs, 4 hours product delivery and numerous other benefits. Loans, Insurance, Investment, and an exclusive EMI store, all under one roof – anytime, anywhere!