A 2017 report by a government-appointed committee found out that the plans laid out under the Skills India plan were too ambitious, and that the funds that were spent under this scheme did not have adequate monitoring. The data released by PLFS only confirmed the implications of such a program. If Skill India is to achieve something — meet the exceedingly high requirements of the future workforce — then it has to see seeded reforms over time. As per Budget 2020, the Government has increased spending on educational reforms and revised the income tax slabs to encorage spending among India's earning population.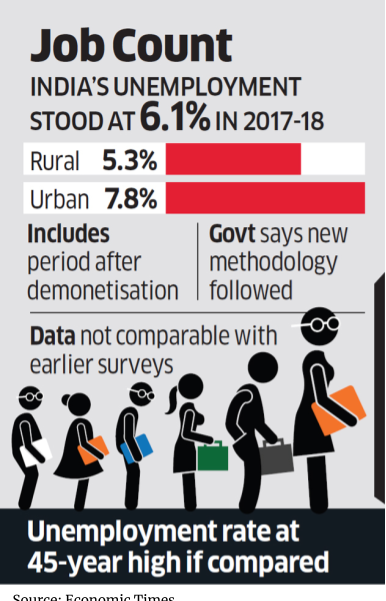 For China, such a boom in the working population came at a time when the IT industry was yet to take to automation, and positions were filled manually than people. For India, the time is quite the contrary. A recent report by the International Labour Organization (ILO) revealed that 51.8 percent of the Indian workforce could be automated. Automation is said to impact "most jobs involving highly structured physical activity in predictable environments, such as manufacturing and retail, alongside data collection and processing". Another crucial which was made by the IPO was that 66 percent of Indian businesses are looking for newer skill sets than they did three years ago.
While the government may go on stating the various ways through which the emergence of a massive workforce could help the Indian workforce, it cannot be denied that India has an existing and impending job crisis. A lot of it could be blamed on the rusted educational system which fails to equip the students with the various sets of diverse skills that are needed to address the ever-changing demands of the workforce.
To truly address such a bend between availability and utilization which comes with the current workforce, India needs to address the root of skill training and must see a wide scale implementation of its policies. This done, India can truly look at the positive shifts that come with demographic dividends, such as an economic growth forefronting a period of financial security and stability.
However, such a shift can only take place when the people are well educated. On this front, personal loan for education on Bajaj Markets play a key role in funding people's dreams of education. When you take an education loan on Bajaj Markets, you get access to fast online processing. There is also minimum paperwork involved for loans on Bajaj Markets; they also come with 100 percent transparency, which means that you can fulfill your dreams without any unwarranted hassle.
If you receive royalties from your patents, you can claim tax deductions under section 80RRB of the Income Tax Act, 1961.