It has been convincingly established that the auto sector is facing one of its worst slumps. What led to the slowdown in the crucial sector? The answer is not simple, as the industry is facing a slump due to a mix of factors.
In recent years Non-Banking Financial Companies had helped finance nearly 55-60 percent of commercial vehicles, 30 percent of passenger cars and nearly 65 percent of the two-wheelers in the country. NBFCs are facing a funding crunch after the collapse of one of the biggest shadow bankers IL&FS. Since raising funds has become difficult and costly for NBFCs, they have slashed lending drastically affecting the auto sector.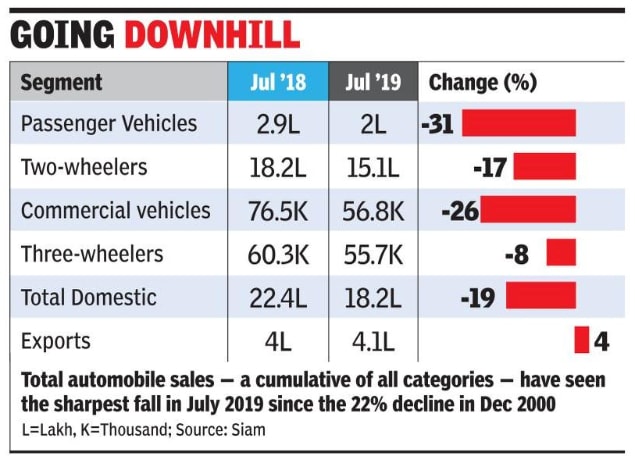 Source: The Times of India
Besides the liquidity crunch, softening of rural demand, price increase and change in axle norms have impacted the industry. The demand for vehicles has decreased, especially in rural areas, which has specifically impacted tractor and two-wheeler sales. Generally, when sales dip, companies decrease the price of the product, but auto companies cannot take price cuts to boost demand. The introduction of Bharat VI emission norms from April 2020 has led to an increase in the price of automobiles, especially diesel vehicles. Higher motor vehicle insurance costs and stricter safety requirements too have resulted in an increase in the acquisition cost of vehicles.
Commercial vehicle sales have faced the brunt of new axle load norms. The government with an aim to reduce logistics costs increased the official load-carrying capacity of heavy vehicles by 20-25 percent. The decision had the unintended effect of reducing the demand for new commercial vehicles. Along with a few short-term factors, the auto industry has also been signed by some structural changes. The rising acceptance of shared mobility solutions such as Uber and Ola is likely to have hurt the sale of new vehicles. The uncertainty created by the shift towards electric vehicles has rattled original equipment makers as well as component manufacturers. The confusion is more evident in two and three-wheeler manufacturers who may have to compulsorily shift to battery-powered vehicles by 2015 and 2022, respectively.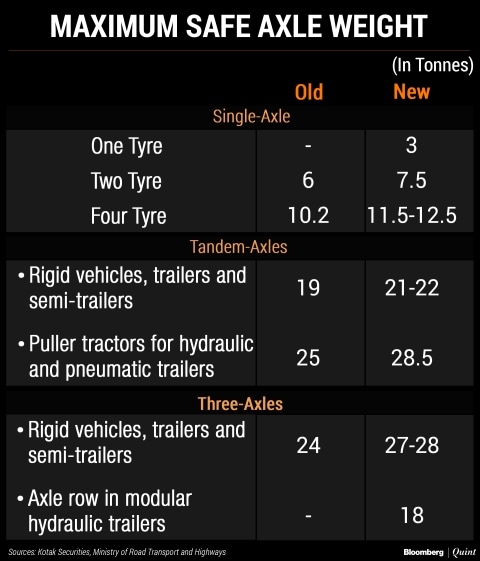 Source: Bloomberg Quint