What is Credit Score?
Credit score or CIBIL score is a 3-digit number that ranges between 300-900 and represents your creditworthiness, i.e. the likelihood of you returning the borrowed money on time. Whenever you apply for a loan or a credit card, the very first thing the lender/card issuer will do is to check CIBIL score of the applicant. Credit reporting agencies, also known as credit bureaus, maintain the credit records or credit reports of all borrowers in the country. The credit score of an individual is calculated basis the data in their credit information report.
TransUnion CIBIL, formerly CIBIL, is the oldest and the most reliable credit bureau in India. The credit score assigned to a borrower by CIBIL is known as the CIBIL score. Since most banks/NBFCs in India rely on the credit scores assigned by CIBIL, credit score and CIBIL score are often used synonymously. When it comes to CIBIL score, the higher it is, the better are your chances of receiving a loan or credit offering at affordable rates.
Who Computes Credit Score in India
Credit bureaus authorised by the RBI collate the credit history of borrowers from the various banks/NBFCs in India to calculate the credit score of borrowers (both individuals and businesses).
As of now, there are chiefly four credit bureaus in the country: TransUnion CIBIL, Experian, Equifax, and CRIF Highmark. These credit bureaus collect the credit data of all individual and business entities from various financial institutions such as banks and NBFCs and prepare a credit information report (or simply credit report) for each borrower. Based on this report, the credit bureau assigns a credit score to the borrower.
Note: If you have never borrowed credit, you will not have a credit score.
Check Below the easy steps to check free CIBIL score online:
How to Check CIBIL Score
Step 1: To check CIBIL score, visit the official Bajaj Markets website and click on "Check CIBIL Score".

Step 2: Enter the required personal details in the designated fields on the following page and click on "Get OTP".

Step 3: You will receive an OTP on your mobile number; enter the same on the next page when prompted.

Step 4: Once all your details are verified, you will be able to view your detailed financial health report along with your CIBIL score.
How is Your Credit Score Calculated
All credit bureaus, including CIBIL, consider a number of factors while calculating the credit score of a borrower. Since your credit score is supposed to be a measure of your creditworthiness, anything that indicates your financial behaviour and financial health has an impact on your credit score. Some of the factors that affect your credit score are:
Financial Punctuality: It is the most important factor taken into account while calculating your credit score. Timely payment of loan EMIs and credit card bills has an affirmative effect on your credit score while delaying payments affects your score adversely.

Frequency of Credit Enquiries: Whenever you apply for a loan/credit card, the lender/card issuer places a credit score enquiry with CIBIL. Frequent credit score enquiries by banks/NBFCs have a negative impact on your credit score.

Credit Utilisation Ratio: It is the fraction of the line of credit (credit limit for credit cards) used by you in a given month. It is suggested that you do not utilise more than 30% of your credit card's credit limit for a healthy credit score.

Ratio of Secured/Unsecured Loans: Having a healthy ratio of secured and unsecured loans in your credit report has a positive impact on your credit score. It shows your ability to handle both types of loans.

Length of Credit History: A longer credit history implies more creditworthiness as it shows that you have taken and successfully repaid loans in the past.
CIBIL Score Range and its Meaning
As mentioned above, the CIBIL score of an individual is a three-digit number between 300 and 900, with 900 being the maximum score. Higher the credit score, higher is the individual's creditworthiness. You can refer to the following table to get an idea of how banks and NBFCs interpret your CIBIL score: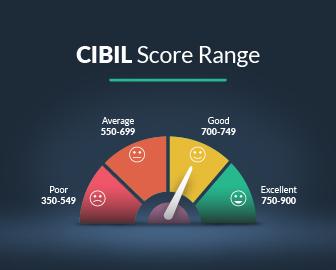 | | | |
| --- | --- | --- |
| CIBIL Score Range | Rating | Meaning |
| NIL | Not Applicable | If you have never availed a loan or have never applied for a credit card, your credit score remains NIL. It means you do not have a credit history. |
| 350-549 | Poor | A credit score in this range is considered poor. It is an indicator of poor credit history or recurrent default on loans or credit card bill payments. |
| 550-699 | Average | A credit score in this range is considered average. You need to improve your CIBIL score to get better loan offers since many lenders would not be willing to grant a loan to someone with a credit score in this range. |
| 700-749 | Good | This is a good credit score and reflects fairly healthy financial habits. You might be eligible for most loan products/credit cards if your CIBIL score falls in this range. |
| 750-900 | Excellent | A CIBIL score in this range is considered excellent and shows that you are a low-risk borrower. Lenders offer the best deals to applicants with a CIBIL credit score above 750. |
You can check more detail about different CIBIL Score Range.
Will a CIBIL Inquiry Check Affect My Credit Score?
Two forms of inquiry checks exist: soft CIBIL inquiry and hard CIBIL inquiry. A soft inquiry is also known as 'soft credit check'. Therein, an individual may check their credit score. This method can also be used by lenders, employers or landlords to check for informal permissions or approvals. A hard credit check is carried out when an individual allows an organisation or authority the right to access their credit scores.
A soft inquiry doesn't impact your credit score while every hard inquiry decreases your credit score by a few points. Hence, a hard inquiry can affect your credit score.
Know More About Soft and Hard CIBIL Inquiries
Why Check Credit Score on Bajaj Markets
There are many advantages that you enjoy if you choose to check your CIBIL score online on Bajaj Markets:
Free CIBIL Score and Report: You can not only check your CIBIL score for free but can also download a free CIBIL Credit Health Report.

Simplified Reporting: The Credit Health Report provided by Bajaj Markets in association with CIBIL is easily understandable even if you are not well-versed with the technicalities.

Make Informed Decisions: The Credit Health Report that you download from Bajaj Markets includes your CIBIL score as well as your past credit behaviour. This report will increase your awareness about your spending patterns and help you make informed decisions in the future.

Trusted Companion: With secure transactions and years of trust, happy customers across India have chosen Bajaj Markets as their trusted financial partner.
Details Required to Check Credit Score
In order to check CIBIL score, you would need to provide some basic details such as:
Personal Details (Name, Mobile Number, Email Address, Date of birth, Address)

Type of Employment (Salaried, Self-Employed, etc.)

Monthly Income (for salaried individuals); Annual Turnover (for self-employed individuals)

Permanent Account Number (PAN)
Factors that Hurt Your Credit Score
Since the CIBIL score reflects your financial well-being and creditworthiness, any financially irresponsible behaviour on your part would have a negative impact on it. Some of the poor financial habits that affect your CIBIL score negatively are:
Not paying loan EMIs or credit card bills on time

Frequently applying for too many credit cards or loans

Exhausting the entire credit limit on your credit card

Having either only secured or only unsecured loans in your credit profile

Not having a lengthy credit history
How to Improve Your Credit Score
Now that you are aware of the factors that have a negative impact on your credit score, it is easy to understand how you can improve the same. Following are some of the financial habits that you can incorporate to improve your CIBIL score
Pay Your Dues on Time: This is the single-most important financial habit to incorporate for a healthy credit score. You must be punctual with regard to the repayment of loans and credit card bills.

Regularly Review Your Credit Reports: It is advisable to keep tabs on your active and closed loan accounts and have a good understanding of your credit report. In case you notice any error or discrepancy in said report, you must flag the same to CIBIL immediately.

Avoid Frequent Loan/Credit Card Applications: Whenever you apply for a loan/credit card, the bank/NBFC requests your credit report and credit score from CIBIL. Such requests are known as hard enquiries and have a negative impact on your CIBIL score. It is, therefore, advisable not to apply for too many credit cards or loans within a short period of time.
Maintain Low Credit Utilisation: You should avoid exhausting the entire credit limit of your card as it reflects poor financial behaviour. Experts suggest that you should ideally not exceed 30% utilisation of your card's credit limit.

Have a Good Mix of Secured/Unsecured Loans: A healthy mix of both secured and unsecured loans in your credit profile shows that you have the experience of handling both types of loans and are, hence, more creditworthy. Personal loans and credit cards are unsecured in nature, while home loans are secured in nature.
(Note: If you check CIBIL score through Bajaj Markets, it counts as a soft enquiry and has no negative impact on your credit report. Hence, we recommend that you check CIBIL score via Bajaj Markets.)
Benefits of Having a Good Credit Score
Having a healthy credit profile and a high credit score is always beneficial for a borrower in multiple ways:
Eligibility for More Loans/Credit Cards: The biggest advantage of having a high credit score is that it opens doors for better loan and credit card offers. Some banks/NBFCs might be even willing to offer you pre-approved loans/credit cards if you have a good credit score.

Lower Interest Rate: If you have a high credit score (say upwards of 750), you can bargain with the bank/NBFC for a lower interest rate on loans you wish to avail.

Longer Loan Tenure: Apart from lower interest rates, you can also negotiate other terms and conditions of the loan, including the loan repayment tenure, with the bank/NBFC if you have a high credit score.
List of Credit Bureaus in India
RBI has licensed four companies to operate as credit bureaus in India. These are:
Advantages of Analysing Your Credit Report
As mentioned earlier, your credit report contains detailed information on all your active/closed loan and credit card accounts. Hence, it is advisable to check your credit report regularly as it has multiple advantages, namely:
Know Your Credit Score: One obvious reason why you should check your credit report regularly is that it contains your credit score. This three-digit number is quite important as lenders consider it before approving your loan or credit card application.

Get Errors Rectified: At times, an error or discrepancy can find its way in your credit report. If you regularly review your credit report, you can get the errors rectified by reporting the same to the concerned credit bureau.

Avoid Hard Enquiries: Typically, you should apply for credit only when you are in a good credit standing so that your loan/credit card application is not rejected. Upon receiving a loan or credit card application, lenders will check your credit report in detail to understand your creditworthiness. This is known as a hard inquiry. Multiple hard inquiries in a short period will make you look credit-hungry and negatively affect your score.

Negotiate for Better Loan Terms and Conditions: Knowing your credit score allows you to understand your bargaining power and negotiate the terms and conditions of a loan with your bank/NBFC. If you have a high credit score, you can negotiate better terms for your loan, including lower interest rate and longer repayment tenure.
Understanding Your Credit Report
Your credit information report comprises a detailed account of your credit history. It includes information about your debt obligations (loans and credit cards) such as the repayment history, status of loans, credit mix, credit utilisation ratio, and more. While a credit report may seem like an intimidating document to read, it is, in fact, quite simple to understand with the right knowledge of the financial terms used in the report. Following are some of the sections that you will find in your credit report:
Personal Details: It includes your personal information such as the name, residential address, PAN, date of birth, etc. It is important to ensure that all the information listed under this section is correct as it could lead to record misrepresentation. Any kind of error must be reported to the respective credit bureau and rectified immediately.

Information of Accounts: This section includes information about your past and current credit accounts. You can find the complete analysis on each of your accounts with details such as the current balance, date of opening, monthly repayment history, account type, account ownership, and payment status.

Public Records: Under this section, you will find a detailed list of any tax liens, collection accounts, loan defaults, and bankruptcies filed.

Lender Enquiries: Here, you will find data about the enquiries made by financial institutions like banks and NBFCs.
Key Terms Featuring on a Credit Report
A credit report can be overwhelming for a layman as there are many terms and abbreviations that need to be understood. However, once you have the right understanding, you can easily read and interpret your credit report. The following table lists down the various terms that you may encounter on your credit report:
| | |
| --- | --- |
| Terms | Meaning |
| NA/NH | No Activity/No History: No credit history is available with the bureau. |
| Amount Overdue | The amount that has not been repaid to the lender. |
| Credit Limit | The maximum amount that you are allowed to spend on your credit card in a given month. |
| Cash Limit | The maximum amount that can be withdrawn as cash using your credit card. |
| DPD | Days Past Due: Number of days passed since the due date of payment. |
| STD | Standard: The account is overdue for less than 90 days. |
| SUB | Substandard: The account is overdue for more than 90 days. |
| SMA | Special Mention: A standard account that is closely monitored for the possibility of moving towards substandard. |
| DBT | Doubtful: The account has remained substandard for a period of 12 months or more. |
| LSS | Loss: Loss has been identified on the account and is non-recoverable. |
Difference Between Credit Report, Credit Score, and CIBIL Score
The following table illustrates the key differences between a credit report, credit score, and CIBIL score.
| | | |
| --- | --- | --- |
| Credit Report | Credit Score | CIBIL Score |
| It contains the information of all your current and closed loan and credit card accounts. | It is a three-digit number assigned to a borrower by a credit bureau that indicates their creditworthiness (loan repayment capability). | The credit score assigned to a borrower by TransUnion CIBIL is known as CIBIL score. It ranges from 300 to 900, with a higher number being better. |
| It gives lenders an insight into your past financial behaviour in terms of loan repayment and the amount that you already owe to the various banks/NBFCs. | It gives the lender an idea of your ability to repay loan EMIs or credit card bills on time. | It is a number arrived at by CIBIL. It also indicates the likelihood of you repaying your future loans/credit card bills on time. |