When it comes to broadband services, Indians prefer mobile broadband over fixed-line services. The total subscriber base for fixed-line broadband services in the country is only 18.42 million, according to the Telecom Regulatory Authority of India. To put things into perspective, 532 million people use wireless broadband in India as of February 2019. The small fixed-line broadband market is serviced by a variety of companies ranging from telecom firms such as Airtel and BSNL to pure-play broadband operators. The Government also wants to boost the economy by making it easier for firms to conduct business. Hence it has revised the corporate tax rates as part of the new income tax regime.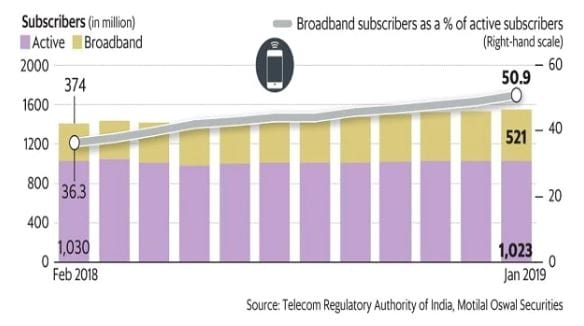 Source: Livemint
The entry of Mukesh Ambani-backed Reliance Jio Infocomm in September 2016 revolutionised the mobile telephony market in the country. Powered by dirt-cheap data tariffs, Jio pushed several incumbents out of business and led to the consolidation in the industry. In a short period, Jio has acquired 323 million subscribers, capturing the second position among telecom operators in the country. Rather than operating like a telecom company, Jio wants to be a technology firm, sewing a world-class digital infrastructure to content and services.
After carving a significant share of the mobile telephony market for itself, Jio has set its sight on the fibre-to-the-home market with Jio Fiber.
What is Jio Fiber?
Since its inception, Jio has positioned itself as a full-fledged connectivity provider. After being in the works for several years, Reliance Industries Chairman Mukesh Ambani recently announced the commercial launch of Jio Fiber from September 5. To support high-speed internet, the company has accumulated an optic fibre network of over 3 lakh route kilometres. Last-mile fibre connectivity is an issue in India, but Reliance Industries had bought stakes in DEN Networks Ltd, and Hathway Cable and Datacom Ltd to provide a seamless service. The acquisitions provided Jio access to 27,000 local cable operators.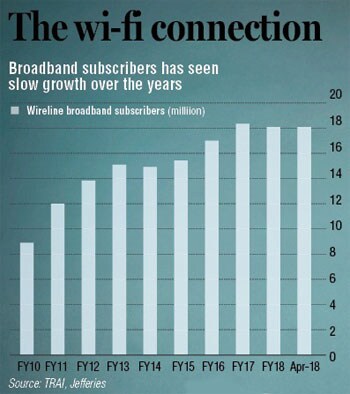 Source: DNA India
Will Jio Fiber be a disruptor?
Reliance Jio has set up an unparalleled network infrastructure which gives it a slight edge over competitors. But contrary to expectations, Jio is not starting a price war to acquire customers. The company has announced plans starting from Rs 700 per month to Rs 10,000, which is in line with industry standards.
RIL has changed track with Jio Fiber and is likely to revolutionise the market with bundled services and hardware, rather than low prices. Jio Fiber plans to introduce a slew of disruptive products and services such as digital set-top box, free landline connection, free LED TV and Internet-of-Things (IoT).
Digital Set Top Box
The details are nor clear, but every Jio Fiber connection is expected to come with a digital set-top box. It will be a multi-functional set-top box and will offer ultra-high definition entertainment, virtual reality content, multiplayer video conferencing, besides voice-enabled virtual assistance, interactive gaming, home security and smart home solutions. To reach its stated target of 20 million homes and 15 million businesses, Jio plans to rope in several local cable operators. Jio set-top box will play an important role as the company has reportedly proposed to help LCOs by giving them set-top boxes that can accept both cable TV signals and broadband services.
Bundled Services
Jio Fiber is seeking to bridge the gap between DTH, telecom and broadband operators. Each customer will get a complimentary landline connection with free voice calls within India. But the scheme that has left competitors worried is unlimited international calling to US and Canada for Rs 500 per month. Even though it has not been confirmed, Jio Fiber basic plan may also come with free access to Viacom18 bouquet of pay channels, including Colors.
Source: Business Standard
Movies
Speaking at the 42nd Annual General Meeting of RIL, Ambani made an announcement that led to nearly 5% correction in stock prices of movie exhibitors like PVR and Inox Leisure. Ambani said that premium customers of Jio Fiber will be able to watch movies on the same day they are released. However, the company did not clarify how it will bypass the current arrangement between producers, distributors and multiplex owners. According to the arrangement, producers, distributors and exhibitors have a mutual agreement to provide an exclusive window of 8 weeks to theatres before releasing a movie on other platforms. The exclusive contract between Jio and several digital content providers is likely to help the company release movie directly on TVs.
Free LED TV
Backed by superfast data speeds, Jio Fiber will be able to stream ultra-high-definition content on TVs. However, the lack of appropriate hardware could be a problem. To get past the hiccup, Jio is offering free LED 4K TVs to customers who buy the annual plan of Jio Fiber. Details of the make and size of the TV has not been made public by the company.
Conclusion
Jio Fiber is being touted as a broadband provider, but the reality is vastly different. With plans to offer a host of IoT facilities, besides Augmented and Virtual Reality services, Jio Fiber is set to change the way we interact with technology. The company showcased a mixed reality device—Jio HoloBoard—which will make learning, shopping and gaming an immersive experience. The new entrant is also likely to speed up the adoption of high-speed broadband in the country and boost the spread of the internet. Most organisations have already moved online, Jio Fiber is likely to accelerate the process. Financial investments such as mutual funds and health insurance are also moving online. At Finserv MARKETS, you can invest in a plethora of financial products like fixed deposits and mutual fund schemes, purchase insurance policies and even apply for loans from the comfort of your home.
"Finserv MARKETS, a subsidiary of Bajaj Finserv, is a one-stop digital marketplace that has been created for consumers on the go. It offers 500+ financial and lifestyle products, all at one place. At Finserv MARKETS, we understand that every individual is different. And that's why we have invested in creating a proposition – Offers You Value. A value proposition that ensures you get offers which are tailor made for you. We also offer an amazing product range and unique set of online offers across Loans, Insurance, Investment, Payments and an exclusive EMI store. Be it in helping you achieve your financial life goals or offering you the latest gadgets, we strive to offer what you are looking for. From simple and fast loan application processes to seamless and hassle-free claim-settlements, from no cost EMIs to 4 hours product delivery, we work towards fulfilling all your personal and financial needs. What's more! Now enjoy the same benefits in just one click with our Finserv MARKETS App".