RBL Bank provides several ways for credit cardholders to make credit card bill payments more straightforward and more comfortable. The payment facility is made available for both online and offline. The cardholders are free to choose their choice of payment methods. Here's a list of RBL credit card payment methods to make it easier for anyone to make payments as per their convenience.
RBL Bank Credit Card Online Payment Options 
1. RBL Credit Card Bill Payment through IMPS 
If your RBL card bill payment goes over Rs. 2 lakhs then you will have to pay the bill via RTGS (Real Time Gross Settlement). Before making the RBL card payment, you will have to add the credit card to the beneficiaries list. The RBL Bank credit card payment IFSC Code is RATN0CRCARD. Follow the below-mentioned steps:
Log in to a net banking account where the credit card is added to the list of beneficiaries

Head over to the Funds Transfer section

Click on RTGS

Choose the card from the displayed list of beneficiaries 

Enter the amount required and proceed with the RBL Bank credit card payment
2. RBL card payment NEFT
RBL credit card payment NEFT allows instant payment with same-day payment acknowledgment.Credit cardholders can make the RBL card payment NEFT by following these simple steps:
Login to your net banking account from your respective bank

In the "Fund Transfer" section, click on the NEFT option

Add the beneficiary, if required or fill in the beneficiary details directly
3. Pay Credit Card Bill Online Using Net Banking
Cardholders have to follow these steps to make RBL Bank card payment through net banking:
Login using your username and password into your RBL Netbanking account

Select the "Add Biller" option in the "Bill Payment" section

Add RBL credit card as your biller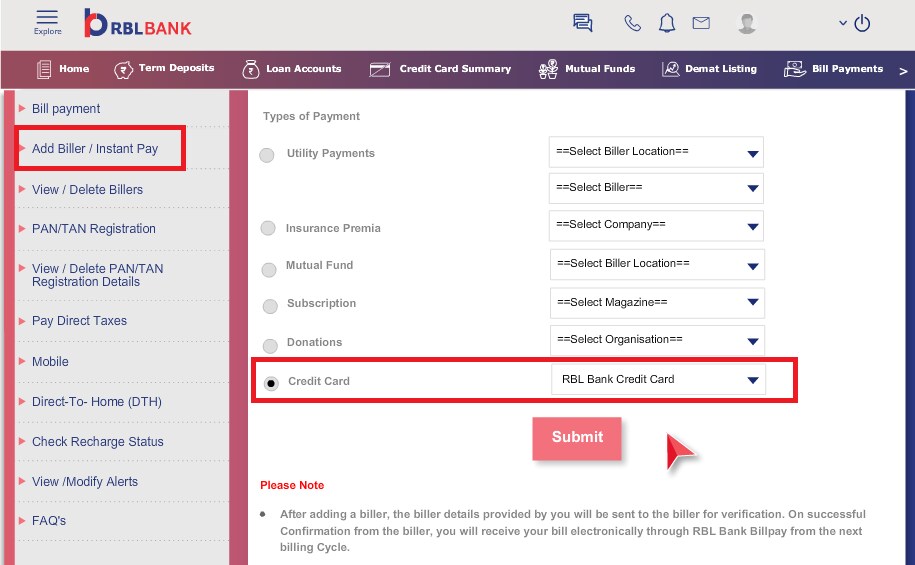 Once added, you can make the RBL credit card payment online directly by entering details such as the amount and the bank account from which the payment has to be done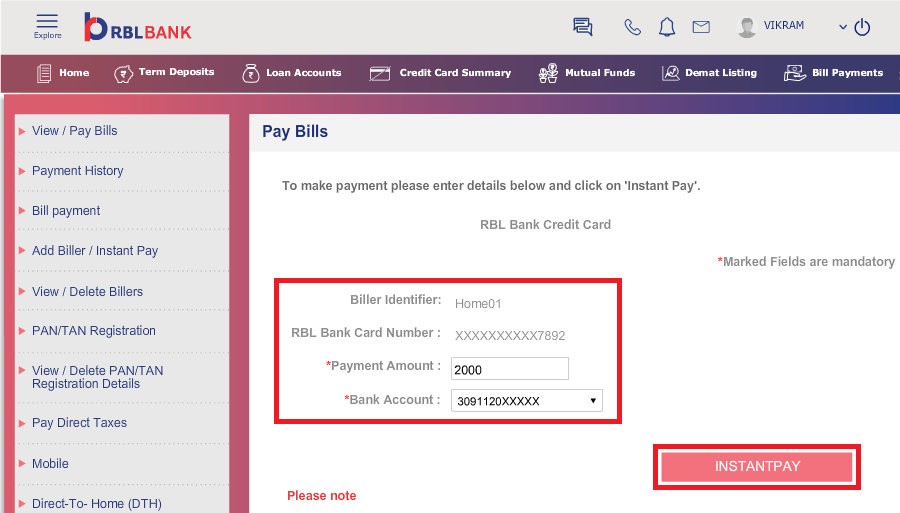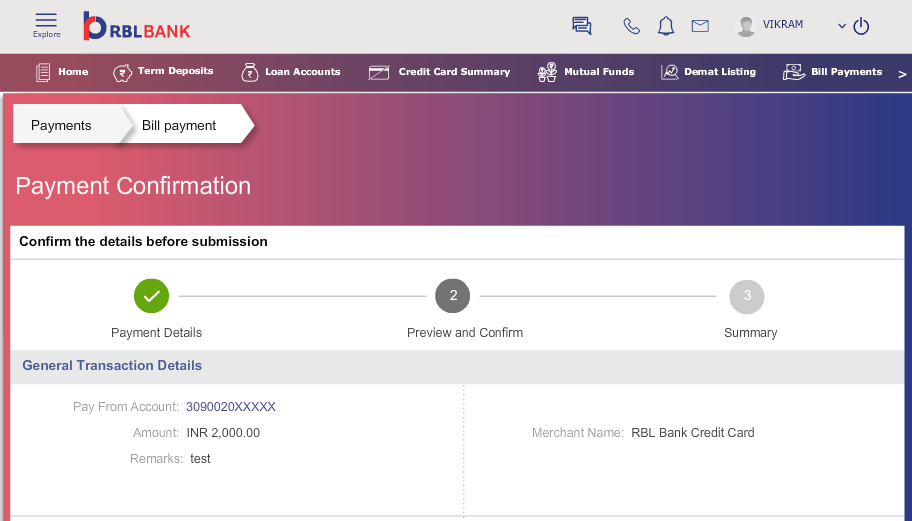 4. Payment Using Bank's Website
To make a RBL credit card online payment you firstly need to visit the RBL Bank credit card billdesk

Go through the information carefully and click on the Proceed button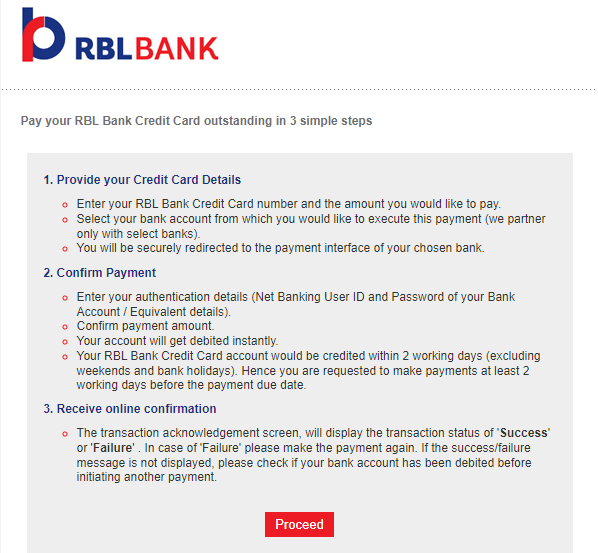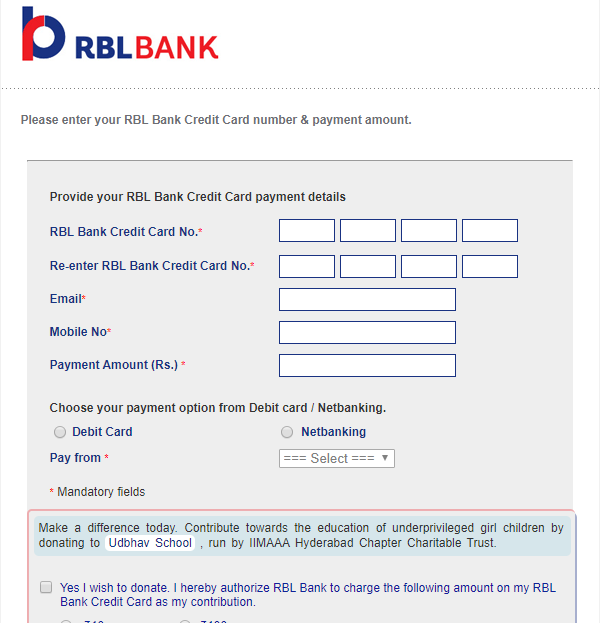 Now fill in your card details, email ID, mobile number and select your preference for the RBL credit card bill desk payment 

Confirm the RBL card billdesk payment and submit the request

The RBL credit card online bill payment will be made instantly, and a confirmation will be sent to the mobile number and email ID
5. Pay RBL Card Payment through Debit Card Facility
One can make the RBL credit card bill payment online through SBI debit card, ICICI, HDFC, Axis, Kotak or any other bank debit card. The following are the steps for RBL credit card payment through debit card:
To make RBL bank credit card payments through the debit card, you first need to login to the net banking account

Choose Credit Cards from the Bill Payment option

Now select the Debit Card Option RBL card payment via debit card can be made through 2 payment gateways - Pay U, Razorpay, or Bill Desk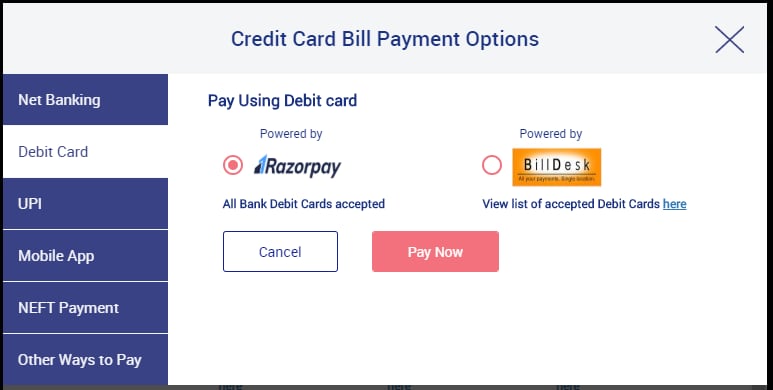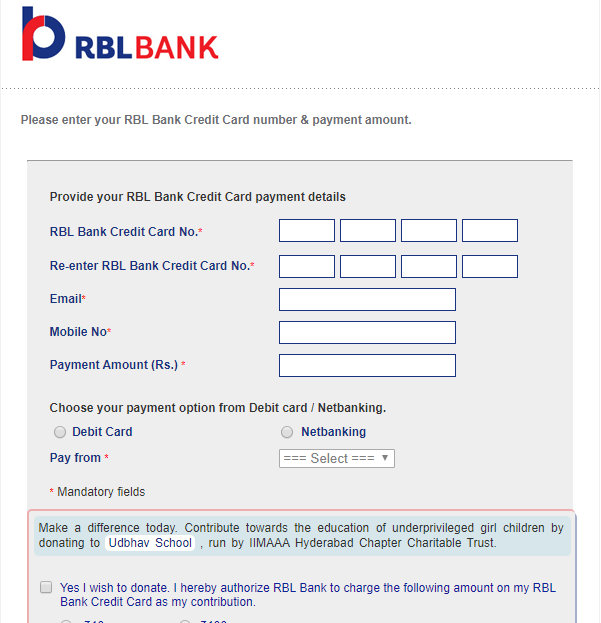 Now enter the card details of your bank and submit the request

The RBL credit card payment via debit card will be processed, and the amount will be credited to your credit card account
RBL Credit Card Offline Payment Methods
1. Pay Credit Card Bill Offline by Cash Payment
Visit the bank to make the offline payment in cash

You might have to provide your PAN card in case the amount exceeds Rs. 50,000

A fee of Rs. 250 + GST will be charged for every cash transaction made

The card limit will be released on the very same day, and the payment will be credited on the next working day
2. Pay Credit Card Bill Offline by Calling Customer Care
The phone banking officers at RBL are available 24X7-Call us on +91 22 6115 6300
Email: customercare@rblbank.com
+91 22 6232 7777 
Email: cardservices@rblbank.com
3. Pay Credit Card Bill Offline Through the ATM
RBL Bank currently does not offer card bill payment through the ATM. However, you can pay through other available online or offline payment channels.
RBL Bank offers an unlimited number of transactions across 100,000+ ATMs at no additional charge.
4. Pay Credit Card Bill Offline at the Bank Branch Office
You can visit any of the nearest RBL Bank Branches in your city and make an RBL credit card payment offline payment towards your RBL Bank Credit Card. At RBL Bank branches, you can make -
Cheque Payment: Please complete the cheque in favour of RBL Bank Card <16 Digit Card No.

Cash Payment: Cash payment towards your RBL Bank Credit Card is accepted at all RBL Bank branches.
5. Pay Credit Card Bill Offline by Drawing a Cheque/DD
RBL credit cardholders have the option to make the payment through cheque as well. They can either choose to deposit the cheque in the bank directly or send the cheque through courier to the address mentioned below:
RBL Bank Limited,
Cards Operating Centre,
Unit: 306 –311, 3rd Floor,
JMD Megapolis,
Sohna Road, Sector – 48,
Gurugram – 122 018, Haryana.
No additional fee is levied for such transactions

The payment of the credit card bill is subject to the clearing of the cheque, so it is recommended that the payment is made through cheque, should be done days before the due date ends
Benefits of Paying Credit Card Bills Online
Paying your RBL bank credit card online bill payment on time is essential. Online payments are faster so you can avoid late payment fees as well as maintain your credit score. Making online payments gives you the added advantage of having your funds credited to your Credit Card in a much shorter time frame. You minimalise the risk of delaying since the funds get credited to your Credit Card with immediate effect payments just in case something comes up, and you can't go to the bank. Ratnakar Bank Limited (RBL) offers smart and straightforward methods of RBL bank card payment online for your convenience. 
Essential Tips While Making RBL Bank Card Online Payment
The tips that go a long way in making RBL bank credit card bill payment online a secure approach. They are as follows:
Determine the use of SSL or TLS

Never Disclose Personal Details

Never Disclose Credit Card Number

Contact Merchant/Company Directly

Main Accurate Records

Verify Terms of Service and Privacy Policy
Bajaj Finserv RBL Bank Supercard
Bajaj Finserv RBL SuperCard is a credit card that offers loads of exclusive benefits and features to offer; it not only takes care of your everyday cash needs but is also useful in times of emergency. Making a Bajaj Finserv credit card payment is simple and hassle-free. All you have to do is choose any one of the following Bajaj Finserv Credit card online payment methods and make your Bajaj Finserv credit card bill payment:
Bajaj Finance Credit card payment online through RBL MyCard App

Bajaj Finance Credit card online payment through Bill Desk

Bajaj Credit Card payment online through NEFT

Bajaj Credit Card online payment through Net Banking

Bajaj Finserv Credit card online payment through NACH facility

Bajaj Credit card bill payment through Cheque facility

Bajaj Credit card payment through Cash