Buy a Nikon Camera on EMI
If you're looking for a camera to effortlessly capture life's amazing moments with stunning clarity, Nikon is the brand for you. With a range of waterproof, mirrorless, and point-and-shoot DSLRs, you can be assured of top tier features when you choose a Nikon camera. When you choose to buy your Nikon camera using the Bajaj Finserv EMI Network Card you get to avail of the No Cost EMI facility. No Cost EMI is an exclusive facility available to you when purchasing a Nikon camera with the Bajaj Finserv EMI Network Card. In this case, the cost of your cream will be split into interest-free monthly Nikon Camera EMIs that save you a lot of money immediately and in the long run.
Get the Latest Nikon Camera EMI Offers
When shopping at any of the Bajaj Finserv partner stores, you get access to discounts in addition to converting your camera purchase into Nikon camera EMIs at a No Cost EMI facility with zero down payment. Here are the versions of the Nikon camera that you can choose from:
1. Nikon D3500
At ₹42,999, the Nikon D3500 is considered among the best entry-level models in Nikon's DSLR range. Although small, it has a 24.2MP sensor that is as advanced as those seen in cameras at twice the price. Additionally, this camera also offers an incredible 5fps continuous shooting speed, particularly for a starter camera. Beginners will find that the Guide mode helps them not only understand the basic principles to get started, but also offers all manual controls necessary for learning and growing their photography skills.
2. Nikon Z5
Starting at the attractive price of ₹1,13,995, the Nikon z5 makes for a solid full-frame mirrorless camera that is considered beginner-friendly. With its entry-level oriented dial, the Z5 can help you take fantastic-looking images without struggling too much. The combination of its sophisticated Z-mount and full-frame sensor also adds stability to your shots, making it near effortless to capture your best moments.
3. Nikon Z FC
This retro-themed dreamy camera not only looks cool but is also among the best beginner to enthusiast-level cameras on the market. The Nikon Z FC sports an APS-C sensor in addition to a sophisticated processor, making it a highly capable purchase for image-makers at any stripe. Although this camera might miss out on a few essentials like a built-in flash, its price point of ₹88,998 comes from its charming presentation.
4. Nikon Z50
Although the Nikon Z50 has a much smaller camera than its siblings in the 'Z' series, it clearly shares the same DNA in its design. Despite its size, you get a solid grip with decent external controls, including the 16–50mm retracting kit lens- a remarkable addition not solely for its pancake lens dimensions but also for overall performance. Get the Nikon Z50 for the starting price of ₹1,25 990 at no-cost EMI.
Shop for Nikon Camera on EMI Using the Bajaj Finserv EMI Network Card
Bajaj Finserv partner stores give you the opportunity to shop for your preferred Nikon camera when you make purchases using the Bajaj Finserv EMI Network Card. Here's how you can get your Nikon Camera EMI facility at Bajaj partner stores:
Step 1: Visit the website of any Bajaj Finserv partner store such as Amazon or Flipkart.

Step 2: Using your login details, sign in to your account.

Step 3: Compare all the Nikon camera options available by going through the range of cameras you can find on this portal.

Step 4: Select the Nikon camera that you wish to purchase and click to the checkout section.

Step 5: You will be able to view the various EMI options available to you. Select the Bajaj Finserv EMI Network Card with No-Cost EMI as the payment mode for you
Step 6: Select from a choice of repayment tenures (3 months to 2 years) and submit all the details to finalise your purchase.
1. Nikon D750 SLR Camera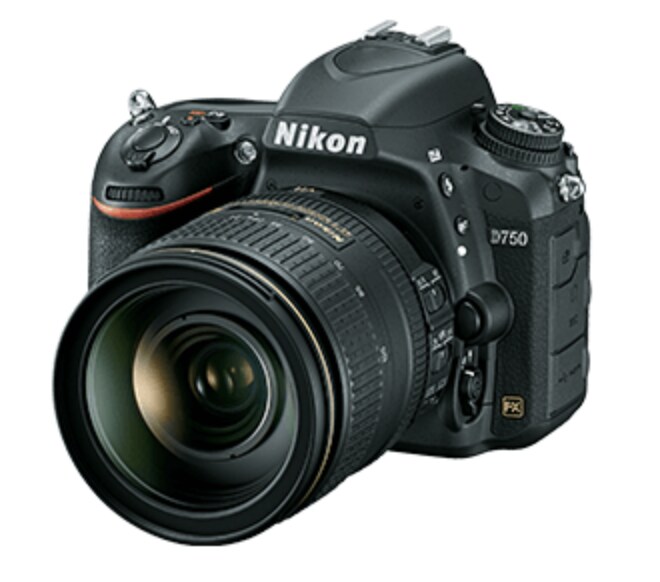 The Nikon D750 is the first FX format DSLR camera with a monocoque body and a durable and compact frame. It comes with a better grip for safer handling. The camera boasts of 24.3 megapixels and 51 AF points. The camera comes at ISO 12800. Its other features include a 6.5 FPS, 60p full HD movie and an 8 centimetre tilting LCD screen.
You can buy this D750 Nikon camera on EMI at a monthly instalment of ₹5,289.
2. Nikon D850 SLR Camera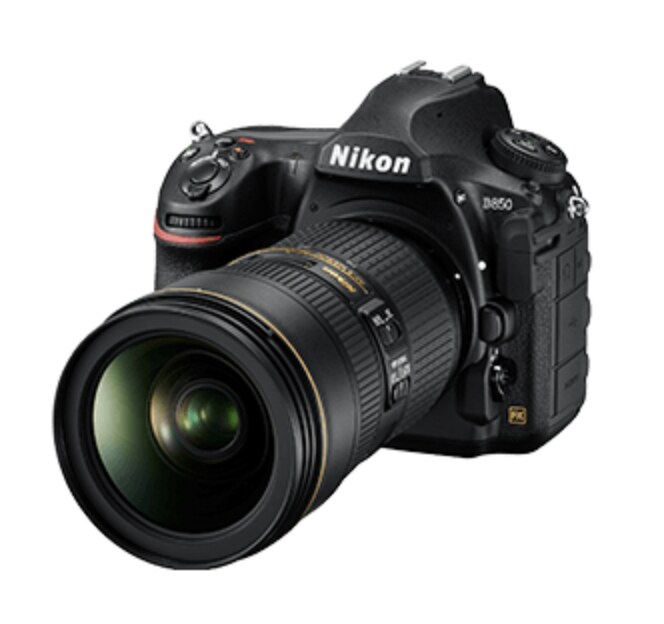 The Nikon D850 SLR camera is an FX format camera with a backside illumination sensor. The camera is any shutterbug's dream thanks to its 45.7 megapixel camera quality. It comes at ISO 64-25600 which is expendable at 102400. Other notable features of this camera include 153 AF points and 9 FPS. The camera comes with a full frame 4K UHD video and 8K time lapse.
The Nikon D850 SLR camera can be bought on EMI at ₹10,622 payable in monthly instalments.
3. Nikon D5600 SLR Camera
The Nikon D5600 SLR camera comes with 24.2 megapixels and ISO 25600. It boasts 39 AF points for precision in capturing the subject and 5 FPS, along with a 60p full HD movie and 8.1 cm touch screen vari-angle LCD screen. You can buy this Nikon camera for an EMI of ₹6,216 with your Bajaj Finserv EMI Network Card.
4. Nikon D7200 SLR Camera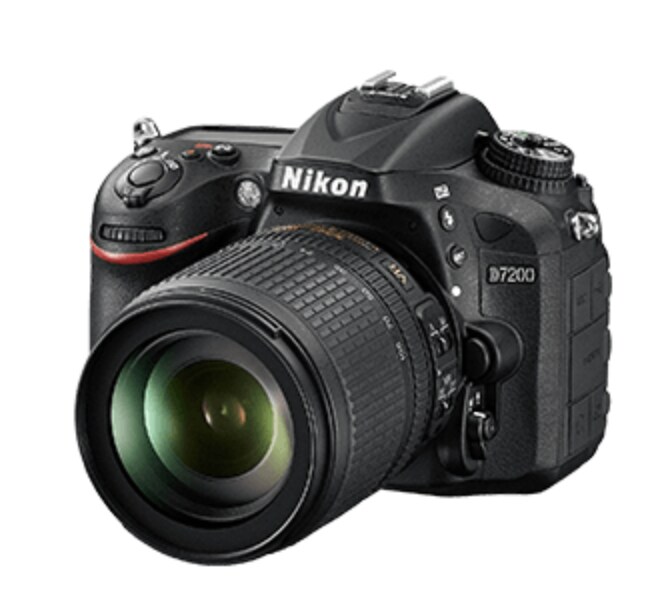 The Nikon D7200 is a DX format SLR camera with 51 AF points that help zero in on the subject. It comes with 24.2 megapixels and ISO 25600. The camera has a built-in wifi function that helps share images instantly. The camera sports 6 FPS, along with 60p full HD movie and an 8 cm LCD screen.
You can get this D7200 Nikon camera at Bajaj Finserv partner stores on EMI at a monthly cost of ₹6.827.
Advantages of Purchasing Nikon Camera Using the EMI Network Card
There are many advantages to shopping using the facility of EMI without a credit card. When it comes to shopping on any of the Bajaj FInser partner stores, here is what using the Bajaj Finserv EMI Network Card can offer you:
Attractive discounts, deals, and offers, on your favourite cameras, including Nikon cameras.

Streamlined and quick purchase of your favourite Nikon camera in just a few clicks.

The benefit of no-cost EMI which can make your purchase more affordable.

A wide range of options when it comes to cameras as you have multiple partner stores to choose from, including Amazon and Flipkart.