Either of the two methods can be used to generate eway bills in EWB-01-
How to Generate Eway Bill Through E-way Bill portal

Step 1: Login to eway bill portal, Enter your Username, password and Captcha code and Click on 'Login'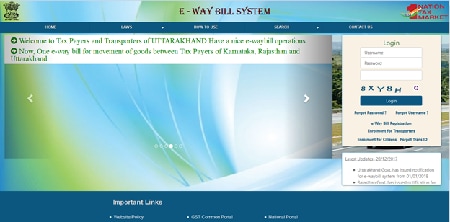 Step 2: Click on 'E-waybill' option from 'Generate New' section in the dashboard.
Step 3: Next, enter details in the fields:

Transaction Type:
Select 'Outward' if you are the sender
Select 'Inward' if you are the receiver
Sub-type: Select the relevant sub-type applicable to you:

If transaction type selected is Outward, following subtypes appear:

If transaction type selected is Inward, following subtypes appear:

Note: SKD/CKD- Semi knocked down condition/ Complete knocked down condition
Document type: Select either of Invoice / Bill/ challan/ credit note/ Bill of entry or  others if not Listed
Document No. : Enter the document/invoice number
Document Date: Select the date of Invoice or challan or Document.
Note: Once submitted the system will not allow the user to enter the future date.
Enter the To / From section details whether you are a supplier or a recipient, 

Note: Enter 'URP' i.e. Unregistered Person' in the GSTIN filed, if either of the supplier or receiver is unregistered.
Item Details: Fill in the details of the consignment (HSN code-wise) in this section:

Product name
Description
HSN Code
Quantity,
Unit,
Value/Taxable value
Tax rates of CGST and SGST or IGST (in %)
Tax rate of Cess, if any charged (in %)

Note: Once the eway bills are implemented, yours inputs can be automatically entered while you file GST return on the portal.
8) Transporter details: It is mandatory to enter the mode of transportation & the distance travelled.
Apart from above, Either of the details can be mentioned:
Transporter name, transporter ID, transporter Doc. No. & Date. OR
Vehicle number in which consignment is being transported.
Format: AB12AB1234 or AB12A1234 or AB121234 or ABC1234

Note: You need to update 'My Master' section first to proceed in case the products are used on regular basis." The section is present on the dashboard itself.
Step 4: Click on 'Submit'. The system validates data entered and throws up an error if any.
In case of no errors, your eway bill will be generated. It will have a 12-digit unique number.
Once the eway bill is generated it will look like this: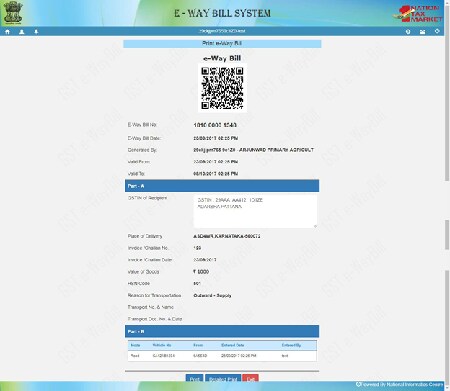 Please take the print out of the bill and keep it handy during the transportation of goods.
How to Print Your Eway Bill On Eway Bill Portal
Step1:Click on 'Print EWB' sub-option under 'e-Waybill' option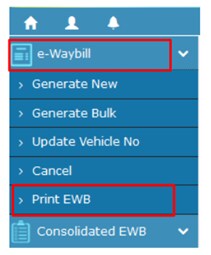 Step2: Enter the relevant eway bill number -12 digit number and click on 'Go'

Step3:Click on 'Print' or 'detailed print' button on the EWB that appears: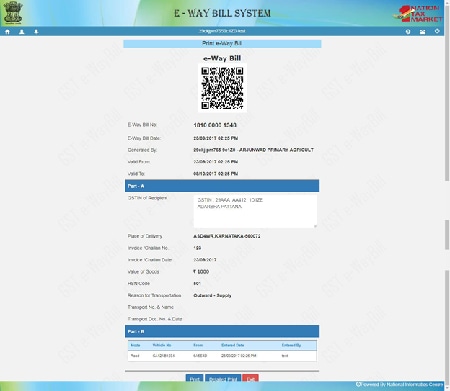 Who should Generate an eWay Bill?
●  Registered Individual:
 E-way bill is generated when the value of the movement of goods is more than Rs 50,000 to or from a Transporter. A Registered transporter may choose to create and carry the eway bill even if the value is below Rs 50,000.
●  Unregistered Individual:
Unregistered persons are required to e way bill generate. However, when an unregistered person makes a supply to a registered person, the receiver will have to ensure the fulfilment of compliances as if they were the supplier.
● Transporters:
 Transporters carrying goods by road, air, rail, etc. are required to generate e-Way Bill if the supplier has not generated the same.
Requirements for eway bill generation
There are some prerequisites for eway bill generation. They are as follows:
●  Registration on the e-Way Bill portal

● A physical copy of the Invoice/ Bill/ Challan related to the consignment of goods must be in hand.
● For Roadway Transportation a Transporter ID or the Vehicle number is required
● For Transportation by rail, air, or ship a Transporter ID, Transport document number, and date is to be mentioned on the document.
VAHAN-e-Way Bill Integration
In February 2020, the e-way bill portal got linked to the VAHAN system. A pilot run of the VAHAN-e-Way Bill began in the state of Karnataka. Now, the vehicle registration number will be validated when generating new e-way bills.
Blocking and Unblocking of E-way Bill
Taxpayers who have failed to file returns for the previous two consecutive months/quarters, then he/she will be blocked and not be able to generate e-way bills.
Only when a taxpayer files GSTR-3B, the e-way statements will get unblocked on the next day. The system of e-way bill blocking got implemented from the 2nd of December 2019.
An E-way bill is mandatory for businesses that deal in the movement of goods from one place to another. Hence business owners must know the importance of generating an eway bill for smooth operations. The same way at Finserv MARKETS, we understand businesses and their requirements. Download the Finserv MARKETS App to apply for a business loan of up to Rs 30 lakhs. You can get the required financial assistance wherein you don't have to pledge any security. The loan application requires minimal documentation with quick approval and disbursal of loan.