Procedure to Fill Aadhaar Card Enrolment Form
You can obtain a new Aadhaar card application form online by accessing UIDAI website uidai.gov.in. You may also go to your nearest Aadhaar card centre and ask for the same from the officials.
Below are the steps to follow while filling up the form.
Step 1: Provide your personal details like address, DOB, father's name, etc., accurately.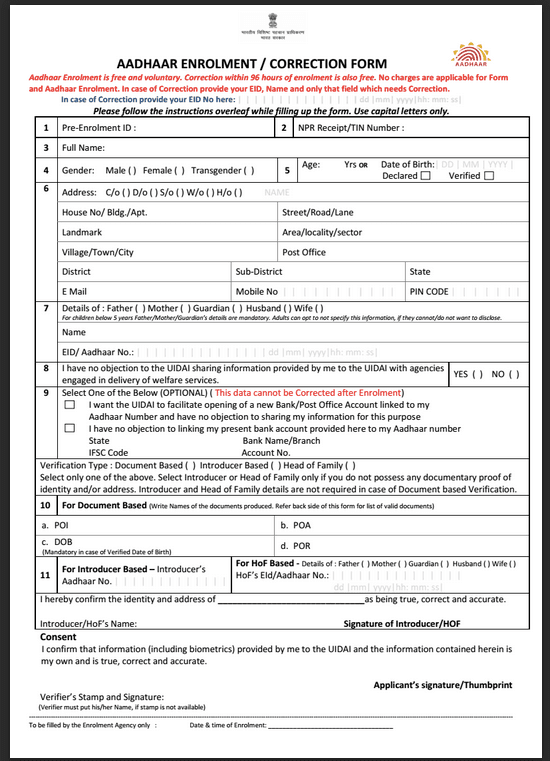 Step 2: Attach the required documents. Check the list of documents accepted by UIDAI to avoid rejection.
Step 3: Submit the form along with the supporting documents.
Step 4: Next, officials will take your photograph and biometric details.
Step 5: Then, you will be given an acknowledgement slip that will have your enrollment ID and the date and time of enrollment.
You can track the status of your Aadhaar card form with the help of the enrollment ID. Your Aadhaar card will be issued in a few days/months and will be sent to your address. You can also download your e-Aadhaar card from the UIDAI website.
Things to Remember while Applying for an Aadhaar Card
There are certain points you must keep in mind while applying for an Aadhaar card:
Always Use Uppercase Letters in the Form- Fill in your new Aadhaar card form in uppercase letters. It will help in efficiently recognizing the details. It will also reduce the possibility of errors while storing data in the system.

Keep Your Form Clean - Overwriting and other marks should be avoided. Maintain a clean form by writing each detail tidily. If the handwriting is unreadable, there is a risk of inconsistencies on the card.

Follow the InstructionsFollow the steps outlined in the instructions when filling out the form. Any inaccuracy can result in the form being rejected.

Submit the Supporting Documents - Check the list of documents asked by UIDAI along with the new Aadhaar card form and provide the same accordingly.
Fields on Aadhaar Card Application Form
There are several fields on an Aadhaar card form, some of which are listed below:
Full Name - You are required to write your full name in this section. Don't make any spelling mistakes as it will be written in the same way on your card.

Gender - Choose your gender among the options.

Date of Birth - Enter your DOB in DD/MM/YYYY format. If you don't have proof of your date of birth, pick 'Declared' alternative. If you have any relevant documentation, choose the 'Verified' option.

Contact Number & Email Id - Give your active mobile number and email as both will be linked to your Aadhaar card.

Address - Mention your residential address carefully since it will be used for the delivery of your card.

Father's/Spouse Name - If you are unmarried, provide your father's name. In the case of a married person, the spouse's name should be written.

Signature/Thumb Impression - Provide your signature/thumb impression in the designated column of the Aadhaar application form.
List of Documents Required For Aadhaar Card
Below is the list of documents you must have while applying for an Aadhaar card:
Identity Proof
PAN card

Voter ID card

Passport

Ration card

Driving licence

Bank passbook

Mahatma Gandhi National Rural Employment Guarantee Scheme job card

Photo ID issued by recognised educational universities

Arms licence

Pensioner photo card

Freedom fighter photo card

Kissan photo passbook

Certificate of identification with a photograph issued by a Gazetted Officer or Tehsildar
Address Proof
Voter Id card

Driving licence

Passport

Bank passbook

Post office passbook

Ration card

Utility bills

Credit card statements

Receipt of property tax

Insurance policy certificate

NREGA job card

Arms licence

Pensioner card

Kisan passbook

Rent agreement

Certificate of Address with a photo issued by an MP, MLA, or Gazetted Officer

Certificate of Address issued by Village Panchayat head or its equivalent authority issues (applicable in rural areas)

Certificate of vehicle registration

Parents passbook (in case of a minor applicant)
Relationship Proof
MNREGA job card

PDS card

Army canteen card

Pension card

Marriage certificate

Birth certificate
Date of Birth Proof
Note - You can submit any of the documents from each section with your Aadhaar card form.
Conclusion
The Aadhaar card is an important and most sought document used as an identity and address proof. Over the course of this article, several important things have been discussed including the procedure of filling an Aadhaar card application form and the required documents. These details will assist you in swiftly obtaining an Aadhaar card.
Moreover, having an Aadhaar card will make obtaining a best home loan an easier process since it is the first document that a lender asks for while documentation verification. If you want to buy a home with a home loan, you may apply for the same through the Bajaj Markets platform.