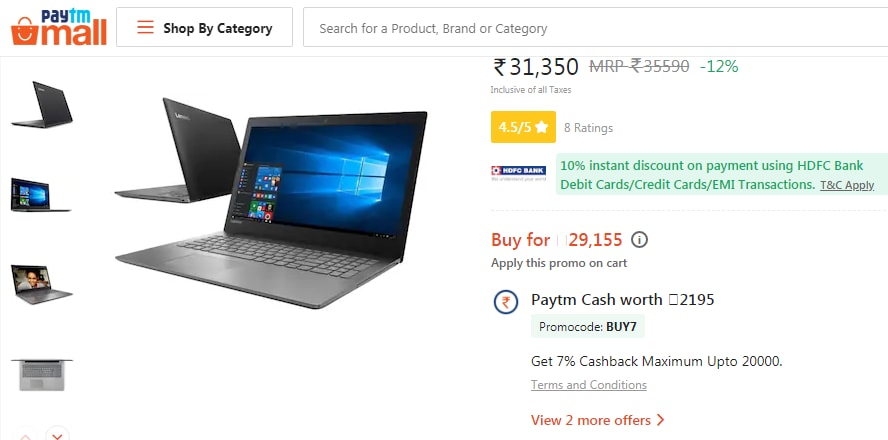 What is the Bajaj Finserv EMI Network Card?
When you apply for Bajaj Finserv EMI Network Card, you get a pre-approved loan that you can use to buy products at No Cost EMIs at online stores such as Paytm Mall and across 80,000 retail outlets in India. Unlike a credit card where interest is levied after the grace period is over, a Bajaj Finserv EMI Network card is interest-free. You don't have to pay anything extra apart from EMIs or installments that equal the total cost of the product.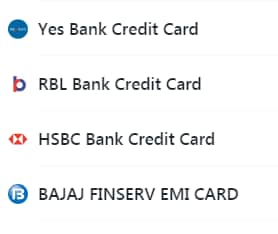 For example, if you bought a Smart TV costing Rs. 36,000 and decided to pay in 12 installments, you will have to pay just Rs. 3,000 per month as EMI. Nothing extra is charged by Bajaj Finserv except a nominal fee you pay when you apply for a Bajaj Finserv EMI Network Card.
The Bajaj Finserv EMI Network card can be used for no cost EMI shopping at select leading online websites and stores such as Amazon, Flipkart, Paytm Mall, MakeMyTrip, Yatra, Samsung and Vivo.
Bajaj Finserv EMI Network Card vs Credit Card
When you head over to Bajaj Finserv EMI Network card apply process, you get a pre-approved loan ranging from Rs. 30,000-400,000 on applying for the Bajaj Finserv EMI Network card. No interest is charged on the loan. Whereas when you purchase with a credit card, you need to pay interests for payments made after the grace period of 45-50 days. You not only pay applicable rate of interest on the loan based on tenure, you also need to pay extra processing charges to convert a purchase into EMIs.
While some banks and NBFCs offer no cost EMIs, they put a limit on the tenure. The lender, and not the customer, decides the tenure of the loan, when it comes to no cost EMIs. But with the Bajaj Finserv EMI Network card, customers have the flexibility to decide the tenure according to their convenience which ranges from 3-24 months.
Almost all banks and NBFCs charge extra for foreclosing a loan prematurely. If you buy a 4K Ultra HD TV this Diwali using your credit card and convert the purchase into EMIs, you will be better off continuing with the EMIs rather than foreclosing it because it'll cost you 1-3% extra. However, with an EMI card you don't have to pay anything for foreclosing the loan after six months.
How to apply for Bajaj Finserv EMI Network Card?
The festive season is here and there's no time to delay your purchases any longer. If you are planning to buy the latest Smart TV or 4K Ultra HD TV or a double door refrigerator from Paytm Mall, don't delay and apply for a Bajaj Finserv EMI Network Card today!
Below are the steps to apply for the EMI card:
Visit the Bajaj Markets site and click the Apply Now button.

Make an online payment of Rs. 530 and complete the IMPS registration.

Submit your KYC documents and provide an ECS mandate to a Bajaj Finserv representative. ECS is required for auto debit of EMIs from the account on the due date so that you don't default on the payments.

After that your Bajaj Finserv EMI Network Card will be activated in a few hours. You are ready to fulfill all your and your family's festive shopping desires and have a fun-filled Diwali.
During the festive season we want to ensure that everything looks the best and we have the best of everything. We want to fulfill the wishes of our loved ones, whether it's upsizing into a 43 or 55-inch TV, upgrading a smartphone, replacing old furniture, making life more comfortable for your wife in the kitchen with the latest home appliances, etc.
However, it's also important that we use credit responsibly and don't get into insurmountable debt after the festive season is over. Make the best of no cost EMI shopping this festive season with the Bajaj Finserv EMI Network Card, but spend responsibly.
Bajaj Markets, from the house of Bajaj Finserv, is an exclusive online supermarket for all your personal and financial needs. We understand that every individual is different and thus when you plan to achieve your life goals or shop for the gadget of your dreams, we believe in helping you Make it Happen in a few simple clicks. Simple and fast loan application processes, seamless, hassle-free claim-settlements, no cost EMIs, 4 hours product delivery and numerous Bajaj Finserv EMI Network Card benefits.. Loans, Insurance, Investment and an exclusive EMI store, all under one roof – anytime, anywhere!