MHADA Scheme 2021
Individuals that find it difficult to avail home purchase financing can apply for the MHADA lottery 2021. Houses built under the scheme are newly developed and may offer better amenities compared to other options available in the market. As per reports, the scheme targets to launch more units around the Mumbai Metropolitan Region (MMR) in the coming months. According to reports, more than 5,000 units will be available for possession in areas around Navi Mumbai, Thane, and Vasai in 2021.
Upcoming Lottery Draw
The upcoming MHADA lottery is expected to be held in May 2021. It will offer four housing options to the following sub-categories: economically weaker section, lower income group, middle-income group, and higher income group.
N.B.: In lieu of the COVID-19 (coronavirus) pandemic, only online applications for the scheme are allowed.
Eligibility for MHADA Lottery 2021
The authority governing the MHADA scheme has set a specific eligibility criterion that needs to be fulfilled to identify qualified beneficiaries.
The applicant must be 18 years of age or above.

Applications in the name of a minor will not be considered valid.

A domicile certificate showing proof of residence for at least 15 years in any part of Maharashtra.
| | |
| --- | --- |
| Sub-category | Applicant's Monthly Income |
| Economically Weaker Sections | Up to Rs. 25,000 |
| Lower Income Group (LIG) | Rs. 25,001-50,000 |
| Middle Income Group (MIG) | Rs. 50,001-75,000 |
| Higher Income Group (HIG) | >Rs. 75,000 |
The MHADA applicant must have a valid PAN card in their name.
Documents Required for MHADA Lottery 2021
The following documents are required to apply for the MHADA lottery 2021 scheme:
Registration Process for MHADA Lottery Scheme
Applicants who are willing to apply for the MHADA housing scheme 2020 can apply on the official MHADA website.
Here is the step-by-step guide for registering in the MHADA lottery 2021.
Step 1:
Visit the official MHADA lottery website at https://lottery.mhada.gov.in/.
Step 2:
Select the applicable board and login if you're already registered. If not, to register on the portal, you will have to create a username and fill in the basic information. This will include residential address, date of birth, occupation, marital status, gender, and mobile number.
It is important to provide a working telephone number as it will be used for future communication.
Step 3:
Once you login/register, enter all the required details and submit the form. Enter the OTP that you receive via SMS/e-mail. Fill in your monthly income, PAN card number, contact details, bank details, and also upload a scanned copy of your PAN card along with a passport-size photograph.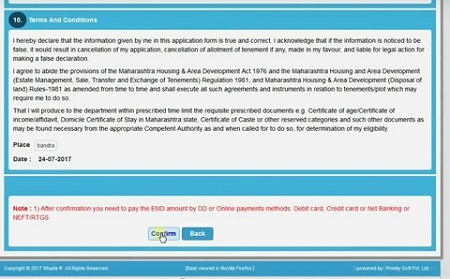 Step 4:
You can view all the available schemes and select from among them. Submit and confirm the MHADA scheme application and pay the requested fee.
Step 5:
The application fee can also be paid through DD (demand draft) or debit/credit card, or NEFT/RTGS. For online payments, log in to your account and select the payment options. Finally, select the scheme you want to apply to and proceed with the payment.
In case you choose to make the payment through demand draft, you must print the application form and submit it along with the DD at the designated bank. In the case of online payments, you can generate the payment slip from the payment portal and keep it for future references.
Pricing of Houses under the MHADA Scheme
The government recently announced the results for MHADA lottery scheme 2020 to allow as many as 3,894 flats to be constructed. As per the latest information, MHADA will offer the residential property to the winners of the scheme in different configurations at different prices, ranging from Rs 15 lakh to Rs 6 crore. The government has set fixed costs for the units available under the MHADA lottery scheme. These are as follows.
| | |
| --- | --- |
| Category | Prices |
| Economically weaker section (EWS) | Rs 15-20 lakhs. |
| Low Income Group (LIG) | Rs 20-35 lakhs. |
| Middle Income Group (MIG) | Rs 35-80 lakhs. |
| High Income Group (HIG) | Rs 80 lakh-5.8 crores. |
The MHADA lottery scheme has been created primarily to provide a roof over head to the people and families of weaker sections of the society and all eligible applicants will be given the opportunity to get accommodation at affordable rates. Apart from government schemes, another great option is to apply for a Home Loan, you can get a loan of up to Rs.3.5 crore as a sanction to purchase, or build the house of your dreams. The online process for home loans is quick and easy with minimal paperwork requirements. You get nominal interest rate and a flexible tenor of up to 240 months and get access to additional benefits such as additional Home Loan Top Up of up to 50% of your sanctioned loan amount. Alongside the loan a financial health check report is also provided to keep track of your financial health, you also get a complementary health card that entails a host of offers and benefits.